Chaos Clinic Recap
---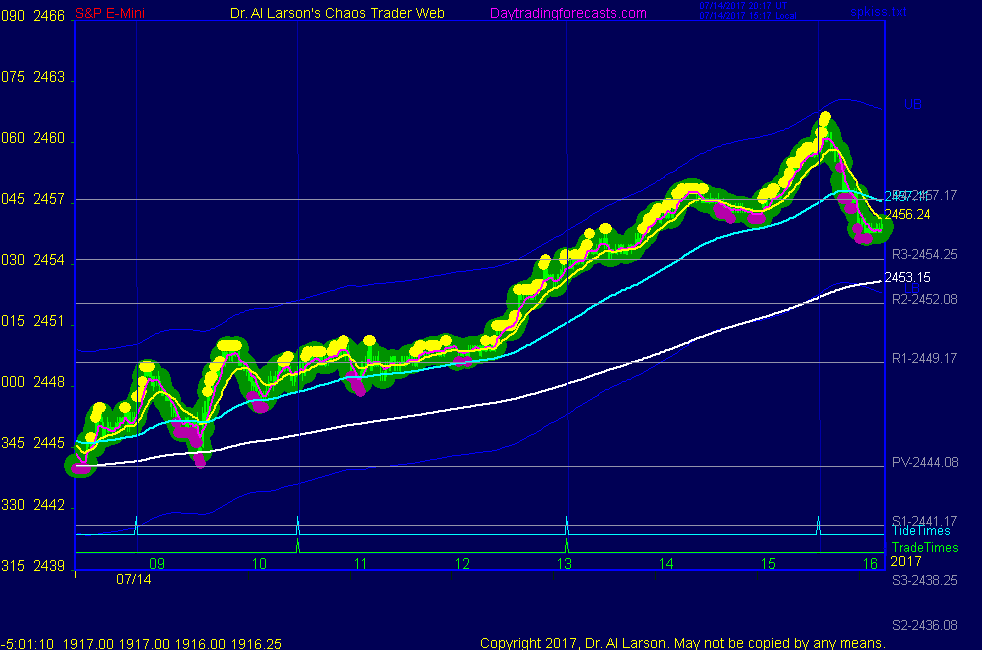 ---
Here are Al's comments
---
12:42 That's all of my clinic comments-trade plan worked; may be more; thanks for coming; see you next week; take some course
12:40 that energy point came off my Daniel chart, so I was pretty sure we would get there.
12:39 out for +5
12:37 stop to 2449; lock 1.5
12:36 hopefully make my 2452.5 target; if so I'll take it and quit
12:28 stop to 2448.75
12:26 there's the buying I was looking for
12:20 stop to 2448.25 - lock 3 ticks
12:16 approaching the second trade window; I'll just hold this one through if not stopped out
12:02 I expect more buying to come in in about 10 minutes; base on my Chaos Trading Made Easy chart
11:58 stop to 2448-lock .5
11:55 needs to move soon
11:41 looking OK
11:31 pivot to R1 is 5 points; a double is R3, 2454.25
11:29 trading flat at R1; holding
11:07 stop held-be patient
11:00 but today I'm just going for 5
10:56 this is where I like to trade multiple contracts, so I can take half off at +5 and hold the rest
10:50 stop to 2447.5; break even
10:36 stop to 2447 - risk .5 ; placing sell limit at 2452.5 , 5 point target
10:18 stop to 2446.5-risk 1
10:13 buying came in at the 50% retracement
10:10 treading water at my entry price-holding
10:02 looks like dip into the 10:30 Tide time
9:53 stop to 2446
9:48 stop to 2445
9:42 today's trend is up-have an energy attractor at 2452.5; R4 is 2454.25
9:38 holding up -bought 2447.5 stop 2443; bought early because dipped to pivot and turned up
9:30 normal session open-slightly up from close
9:04 early trading is up; trade times today are 10:30 and 13:08
I'll be looking to buy a pullback near the first trade time
9:00 Good Morning. Welcome to the Chaos Clinic. This site has a lot of charts,
so you may find it useful to have several of them available within your
browser. If you have a tabbed browser, you can open separate charts
in separate tabs by right clicking on any link, and selecting "open in new tab"
from the menu. The main list of site pages is at
http://daytradingforecasts.com/chartlistsec.asp
Recommended pages to watch are SPKISS, MTRainbow, and Chat.
For astro stuff, add SPSunMoonMer, Wheel, and Chaos Clinic.
Chaos clinic comments appear at the bottom of the SPKISS, MTRainbow,
and ChaosClinic pages. Comments in the chat room are announced by a
"duck call" noise. This noise also occurs when the sofware detects a
resonant hex pattern on the Wheel page. Trading tutorials
are on the right side of the ListOfCharts page. One should
read Trading the MoonTide Tutorial and Keep it Simple as a minimum.

---
Besides the comments made by Al, the chat room is has live
comments from other traders who sometimes share their views,
trades and tips. Below are the chat room comments from this clinic
---


7/14/2017 2:04:31 PM MT Al****:: covered all at 2461
7/14/2017 12:16:41 PM MT Al****:: runaway up day - still long; second trade entry about 2456
7/14/2017 12:02:51 PM MT Al****:: I fixed it; now looks like green +Tide
7/14/2017 11:54:06 AM MT Al****:: TG: that's called technocrap
7/14/2017 11:50:01 AM MT TG****:: I sent that last chat from my phone, no idea why it submitted 4 times
7/14/2017 11:48:06 AM MT TG****:: Nice Al. Glad you are back on your feet. Past 2 days I bought the early continuation buy only for 4 pointers to reverse on me late and turn into 2 pointers. Today I had a family commitment on same sort of setups that would have worked.
7/14/2017 11:06:21 AM MT Al****:: what I did in my own account was trade 3 contacts, take one off at 1 point, and one off at 5 (Chaos Clinic Trade), and let the 3rd run

9:00 Eastern-System: No comments

---