---
CHAOS CLINIC RECAP
---
---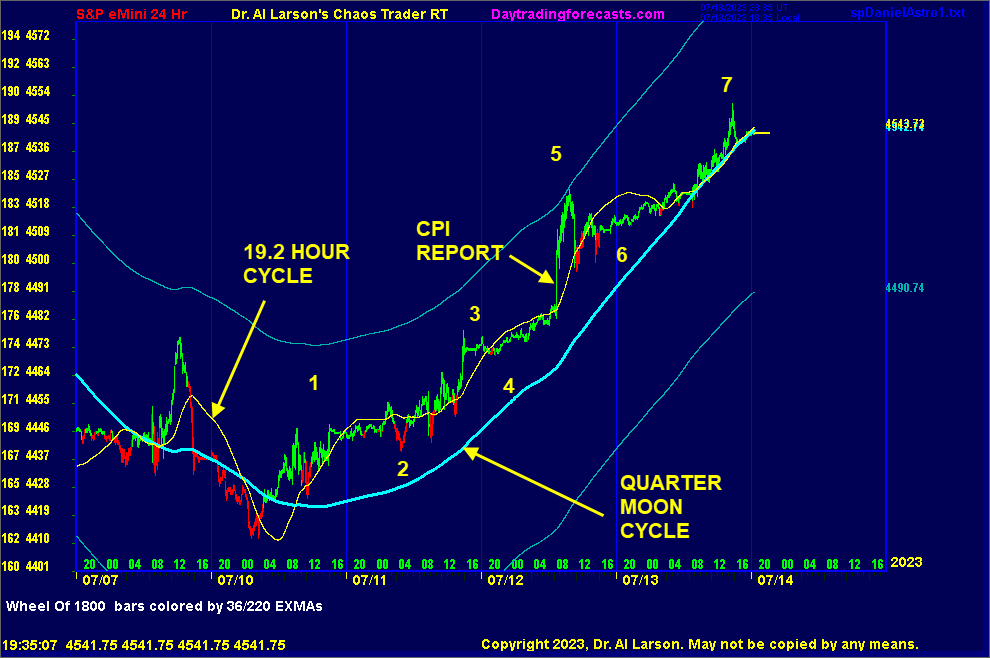 ********************************************************************************
Moon Cycle Boosts The S&P
Chaos Clinic for 7/14/2023
********************************************************************************

This chart of the S&P futures shows this week's strong rally. It is a simplified
version of chart 7 of the SPKISS page on daytradingforecasts.com

This chart tracks the Moon's quarter cycle, which is the historical basis for
our 7 day week. This cycle is tracked using a proprietary zero delay filter.
This cycle is the cyan line. Note that it turned up on Monday, July 10th.

The yellow line tracks the 19.2 hour cycle. Note that it dipped, then turned up
through the cyan line on Monday. This is an indication of higher prices ahead.

As the cycle continued up, it got a boost from the Consumer Price Index report.
on Wednesday. The 19.2 cycle shows a POSSIBLE 7 move up Chaos Clamshell in
4 days. Four day swings are common in the S&P.

This rally was correctly predicted by my XGO equation. That can be seen on
the SP3XGO chart on daytradingforcasts.com. More is covered on the 6/30/2023
Chaos Clinic.

For more on my work and to subscribe to Tomorrow's Market Email Hotline and access to daytradingforecasts.com see
Moneytide.com
Software to plot electric field flux lines in NinjaTrader is available at
energyfieldtrading.com
---

Below is one of the SPKISS charts from daytradingforecasts.com
and the chat room comments from this Chaos Clinic. Most recent comment is on top.
---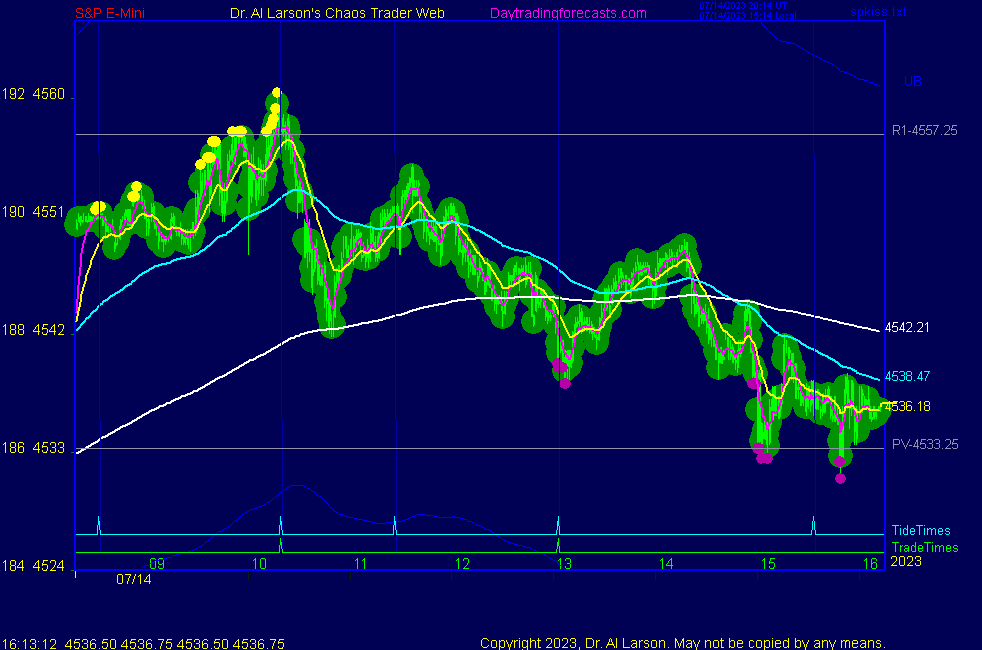 7/14/2023 1:37:05 PM MT clb****:: Nell, from my own research, there will be a bounce before the close. The Jupiter tranwsit is at 16:00 et. There might not be much today.
7/14/2023 1:26:54 PM MT clb****:: I am not suggesting a short position, but saying that between now, and the close, it is "smoke and mirrors".
7/14/2023 1:24:40 PM MT clb****:: Nell, I am not getting good "vibes" on this. Of course, the mutual funds will blindly buy 5 minutes before the close. That is standard prodical. Currently, on a 5 minute chart, we are in a down trend. Don't fight the market on this.
7/14/2023 1:05:48 PM MT Nell****:: I think Al signed off so he could trade this move 5
7/14/2023 12:55:12 PM MT Al****:: trying to hold up - with one hour left it might
I'm calling it a day-thanks for coming-see you next week-take some courses
7/14/2023 12:40:07 PM MT Al****:: on the Secret->esnat72 chart the yellow vibe was the final resistance
the next yellow level is 45 degrees or points lower
7/14/2023 12:34:47 PM MT Al****:: turned down just after Mercury time line so now both energies are down
7/14/2023 12:28:02 PM MT Al****:: second lower high
7/14/2023 11:07:55 AM MT Al****:: 10:30 ish low taken out -440, 220, 110 minute EXMAs down
7/14/2023 10:30:43 AM MT Al****:: now the down move has curled the 440 minute EXMA down
7/14/2023 10:27:23 AM MT Al****:: high clb - sorry about the heat
years ago I looked at the Antarctic ice core data
it looked like a stock chart that had just made an upside breakout
7/14/2023 10:22:12 AM MT Al****:: many charts on this site have their bars colored by the 36/220 minute EXMAs
the bars are now being colored pink or red for down
7/14/2023 10:20:26 AM MT clb****:: 112 degrees 2 weeks ago. A new record here.
7/14/2023 10:16:13 AM MT clb****:: Good morning, everyone. Thanks, Dr. Larson for hosting the clinic today. We are getting roasted in Texas. 104 degrees yesterday.
7/14/2023 10:14:08 AM MT Al****:: chart 6 on the SPKISS page shows a rainbow of EXMAs
the popular MACD indicator stands for Moving Average Convergence Divergence
you can visualize the convergence and divergence over days on chart 6
the current state is "very diverged"
7/14/2023 10:06:11 AM MT Al****:: this morning's down swing came as the exchange was rotated past the Moon
see the SPSunMoon chart
note the Mercury time line near 14:00
7/14/2023 9:55:02 AM MT Al****:: chart 3 on SPKISS is now showing a lower high
it was stopped by the -Mh315 electric field flux line
so top was set by Moon, secondary top set by Mercury
the ancients -Mayans, Egyptians, Chinese, Babylonians, Incas, etc
all discovered the 40 day Mercury-Moon cycle and built it into their calendars
physically Mercury stirs up energy on the Sun,
the solar wind carries it to Earth, where the Moon focuses it
7/14/2023 8:28:59 AM MT Al****:: so I'm thinking that might be the real move 7 as per the Chaos Clinic
7/14/2023 8:26:25 AM MT Al****:: the SPKISS chart 7 shows that overnight trade got below the cyan quarter Moon cycle and has now rallied back up to it as prices hit the down -T045 Moon flux
7/14/2023 8:13:18 AM MT Al****:: just above is the Moon -T045 electric field flux line
at R1 and Moon T000 time line is near 10:30
7/14/2023 8:12:45 AM MT jj****:: Good morning.
7/14/2023 8:11:08 AM MT Al****:: new high this morning -note vertical lines on Secret->esnatt2
7/14/2023 6:48:21 AM MT oag****:: Good morning everyone! Hope everyone has a prosperous day!
7/14/2023 6:37:19 AM MT Al****:: Good Morning visitors. Welcome to the Chaos Clinic. The written Chaos Clinic is on the AUX page.
This site has a lot of charts,
so you may find it useful to have several of them available within your
browser. If you have a tabbed browser, you can open separate charts
in separate tabs by right clicking on any link, and selecting "open in new tab"
from the menu. The main list of site pages is at
http://daytradingforecasts.com/chartlistsec.asp
Recommended pages to watch are SPKISS, MTRainbow, and Chat.
For astro stuff, add SPSunMoon, Wheel, and Chaos Clinic.
A special set of Dr. Al's research charts are on the Secret page.
Comments in the chat room are announced by a
"duck call" noise. This noise also occurs when the software detects a
resonant hex pattern on the Wheel page. MoonTide trading tutorials
are on the right side of the ListOfCharts page. One should
read Trading the MoonTide Tutorial and Keep it Simple as a minimum.
Many subscribers do not strictly trade the MoonTides, but use the charts on this
site as input to their own trading strategies. For example, charts 5 and 6 on the
SPKiss page are a good starting point for swing traders.
Also on this site is the Certified Chaos Trader's Room. That room is open
to graduates of my 4 main courses. See http://moneytide.com -> Courses for details.
9:00 Eastern-System: No comments

---