Chaos Clinic Recap
---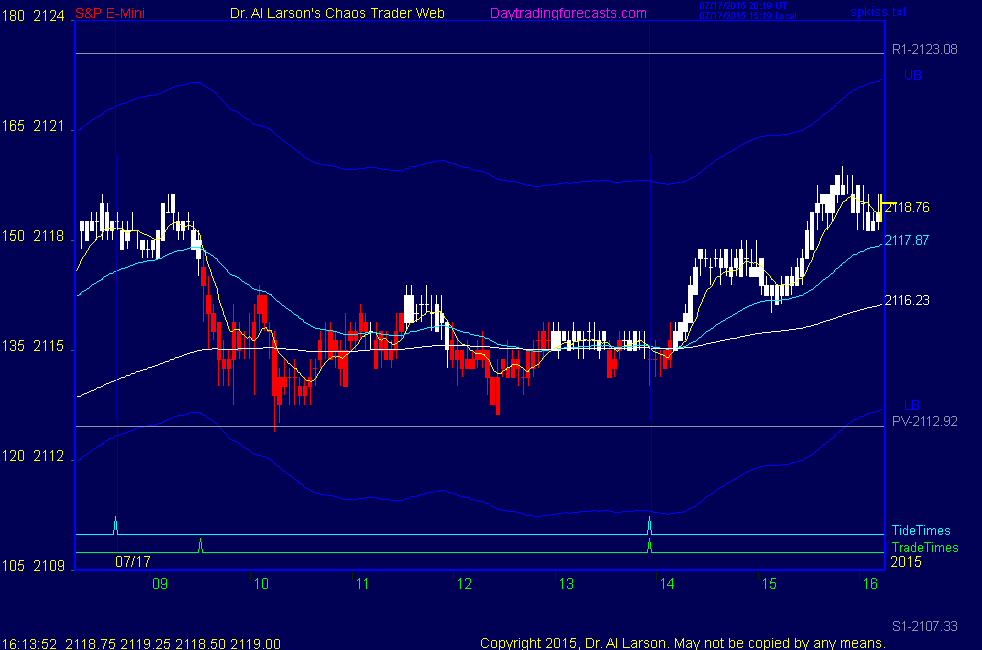 ---
Here are Al's comments
---
12:12 OK, I want everyone to look at the AUX page, then go to the chat room and tell me what trade it might suggest and when
12:08 back from breakfast. trading in the flux triangle
11:21 breakfast is delayed; see the market has turned flat; 440 minute EXMA is 2115; note
flux line converging triangle on AUX page
10:42 taking a breakfast break now
10:41 got buying at the pivot plus my research chart had support
10:40 Took +1 ; not moving
10:35 trying to hold into the XTide low near 11:15
10:29 stop to 2116.5
10:21 my target is set at a 9 point range; may not get much more than that
10:14 the 20 minute EXMA turned down , so looking good; stop to 2117
10:09 following the -Tide
10:02 moving cover to 10
9:55 resold 15.5 stop 18 cover 13
9:51 stopped for +.25 ; stop may have been too close; I'm always nervous about early Friday trades
9:46 on the AUX page I am showing a flux line research chart with an autotrader
9:45 stop to 2116.25, lock 1 tick
9:42 stop to 2117
9:39 I have placed a Face of God chart in the Certified Chaos Trader's Room. That room is open
to graduates of my 4 main courses. See http://moneytide.com -> Courses for details.
eMylar Face of God and Fractal Of Pi overlays help you be patient, since they show you future potential moves.
The best bargain in my courses is to take the Cash In On Chaos and Fractal of Pi courses and
learn to use the FOP overlay. Then take Chaos Trading Made Easy, and finish with Face Of God.
9:36 stop to 2119
9:34 stop to 2120; placing buy limit at 2113, the pivot
9:31 sold 2116.5 stop 2121
9:28 I expect some initial selling
9:23 on the MTRainbow chart the flow is up; on my two day charts the 440 is near 2115, which is probably support
9:20 prices are well above the pivot price of 2113 and below the R1 price of 2123, so I expect we might reach R1
9:16 yesterday prices chopped until about 11:00, where there was a low in XTide; today's XTide forecast is nearly the same,
so we may get a similar pattern.
9:13 on many Fridays a 9:31 trade time can be a head fake, so I want to be careful
9:10 today's trade times are 9:31 and 13:56; The market is up sharply for the week, so the question is
does it keep moving or rest today?
9:00 Good Morning. Welcome to the Chaos Clinic. This site has a lot of charts,
so you may find it useful to have several of them available within your
browser. If you have a tabbed browser, you can open separate charts
in separate tabs by right clicking on any link, and selecting "open in new tab"
from the menu. The main list of site pages is at
http://daytradingforecasts.com/chartlistsec.asp
Recommended pages to watch are SPKISS, MTRainbow, and Chat.
For astro stuff, add SPSunMoonMer, Wheel, and Chaos Clinic.
Chaos clinic comments appear at the bottom of the SPKISS, MTRainbow,
and ChaosClinic pages. Comments in the chat room are announced by a
"duck call" noise. This noise also occurs when the sofware detects a
resonant hex pattern on the Wheel page. Trading tutorials
are on the right side of the ListOfCharts page. One should
read Trading the MoonTide Tutorial and Keep it Simple as a minimum.

---
Besides the comments made by Al, the chat room is has live
comments from other traders who sometimes share their views,
trades and tips. Below are the chat room comments from this clinic
---


7/17/2015 1:44:48 PM MT Al****:: OK, taking 2.5; need to leave; thanks for coming; see you next week; take some courses
7/17/2015 1:40:36 PM MT Al****:: stop to 2118, lock 1.5
7/17/2015 1:36:09 PM MT Al****:: stop to 2117.5, lock 1
7/17/2015 1:34:24 PM MT Al****:: stop to 2117, lock 2 ticks, cover limit order is 2121
7/17/2015 1:30:39 PM MT Al****:: stop to 2116.5, break even
7/17/2015 1:25:29 PM MT Al****:: stop to 2116
7/17/2015 1:19:45 PM MT Al****:: will do. Looks like may get past the red down flux
7/17/2015 1:17:45 PM MT awe:: please keep us updated on the Ninja offering - i m a user, for one
7/17/2015 1:14:18 PM MT Al****:: this stuff is amazing. It's taken me 30 years of constant research, study, and programming to understand it; now that I do I'm having my son program it into NinjaTrader so others can use it
7/17/2015 1:09:45 PM MT Al****:: stop is below the 220 minute EXMA; prices just bounced off of it
7/17/2015 1:07:09 PM MT Al****:: I can't do much but wait; stop is as close as possible
7/17/2015 1:04:02 PM MT Al****:: may not be enough juice to get past the down red flux on AUX page
7/17/2015 12:53:02 PM MT RD:: Yes, I see. Its amazing!
7/17/2015 12:52:00 PM MT Al****:: some chance of reaching R1 at 2123
7/17/2015 12:50:54 PM MT Al****:: stop to 2116, just under the 55 minute EXMA
7/17/2015 12:49:39 PM MT ska:: But It is something special out of this world
7/17/2015 12:48:44 PM MT ska:: It is lot to learn and develop confidence
7/17/2015 12:41:59 PM MT Al****:: does everyone see how chaos works? and how the PHYSICAL energy fields come into play?
7/17/2015 12:39:49 PM MT Al****:: this is mostly Moon juice
7/17/2015 12:37:13 PM MT Al****:: placing sell limit at 2121
7/17/2015 12:34:16 PM MT Al****:: stop to 2115.5, risk 1;
7/17/2015 12:30:16 PM MT Al****:: back, tire changed, trade looks OK
7/17/2015 12:20:57 PM MT Al****:: OK, long at 2116.5, stop 2113.5 for now; have to change a flat tie for my wife, back soon
7/17/2015 12:03:26 PM MT Al****:: if my buy stop is not hit in 15 minutes, I'm done
7/17/2015 11:59:58 AM MT Al****:: got a little lift on the green flux line, but not enough to hit my buy stop-fine with me
7/17/2015 11:59:19 AM MT RD:: Yes, thank you.
7/17/2015 11:58:49 AM MT Al****:: looking weak but too dull for me to sell
7/17/2015 11:55:02 AM MT Al****:: my TSLA stock has been good to me today
7/17/2015 11:51:16 AM MT Al****:: needs to move in next 25 minutes; my entry stop is in; I have natural resistance at 2016 that needs to be cleared
7/17/2015 11:44:50 AM MT Al****:: today is a very dull day, but a good lesson day
7/17/2015 11:39:31 AM MT Al****:: good
7/17/2015 11:38:59 AM MT DPP****:: Yes, Waiting- trying not to anticipate! Thanks Al.
7/17/2015 11:36:27 AM MT awe:: sitting on my hands :>)
7/17/2015 11:36:16 AM MT Al****:: anyone still here? just say yes
7/17/2015 11:32:09 AM MT Al****:: anyone ready to jump?
7/17/2015 11:30:01 AM MT Al****:: coming to the fast green up flux on AUX page
7/17/2015 11:17:55 AM MT Al****:: when it is this dull, one has to ask what could add energy? the Moon can. Where the yellow lines on the AUX chart cross is where the Exchange rotates past the Moon
7/17/2015 11:13:07 AM MT Al****:: Chaotic systems have balance points, and chaotic jumps between them; here 2115 is the balance point
7/17/2015 11:03:53 AM MT Al****:: I don't want to jump in; but if it jumps up I want to be in and I may not have time to react, so I'm using a stop entry
7/17/2015 10:59:24 AM MT Al****:: The pressure is building; putting a buy stop at 2116.5
7/17/2015 10:55:51 AM MT Al****:: move up stopped for now by down yellow flux
7/17/2015 10:50:50 AM MT Al****:: yes, the flux lines are possible roads, the EXMAs will confirm that the car went along that road
7/17/2015 10:46:39 AM MT awe:: is the bottom line - conflicting signals so we wait alertly until trade time?
7/17/2015 10:45:35 AM MT Al****:: coming to the red flux down, competing with the yellow up
outcome will suggest how the balance turns out
7/17/2015 10:37:11 AM MT Al****:: the point is the flux lines help you see possible price paths
The down one this morning was pretty good. I just should have taken more
7/17/2015 10:32:45 AM MT JC:: Currently prices are going down. So if it still follows the red tide. Prices should go back up. Therefore the next trade would be a long
7/17/2015 10:31:33 AM MT Al****:: OK, the two yellow flux lines cross-a balance point; near them a fast green line goes up; I would anticipate a rally , provided prices get past the down red line dead ahead
7/17/2015 10:26:33 AM MT JC:: I would go short
7/17/2015 10:26:21 AM MT Al****:: OK, look at the AUX page and tell me what it suggests might happen near next trade time
7/17/2015 10:25:40 AM MT awe:: we didn't know there was going to be a pop quiz - studying crib notes furiously - market conflicted between red tide and T line in Aux chart ? sorry for got which t line
7/17/2015 10:23:43 AM MT gg:: I'm here, but just watching
7/17/2015 10:20:00 AM MT Al****:: has everyone left?
7/17/2015 8:10:55 AM MT Al****:: you need to accumulate more junk so you can't move like I did :)
7/17/2015 8:03:19 AM MT BBB****:: Tell me about it. I just moved my business and family from houston to a little town called dripping springs west of Austin. Lots of setting up to do and the family needed to get up there and relax....
7/17/2015 8:01:37 AM MT Al****:: welcome CJB. Look around; ListOfCharts page is the directory
BBB: so why aren't you up here-can't work all the time :)
7/17/2015 7:53:57 AM MT cjb:: Good morning Al, this is CJB. My first time here to see your room.
7/17/2015 7:49:07 AM MT BBB****:: Gm Al - hope the camping was great. My wife and kids are in CO right now.

9:00 Eastern-System: No comments

---