Chaos Clinic Recap
---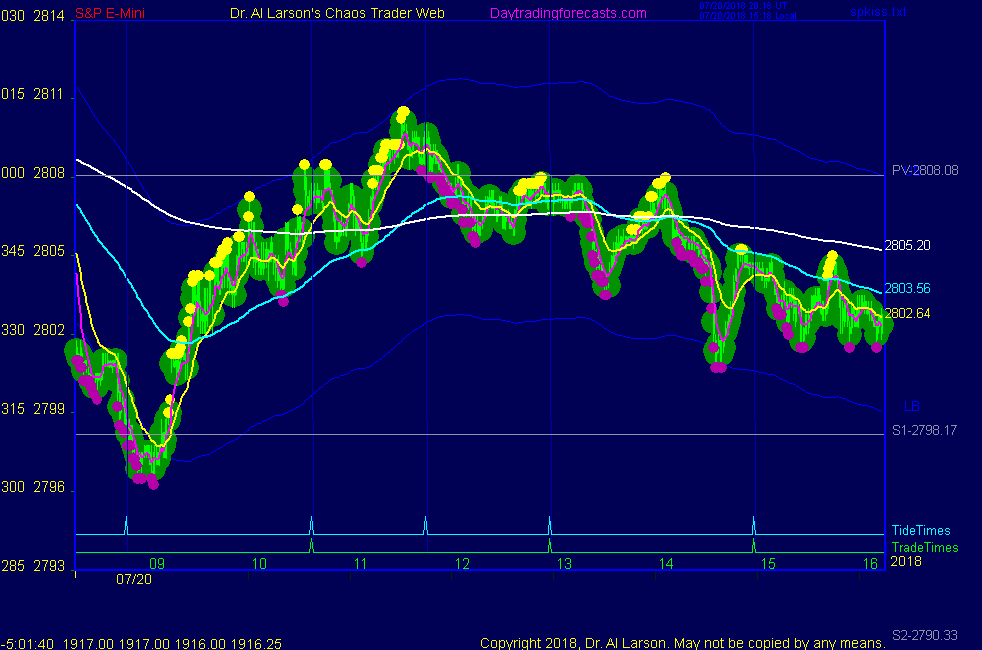 ---
Here are Al's comments
---
1:26 aborted for -2.5; done fore the day; thanks for coming; see you next week
1:24 just got a scam call telling me my Microsoft Windows license has been expired
1:12 now getting a bit of lift from the diagonal white line on the Chaos Clinic chart
1:00 exchange passing solar noon
12:43 buying 2807.5 stop 2804.5
12:34 on the Chaos Clinic page, one sees the low was on Moon +T090 electric field flux;
high affected by Moon -T135 flux
prices now riding on the Moon +T135 flux with potential lift coming at trade time
12:23 pulling up a bit; may get a continuation buy near trade time
12:08 pulled back to flat 440 minute EXMA; gone flat; may be flat to close
11:55 tested high of 24 hr day and pulled back
11:40 back from breakfast; see market still trading near pivot
10:37 now taking a break; be back for second trade time
10:35 my autotrader got it's 6 ticks
10:32 aborted for -2; not working
10:19 sold 2804 stop 2808 cover 2800
10:12 I'm thinking I should have gone camping :)
10:10 not a lot of juice in this up move
10:02 I have an autotrader that bought 2806.5, going for only 6 ticks. We'll see how it does.
not a trade I want to do manually.
9:58 Pivot price is 2808. Computers bought S1 2798, so will likely sell 2808
9:52 3 out of 4 days this week have been dull, so small profit targets are in order; 2 to 5 points
9:49 on my "spliced" 8 hours per day charts, the 440 minute EXMA is down; 110 and 20 are up; possible continuation sell
9:38 the trend from yesterday is down. On the Secrets page the esnat72 chart shows a higher low,
so trying to reverse.
9:36 if you have your sound on, you may hear a "duck call" from the hex pattern recognizer.
See Hex Pattern tutorial and Hex Patterns today, linked on right side of ListOfCharts page.
9:31 early Friday trades, especially in the summer, are problematic. Often get head fakes.
So I will wait until very near the trade time of 10:38.
9:25 today's trade times are 10:38, 12:58, and 14:58 ; volatility has been low this week.
9:00 Good Morning. Welcome to the Chaos Clinic. This site has a lot of charts,
so you may find it useful to have several of them available within your
browser. If you have a tabbed browser, you can open separate charts
in separate tabs by right clicking on any link, and selecting "open in new tab"
from the menu. The main list of site pages is at
http://daytradingforecasts.com/chartlistsec.asp
Recommended pages to watch are SPKISS, MTRainbow, and Chat.
For astro stuff, add SPSunMoonMer, Wheel, and Chaos Clinic.
Chaos clinic comments appear at the bottom of the SPKISS, MTRainbow,
and ChaosClinic pages. Comments in the chat room are announced by a
"duck call" noise. This noise also occurs when the sofware detects a
resonant hex pattern on the Wheel page. Trading tutorials
are on the right side of the ListOfCharts page. One should
read Trading the MoonTide Tutorial and Keep it Simple as a minimum.

---
Besides the comments made by Al, the chat room is has live
comments from other traders who sometimes share their views,
trades and tips. Below are the chat room comments from this clinic
---


7/20/2018 8:16:00 AM MT Al****:: Hi BBB; all is well but I think the summer doldrums are here
7/20/2018 8:12:53 AM MT bbb****:: Gm Al and all. Been off the ES for quite awhile but hope all is well
7/20/2018 5:35:20 AM MT Al****:: GM all-good luck today

9:00 Eastern-System: No comments

---