Chaos Clinic Recap
---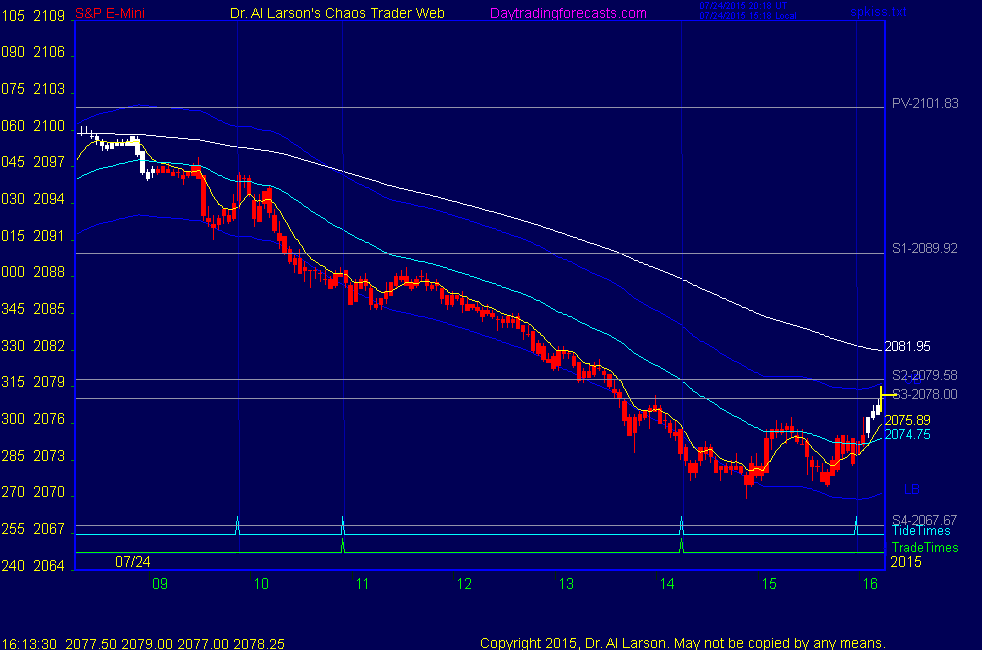 ---
Here are Al's comments
---
11:52 just watching; switching to the chat room for the rest of the day
11:19 the rotating earth moves the NY exchange under Sun/Mercury at 1:00 Eastern, solar noon.
After that may see positive (up) energy
11:12 on the SunMoonMer chart, trade is at the Sun/Mercury 225 degree electric field flux line; Sun and Mercury conjunct
is called Combust by astrologers (I am NOT an astrologer)
and is considered a high energy point
11:06 OK, now a fresh look at the charts tells me the market is now
probing for a bottom and may have found it and is cosidered a high energy point
10:32 this was a trade going into the first Tide time. I did good, so now I'll take a break.
10:31 out for +5; take the money and stay alive!
10:27 stop to 2091, lock 2
10:25 stop to 2092, lock 1
10:22 stop to 2093; break even
10:19 stop to 2094, at the 55 minute EXMA; still following red swan
10:16 continuation sell on 20/110 ; sold 2093 stop 2096 cover 2088
10:08 holding up
9:55 getting a bounce after testing yesterday's low; now we will watch to see if it holds, then develops a following
9:48 I like to figure out where we are in a larger context of at least a two day chart.
For this I use the tools from my courses.
I have placed a Fractal of Pi chart in the Certified Chaos Trader's Room. That room is open
to graduates of my 4 main courses. See http://moneytide.com -> Courses for details.
eMylar Fractal of Pi overlays help you be patient, since they show you future potential moves.
The best bargain in my courses is to take the Cash In On Chaos and Fractal of Pi courses and
learn to use the FOP overlay. Then take Chaos Trading Made Easy, and finish with Face Of God.
9:40 it's hard not to react to a fast move, but as a part time small guy, you
can't be in on every move, so you have to be patient and wait for a setup that you can trade properly
9:36 prices following a red swan line
9:32 well below the pivot price of 2101
9:32 selling off from a 24 hour high a few hours ago
9:29 today's trade times are 10:55 and 14:15, so we start out just watching
9:00 Good Morning. Welcome to the Chaos Clinic. This site has a lot of charts,
so you may find it useful to have several of them available within your
browser. If you have a tabbed browser, you can open separate charts
in separate tabs by right clicking on any link, and selecting "open in new tab"
from the menu. The main list of site pages is at
http://daytradingforecasts.com/chartlistsec.asp
Recommended pages to watch are SPKISS, MTRainbow, and Chat.
For astro stuff, add SPSunMoonMer, Wheel, and Chaos Clinic.
Chaos clinic comments appear at the bottom of the SPKISS, MTRainbow,
and ChaosClinic pages. Comments in the chat room are announced by a
"duck call" noise. This noise also occurs when the sofware detects a
resonant hex pattern on the Wheel page. Trading tutorials
are on the right side of the ListOfCharts page. One should
read Trading the MoonTide Tutorial and Keep it Simple as a minimum.

---
Besides the comments made by Al, the chat room is has live
comments from other traders who sometimes share their views,
trades and tips. Below are the chat room comments from this clinic
---
This is the research chart Al was displaying on the AUX page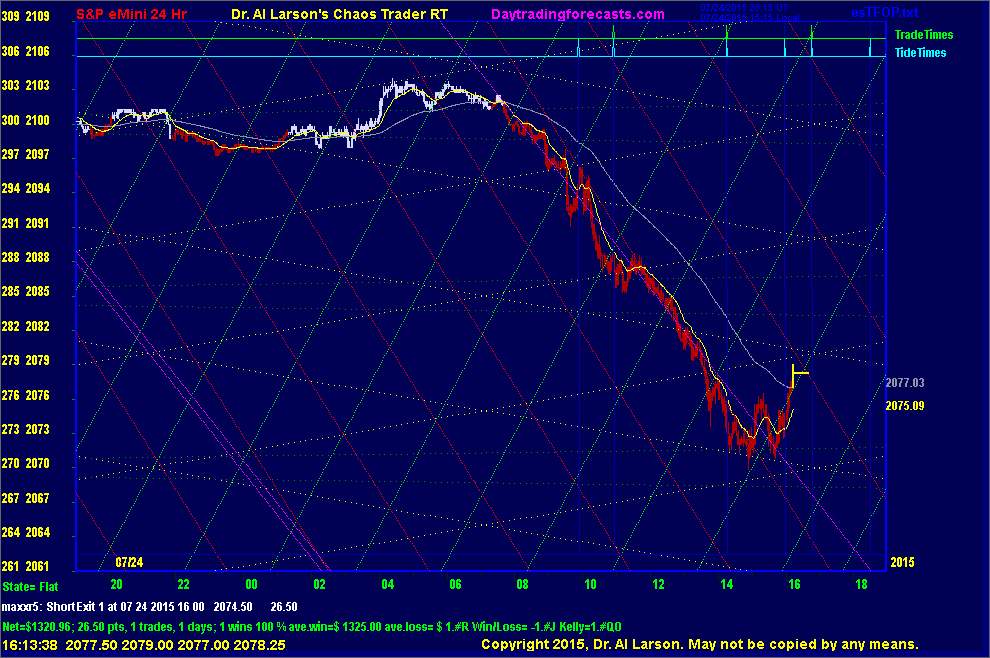 ---


7/24/2015 1:31:44 PM MT Al****:: my 440 is way above; one; thanks for coming; see you next week; take some courses
7/24/2015 1:23:09 PM MT bbb****:: Pause at the 440?
7/24/2015 1:21:48 PM MT Al****:: it is a special blessings to receive 2 discoveries in a week!
7/24/2015 1:20:22 PM MT Al****:: I try-God has blessed me
7/24/2015 1:12:25 PM MT jmh:: Al, Tks you do good work . . . typing and teaching and trading :)
7/24/2015 1:10:31 PM MT Al****:: OK, anyone want to tell me what to expect on a retrace?
7/24/2015 1:09:49 PM MT Al****:: note how the balance point at 2070 suggested this rally
7/24/2015 1:05:55 PM MT Al****:: looks like the down move is over
7/24/2015 12:59:20 PM MT Al****:: now on the AUX chart, this upcoming green line up could be effective based on my research ephemeris
7/24/2015 12:50:57 PM MT Al****:: imaging a trading system that selected just this big move-like the one that colors the bars on the AUX page-it sold at 2100 and is still short
7/24/2015 12:44:37 PM MT Al****:: now on the AUX chart notice that the price line turned red at the very top upward dull green Sun line , and we are now down two of those lines - a harmonic move
7/24/2015 12:41:35 PM MT Al****:: GUE-download and read my ebook-Your Electric Life from moneytide.com->Free Stuff
7/24/2015 12:38:34 PM MT gue:: No idea what u r mentioning these words are aliens to me I PLAN TO LEARN THEM though
7/24/2015 12:36:15 PM MT Al****:: gue: my plan is to expand my Essentials of Personal and Market Astrophysics course into an Essentials of Energy Field Trading course so I can teach the whole package-hopefully sometime this fall
7/24/2015 12:35:14 PM MT bbb****:: GUE, from experience I can tell you you have to put the time and energy into studying the material, not just hoping to make it our right off the bat. I lost a lot of money that way, then cooled off and started the real work (as I assume most traders do). That's the only way.
7/24/2015 12:33:40 PM MT Al****:: BBB, its not just nice, its THE RIGHT STUFF
7/24/2015 12:33:11 PM MT gue:: How to learn it ?
7/24/2015 12:32:25 PM MT Al****:: any comments? questions?
7/24/2015 12:32:16 PM MT bbb****:: NIce stuff Al, as always
7/24/2015 12:31:41 PM MT Al****:: my plan is to get my methods into NinjaTrader so clients can have charts like the ones I do
7/24/2015 12:30:00 PM MT Al****:: there may be more, but I an tired and happy to get 11 points and a new discovery :)
7/24/2015 12:28:42 PM MT Al****:: I had a late entry and the XTide shows up energy
7/24/2015 12:27:47 PM MT Al****:: I'm covering 2073 for +6
7/24/2015 12:24:54 PM MT Al****:: stop to 2075, lock 4
7/24/2015 12:22:58 PM MT Al****:: now looking at the flux lines on the AUX chart, I have to be alert for support and possible covering rally
7/24/2015 12:19:48 PM MT Al****:: stop to 2076, lock 3
7/24/2015 12:19:16 PM MT Al****:: now that Fib 2061 might be viable
7/24/2015 12:17:58 PM MT Al****:: moving buy limit to 69
7/24/2015 12:16:12 PM MT Al****:: stop to 2078, lock 1 ; I was already in so did not do another continuation sell
7/24/2015 12:14:34 PM MT DPP****:: WAS Another continuation?
7/24/2015 12:11:30 PM MT Al****:: the 14:15 Tide time was another continuation
7/24/2015 12:10:39 PM MT Al****:: the air pocket was in the top Sun pair, the tunnel is this pair of synchronizing flux lines
7/24/2015 12:08:29 PM MT Al****:: this morning prices hit an air pocket and dropped into this tunnel
7/24/2015 12:07:39 PM MT Al****:: Gann called them Tunnels Thru The Air, and Air pockets
7/24/2015 12:06:00 PM MT Al****:: this shows the real power of the flux lines
7/24/2015 12:04:19 PM MT Al****:: now I KNOW the PHYSICAL CAUSE, this synchronization, so now my confidence is good-stop is where it should be
7/24/2015 12:02:41 PM MT Al****:: my entry was high risk-should have sold much higher-got some movement off of it and got my stop to break even
7/24/2015 12:00:36 PM MT gue:: ok Sir
7/24/2015 11:58:57 AM MT Al****:: GUE-you just have to learn to do it yourself-takes time, work, and practice; my entries are not always that good
7/24/2015 11:56:04 AM MT gue:: How can we enter When u enter
7/24/2015 11:56:03 AM MT DPP****:: Waiting on next trade window. Closed Puts at 12:1. Chaos Pays!
7/24/2015 11:55:29 AM MT Al****:: mot people do not understand that wee live in an electric plasma and the electric fields are real
7/24/2015 11:54:47 AM MT gue:: here
7/24/2015 11:53:29 AM MT mjm:: waiting for 14:15
7/24/2015 11:53:17 AM MT Al****:: yes, it does; putting buy limit at 2072
7/24/2015 11:48:58 AM MT jvj:: Been reading your notes for today. New chart looks promising
7/24/2015 11:48:54 AM MT Al****:: stop to 2079-next lower Sun balance level is 2070
7/24/2015 11:45:27 AM MT Al****:: sorry bout that JVJ-thanks for coming back
7/24/2015 11:44:42 AM MT Al****:: no, he makes it available to all; you just have to be in the neighborhood, do your homework, be ready, and listen
7/24/2015 11:43:37 AM MT jvj:: Hi Al, Been here most of the time, but had a problem getting car started. Battery low, must have left door open.
7/24/2015 11:43:32 AM MT Al****:: I've seen this kind of sychronizing before but never intraday an never as clear
7/24/2015 11:42:32 AM MT DPP****:: God and I talk regularly but he must save this kind of good stuff for you.
7/24/2015 11:42:15 AM MT Al****:: MJM thanks
7/24/2015 11:41:58 AM MT Al****:: OK; sold 79 stop 82-going into free fall
7/24/2015 11:40:23 AM MT mjm:: still here
7/24/2015 11:40:10 AM MT DPP****:: I'll testify for you Al!
7/24/2015 11:38:59 AM MT Al****:: DPP-I guess you are the only witness to this discovery
7/24/2015 11:35:52 AM MT Al****:: that's one! any more?
7/24/2015 11:35:12 AM MT DPP****:: Definitely HERE!
7/24/2015 11:33:26 AM MT Al****:: Is anyone else here or has everyone gone home?
7/24/2015 11:28:23 AM MT Al****:: OK, God may be showing me why some Red Swans "Catch" and some don't
I added the Red Swan to the AUX page as a magenta line. They sychronized
7/24/2015 11:20:27 AM MT Al****:: prices are also tracking the Red Swan flux line which is a different cycle-very interesting
7/24/2015 11:18:34 AM MT Al****:: the good news is that my research chart is looking awesome-tracking the red flux line down
7/24/2015 11:17:33 AM MT Al****:: hard not to jump in but I got some earlier and have to stay disciplined
7/24/2015 11:15:20 AM MT Al****:: I took the first trade going into the first Tide time. The one coming out of it was good as well, but I was too busy to take it
7/24/2015 11:02:00 AM MT Al****:: the exchange is now rotating under Sun/Mercury Combust point
7/24/2015 11:01:00 AM MT Al****:: I'm hoping we get a little rally into the second trade time as suggested by the XTide line at the bottom of the Chaos Clinic chart
7/24/2015 10:59:38 AM MT DPP****:: Al, On the AUX page I see a Red / Green Cross. This is not on the CC chart. Can you elaborate on the difference here? Thanks for teaching on Friday's.
7/24/2015 10:56:32 AM MT Al****:: still riding the red Swan line on the Chaos Clinic chart
7/24/2015 10:51:20 AM MT Al****:: On the AUX chart the bars are colored red for short and white for long
7/24/2015 10:49:52 AM MT Al****:: not trading this because I can't type, teach, and trade
7/24/2015 10:47:30 AM MT Al****:: on the AUX chart prices are still following the red down flux
7/24/2015 10:42:52 AM MT Al****:: If you have your sound on you hear a "duck call" announcing a hex pattern-see HexWheels today and the tutorial linkee on the right side of the List of charts page
7/24/2015 10:39:10 AM MT Al****:: I have now placed a Face Of God chart in The CCTRoom
7/24/2015 10:27:06 AM MT Al****:: now on the AUX page prices are still near the lower Sun balance level. The red line may be about to loose tis effect, as the green flux comes up. Chaotic systems move from one state of rest to another, with a chaotic move between them. For more take the Cash In On Chaos course.
7/24/2015 10:23:43 AM MT Al****:: " Al on a 15 min chart you can see a nice 5 wave move down so far a projection of 2 gives 2061, 2.5 gives 2049.2 and 2.618 gives 2046"

Fibonacci retracements sort of work sometimes, but I have found flux lines much better because THEY ARE PHYSICAL
7/24/2015 10:20:08 AM MT Al****:: "do them for metatrader "
No can do-it costs many thousands of dollars to get this programming done, and I can only do it in one trading program
7/24/2015 10:18:16 AM MT Al****:: Whoops-Ive been typing in the wrong window! HEre is what I have been saying.

12:13 then as they rolled over, the encountered the down red flux line, which added energy to the drop.
The drop has now reached the lower set of Sun flux lines, balanced at 2085.

12:10 On the AUX chart you see prices started near 2100; the midpoint between the top set of Sun lines.
This is a balance level. Prices oscillated above, below, and above the balance level.
Then they started down.

12:07 these electric fields can be computed as a set of flux lines and placed on a trading chart.
Such a chart gives you a fantastic trading edge -- provided you find THE RIGHT STUFF!
And of course, provided you have a program that can display flux lines on a trading chart.
Which is why I'm having my son program them into Ninja Trader.

12:04 all my work is based on the fact that the electric currents we live in strongly influence human behavior,
including trading.

12:00 I am now showing a research chart on the AUX page. This chart shows a set of very special
set of electric field flux lines. All except the flat dull green ones are due to the Moon. It is due to the Sun.
This research is aimed at further understanding fast moves.
7/24/2015 10:17:34 AM MT mjh:: Al do them for metatrader as well, not only Ninja
7/24/2015 9:59:13 AM MT mjh:: Al on a 15 min chart you can see a nice 5 wave move down so far a projection of 2 gives 2061, 2.5 gives 2049.2 and 2.618 gives 2046
7/24/2015 9:53:50 AM MT Al****:: I'm switching to the chat room for the rest of the day
7/24/2015 9:28:35 AM MT mjh:: Al I know we are in a range on the daily but from the top you can see we have pushed down once pulled up, to give the 2nd wave, so now we are moving down from what could be the 5 wave top. A bit of a flat fractal I know what your thoughts on it.
7/24/2015 9:23:39 AM MT Al****:: "I don't think I want to reverse the trend on my own! " LOL!
7/24/2015 9:15:37 AM MT mjh:: I put a pitch fork on the chart you can see a level at 2090 keying with Al's second time turn. But as its freaky Friday I don't think I want to reverse the trend on my own!
7/24/2015 8:55:01 AM MT Al****:: already did in real time. Clinic comments are on the ChaosClinic and SPKiss pages
7/24/2015 8:50:49 AM MT gue:: Will you teach this continuation trade ?
7/24/2015 8:40:20 AM MT gue:: i go to clinic page
7/24/2015 8:28:10 AM MT Al****:: are you watching the comments on the ChaosClinic page?
7/24/2015 8:26:05 AM MT gue:: Any one Sold ?
7/24/2015 8:23:35 AM MT gue:: continuation ?
7/24/2015 7:43:01 AM MT bbb****:: Morning mm, Al. Hope all is well
7/24/2015 6:31:11 AM MT mm****:: gm all - have a great day

9:00 Eastern-System: No comments

---