Chaos Clinic Recap
---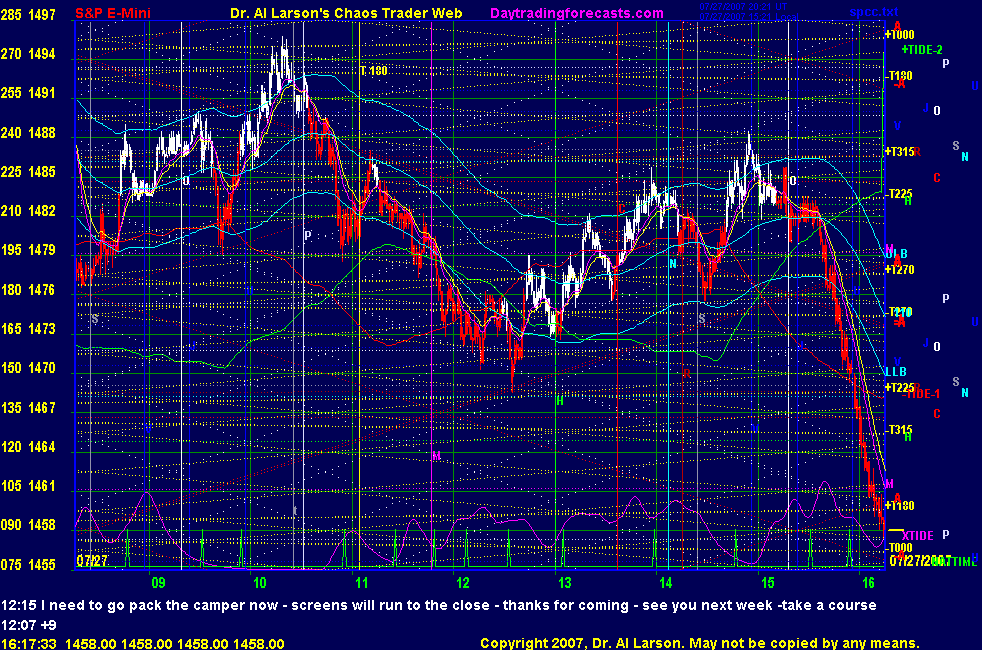 ---
Here are Al's comments
---
12:15 I need to go pack the camper now - screens will run to the close - thanks for coming - see you next week -take a course
12:07 +9
12:03 stop 78.5
11:55 my +9 target is 72
11:51 fear just kicked in - stop 81
11:49 hopes for a rally are turning to fears of another drop
11:46 resold 81 stop 84
11:41 out -3 ; too choppy today
11:38 sold 78 stop 81
11:32 bottom wick on candlestick-in trade time but no clear outcome yet
11:20 when a market is congesting, it is organizing a move-today it looks like it is organizing an
afternoon rally
11:09 that did-so now have a double bottom
11:00 testing lows -if they hold, will attract buying
10:54 wow-fast and choppy- high risk conditions
10:50 back to Mars/Saturn/Neptune flux - acting like an attractor - week before last go terrible congestions on Sat/Nep
10:39 there may not be another trade today - we are in a trading range; On my three day chart, I have a good fit
to a fractal grid from the CTME course. It says a rally up into Tuesday, agreeing with XGO. 10:35 Now have Mercury low, Moon high; Mercury and moon form a 40 day cycle ; it is mentioned in the Bible many times;
The astrologer-priests used the bible to record important cycle numbers
10:31 everyone in the financial industry is very tired after the last 3 days, so today is "Thank God it Friday!"
I'm happy, because I'm going camping in the Rockies - far from the maddening crowd
10:28 the bear raid has been stopped and the full court press is on to talk up the economy , so
panic and volatility should subside
10:26 this is a fast, choppy market - very difficult to trade compared to yesterday
10:21 got resistance at yesterday's pm highs, and saw 7 swings in the up move
10:20 out 94 for +6
10:19 stop 92
10:15 stop 91 - 9 point cover is 97
10:13 stop 90
10:08 stop 88 - low was on the exact time, so looks like green +Tide
10:05 rebought 88
9:57 looks like it has gone flat in a trading range - trading both sides of 110
9:54 low on Mercury, high on Node - Mercury currently conjoining natal Node
9:50 stop 82 on my 3 point trailing stop - things are far too fast to type and trade
9:43 sold 82
9:38 aborting -2.5-don't like it
9:34 bought 88 stop 85
9:27 up to Node flux as pass Node timeline
9:24 have a 20/110 buy signal , so ready to buy if resistance is broken after the 9:30 outcry session starts
9:14 resistance is on the square of Venus flux line
9:08 GDP numbers have changed the mood to hopeful, so should be an up day.

---
Besides the comments made by Al, the chat room is has live
comments from other traders who sometimes share their views,
trades and tips. Below are the chat room comments from this clinic
---


7/27/2007 9:36:24 AM Mountain asd:: all moon times are eastern time, same as the market
7/27/2007 8:54:49 AM Mountain bbb:: im not sure im is south africa but where do i see moon tide times?
7/27/2007 7:52:54 AM Mountain cgm:: what time zone are moon times listed?
7/27/2007 7:47:28 AM Mountain PGM:: .
7/27/2007 7:45:24 AM Mountain cgm:: what time zone are your moon tide times given in ?
7/27/2007 7:02:07 AM Mountain bbb:: My page is not updating with comments or are there none,can someone please help ?
7/27/2007 7:02:04 AM Mountain bbb:: My page is not updating with comments or are there none,can someone please help ?
7/27/2007 5:36:52 AM Mountain mm:: gm all - let's hope for some volatility for the clinic

9:00 Eastern-System: No comments

---