---
CHAOS CLINIC RECAP
---
---

********************************************************************************
Cashing In On SP3XGO
Chaos Clinic for 7/28/2023
********************************************************************************

The top chart is the SP3XGO from daytradingforecasts.com. This is an
energy computation based only on the S&P natal date. It tries to
predict S&P prices from a simple formula. It does not use any price data.
While not perfect, it can be quiet useful.

Late last Friday I used it as guidance to buy SPY at 452.515. We were going
to be gone camping Sunday-Tuesday and I figured the market would "lean up"
into the FOMC meeting on Tuesday and Wednesday. Tuesday saw prices rally,
drop, the rally overnight into Thursday morning. Seeing this overnight
and the forecast down turn is SP3XGO, I placed a sell order on my SPY
position, which was executed on the normal session open at 458.98.
One of my better swing trades. Camping was great, too.

Today I watched a the market make a lower mid day high, I decide to take
a short position using the SH ETF. This is shown on the lower chart.
This chart is a 40 day daily chart of SH. I managed to buy at 13.55.
then as the market fell, SH rose. I was able to put a stop at
13.40. By the close, this was a clear bullish engulfing candle,
I put my stop at 13.40 just below the candle.

I guessed that a 1 point gain was a reasonable target. SP3XGO suggests
weakness over the next week or two. So this trade may work. We shall see.

For more on my work and to subscribe to Tomorrow's Market Email Hotline and access to daytradingforecasts.com see
Moneytide.com
Software to plot electric field flux lines in NinjaTrader is available at
energyfieldtrading.com
---

Below is one of the SPKISS charts from daytradingforecasts.com
and the chat room comments from this Chaos Clinic. Most recent comment is on top.
---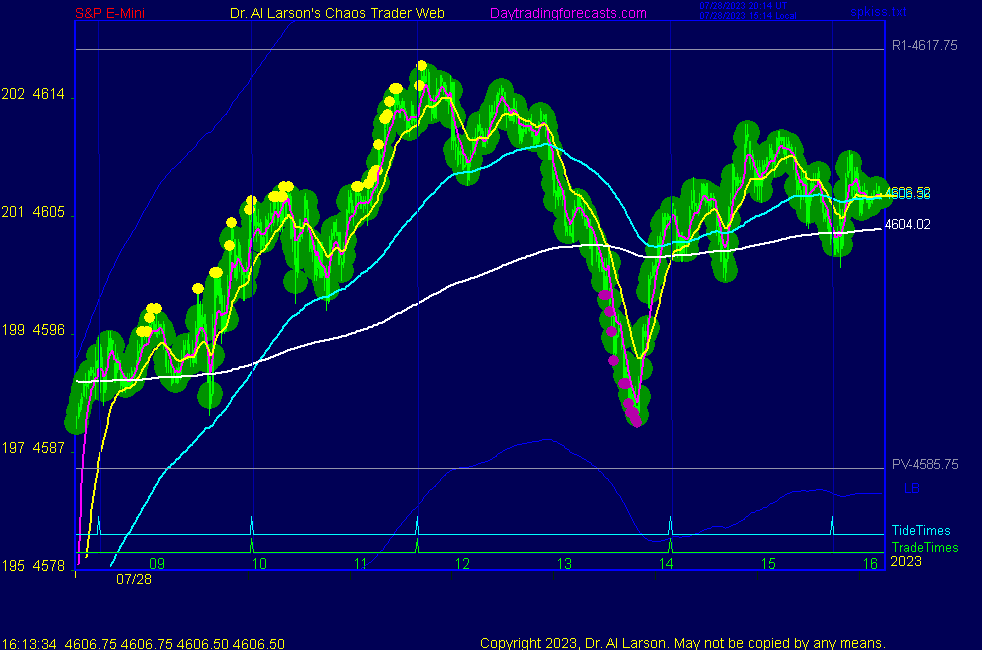 7/28/2023 12:58:46 PM MT Al****:: looks like lower afternoon high - probably no big sell off
holding SH trade - done for the day -thanks for coming-see you next wwek
7/28/2023 12:35:18 PM MT Al****:: on secret->esnat72 bounced off yellow up to white -note vertical line here
7/28/2023 11:35:19 AM MT Al****:: on the ES, a technique out of the Cash In On Chaos course gives a downside target of 4447
7/28/2023 11:27:17 AM MT Al****:: now the SH short S&P ETF is starting up.
7/28/2023 11:22:08 AM MT Al****:: the rally based overnight on the Moon +T000 electric field flux line
yesterday's secondary high was repelled by the Moon -T180 flux
today's rally ran just over the Moon +T045 flux which crossed
the down -T180
so the rally was lifted and ended by the electric field
7/28/2023 11:04:10 AM MT Al****:: I just posted a chart in the CCT Room. It is a pattern right of one of my courses
7/28/2023 10:53:19 AM MT Al****:: on a 2 day 30 minute chart the retrace is .777, or 7/9
This is an integer ratio. Energy adds in integer ratios
7/28/2023 10:12:24 AM MT Al****:: on Secret->esnat72 there are 7 moves up from the low near 4:00
a small Chaos Clamshell
7/28/2023 10:10:39 AM MT Al****:: that would mean the green +Tide is now in play
7/28/2023 10:07:03 AM MT Al****:: my SH trade has just sat at my entry
the ES/MES may be topping here at this Tide time
7/28/2023 9:57:17 AM MT Al****:: rally continues - 36/220 EXMAs have bars colored up
7/28/2023 8:31:38 AM MT Al****:: note SPKISS page chart 1 red -Tide and Secret->esnat72 white to white
7/28/2023 7:35:33 AM MT kwb:: good morning all and Al!
7/28/2023 7:02:27 AM MT Al****:: Good Morning visitors. Welcome to the Chaos Clinic. The written Chaos Clinic is on the AUX page.
This site has a lot of charts,
so you may find it useful to have several of them available within your
browser. If you have a tabbed browser, you can open separate charts
in separate tabs by right clicking on any link, and selecting "open in new tab"
from the menu. The main list of site pages is at
http://daytradingforecasts.com/chartlistsec.asp
Recommended pages to watch are SPKISS, MTRainbow, and Chat.
For astro stuff, add SPSunMoon, Wheel, and Chaos Clinic.
A special set of Dr. Al's research charts are on the Secret page.
Comments in the chat room are announced by a
"duck call" noise. This noise also occurs when the software detects a
resonant hex pattern on the Wheel page. MoonTide trading tutorials
are on the right side of the ListOfCharts page. One should
read Trading the MoonTide Tutorial and Keep it Simple as a minimum.
Many subscribers do not strictly trade the MoonTides, but use the charts on this
site as input to their own trading strategies. For example, charts 5 and 6 on the
SPKiss page are a good starting point for swing traders.
Also on this site is the Certified Chaos Trader's Room. That room is open
to graduates of my 4 main courses. See http://moneytide.com -> Courses for details.

7/28/2023 5:31:43 AM MT oag****:: Good morning everyone! Hope everyone has a prosperous day!
9:00 Eastern-System: No comments

---