Chaos Clinic Recap
---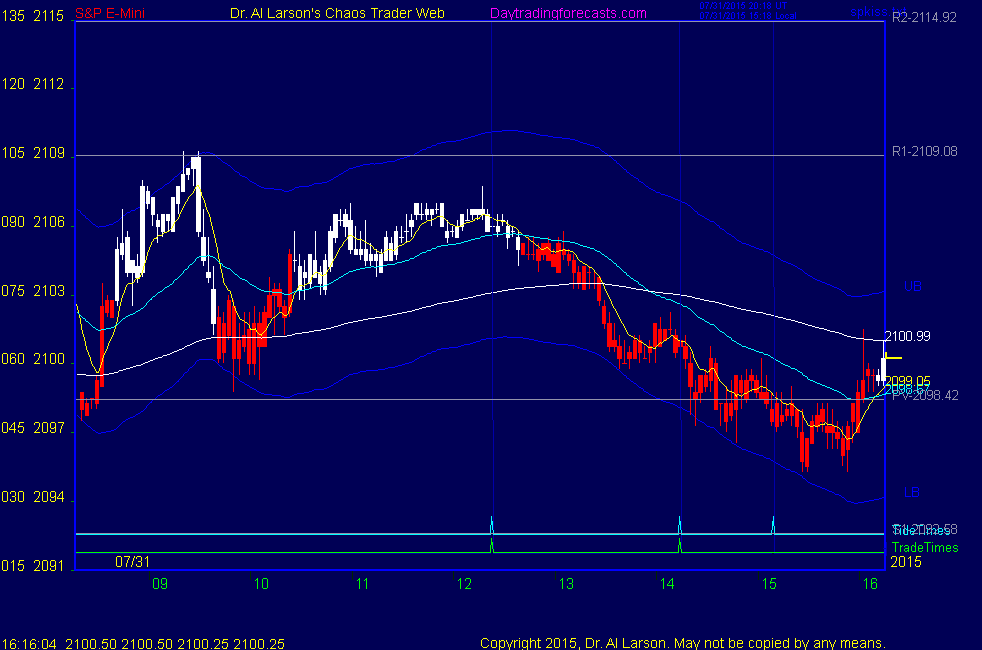 ---
Here are Al's comments
---
12:50 I'm going to quit now, but the screens will run into the close; watch for a possible last hour rally
Thanks for coming; see you next week; take some courses
12:45 on that chart the yellow flux lines show a converging triangle; prices are midway between them,
in a state of balance. This says the volatility will probably dry up
12:43 the research chart on the AUX page showed the little drop with a red down streak
12:42 I may buy it back if we get some juice
12:40 taking +2; don't like it anymore
12:31 XTide suggests that after solar noon at 1:00 we get energy from the separating Full (Blue) Moon
12:21 stop to 2104, lock 1
12:08 little continuation buy at 2106.25
12:02 the XTide at the bottom of the Chaos Clinic chart dips here, then moves up all afternoon
12:00 coming to the first trade time- I'm already in so I'll just carry through
11:41 stop to 2103, just below the 220 minute EXMA, breakeven
11:35 again placing a sell limit at 2112, 9 point target
11:28 stop to 2102, risk 1
11:23 on the AUX page prices are coming to the second up green flux line
11:20 here is where a second round of buying should com in
10:31 a technique from Chaos Trading Made Easy targets 2132 - not necessarily today - that would be a breakout from
this months long congestion
10:50 stop to 2101; risk 2
10:47 cancelling my cover limit order; if prices keep moving at the angel of the green swan, we could go much higher
10:46 the MTRainbow chart was helpful in buying that dip
10:34 that pattern targets 2112 or higher by the close; placing sell limit 2112
10:30 also, my Fractal of Pi pattern showed a good trade setup
10:23 rebuying at 2103, stop 2100; on the AUX page the yellow flux lines crossed over, and support came on the up one with a higher low
10:17 from doing my CTME homework, I expect more buying to come in near 11:00
10:13 got support around the 440 minute EXMA; days trend is up
10:11 I'm just going to watch for a while
9:59 this research is work to find the Moon cycles that fuel the fast moves; the rally started on the up green line
and was stopped by the down red line
9:54 I have again placed a research chart in the AUX page
9:49 I have placed a Fractal of Pi chart in the Certified Chaos Trader's Room. That room is open
to graduates of my 4 main courses. See http://moneytide.com -> Courses for details.
eMylar Fractal of Pi overlays help you be patient, since they show you future potential moves.
The best bargain in my courses is to take the Cash In On Chaos and Fractal of Pi courses and
learn to use the FOP overlay. Then take Chaos Trading Made Easy, and finish with Face Of God.
9:45 actually, I should never have tried that trade
9:34 stopped out; oh well; in hindsight should have covered at R1=2109
9:25 stop to 2104
9:20 this rally is following the green +Tide; closed my eyes and bought 2107-not a hotline trade
9:18 today is a Blue Moon day - may mean lots of Moon juice
9:15 today there is a red swan and green swan crossover near 9:00; the green swan enrgy prevailed
9:05 the early economic report got the bulls excited; trade times today are in the afternoon 12:23 and 14:14
my concern is that all the volatility will drop off from here
9:00 Good Morning. Welcome to the Chaos Clinic. This site has a lot of charts,
so you may find it useful to have several of them available within your
browser. If you have a tabbed browser, you can open separate charts
in separate tabs by right clicking on any link, and selecting "open in new tab"
from the menu. The main list of site pages is at
http://daytradingforecasts.com/chartlistsec.asp
Recommended pages to watch are SPKISS, MTRainbow, and Chat.
For astro stuff, add SPSunMoonMer, Wheel, and Chaos Clinic.
Chaos clinic comments appear at the bottom of the SPKISS, MTRainbow,
and ChaosClinic pages. Comments in the chat room are announced by a
"duck call" noise. This noise also occurs when the sofware detects a
resonant hex pattern on the Wheel page. Trading tutorials
are on the right side of the ListOfCharts page. One should
read Trading the MoonTide Tutorial and Keep it Simple as a minimum.

---
Besides the comments made by Al, the chat room is has live
comments from other traders who sometimes share their views,
trades and tips. Below are the chat room comments from this clinic
---


7/31/2015 11:33:53 AM MT Nella****:: I'm watching that autotrader on the AUX page with great interest
7/31/2015 9:37:42 AM MT Al****:: thank you for coming and supporting my work
7/31/2015 9:30:58 AM MT DPP****:: Al - Thank you for teaching on Friday's.
7/31/2015 7:07:27 AM MT mm****:: gm all - have a great day

9:00 Eastern-System: No comments

---