Chaos Clinic Recap
---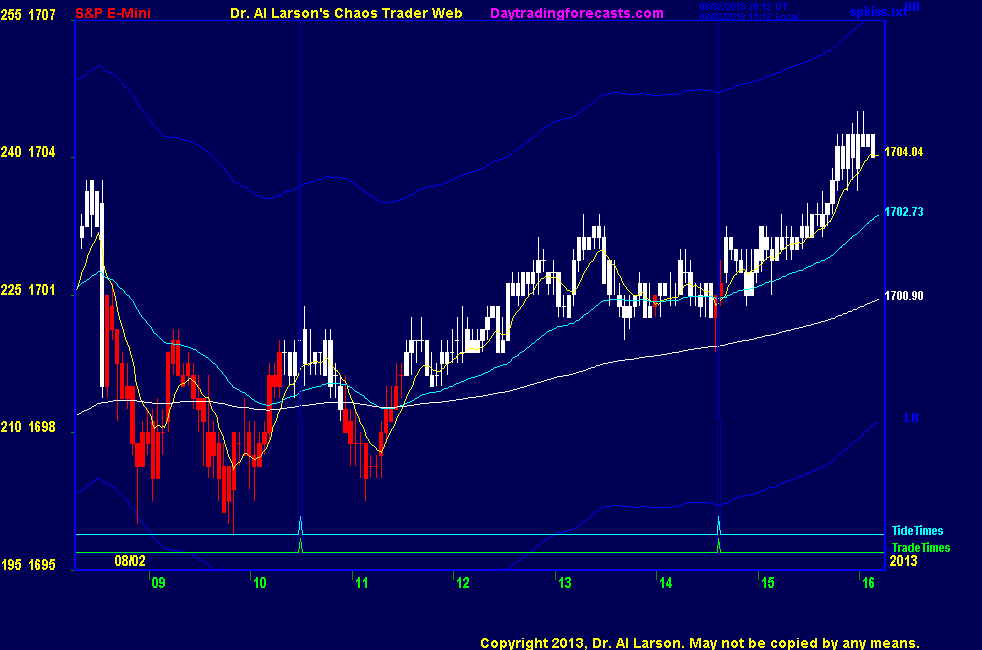 ---
Here are Al's comments
---
3:53 thanks for coming-see you in 2 weeks-camping next week-take several courses
3:52 covered for +2 on the third
3:48 stop to 1702.50
3:45 out for +2 on number 2
3:44 stop to 1702-lock one tick on 2
3:40 stop to 1701.75, break even
3:36 stop to 1701.5
3:33 Moon timeline near 10:00 was low-two moon day-may make 4:00 time hot
3:28 out +1 on one-stop on remaining two to 1701
3:27 hanging tough-not over til the close
3:23 stop to 1700.5
3:19 all three EXMA's up
3:17 still OK-not much juice-testing high of the day
3:13 stop to 1700.25
3:08 stop to 1700
3:04 still OK
2:55 still stuck in the congestion zone between the Moon +T135 and -T045 flux
2:47 I added quickly because of the spike nature of the low on the Tide time; have set 3 cover points
1702.75,1703.75, and 1704.75
2:43 bought 2 more, average 1701.75 stop 1699.5 cover one at 1702.75
2:40 stop held, still in
2:37 sharp dip right at Tide time; Moon +T135 flux crossing Sun +H090 flux
2:26 stuck in the mud -may get some juice at the exact Tide tiem
2:16 getting some buying
2:12 after 2:30 Eastern should see some short covering
2:02 I have labeled 4 moves of an up Chaos Clamshell on my Ninja Trader chart
1:57 jumped too soon but looks OK
1:52 bought 1701.25 on 20/110 continuation stop 1699.50
1:47 asking a question in the chat room - please answer
1:45 coming into the second trade window - bottom of channel holding
1:38 on my NinjaTrader chart I have drawn an up channel with the bottom being a line parallel to a ling through the rally highs
1:32 stopped for +.5 on 2 so +1
1:26 moving stop to 1700.75, lock 2 ticks
1:18 posted a Face of God chart in the CCT room
1:17 moving stop to 1700.25, break even
1:15 I haven't decide on a target yet, thinking we may get a whoosh this afternoon
1:13 looking good -patience
1:09 need to survive this pullback
1:00 getting some resistance at the Moon -T045 flux; breaking it should release some Moon juice
12:54 I have placed a Chaos Trading Made Easy chart in the Certified Chaos Trader's Room. That room is open
to graduates of my 4 main courses. See http://moneytide.com -> Courses for details.
eMylar Fractal of Pi overlays help you be patient, since they show you future potential moves.
The best bargain in my courses is to take the Cash In On Chaos and Fractal of Pi courses and
learn to use the FOP overlay. Then take Chaos Trading Made Easy, and finish with Face Of God.
12:47 stop to 1699,5, just under the 110 and 440
12:41 moved stop to 1698.75
12:38 took the dogs top the park-like what I see now
12:04 added a contract, so long 2 from 1700.25
11:59 moving stop to 1697.25
11:54 here I like the bars staying above the 110 minute EXMA
11:36 rebought 1700 stop 1696.25
11:05 taking a break now
10:59 stopped out for -2
10:53 where my resistance and support lines cross is a balance point in time and price
I'm trying to hold past that time
10:49 added a resistance line to my NinjaTrader chart on the AUX page
10:45 no questions, so I've posted one of my own. I'd like everyone watching to respond, please
10:40 things are a bit slow, so I'll take any questions in the chat room
10:37 raising my stop to 1697.50, up to my support line
10:34 pulled back from the 440 for now-trade still OK
10:31 hex patterns have 12 point sides -this corner 1699, next up a711
10:28 if you have you sound on, you hear a "duck call" announcing a resonant hex pattern-see hex wheels today link on right side of ListOfCharts page
10:20 moving my stop up to 1695.5
10:16 drew a support line on my NT chart in AUX page
10:14 pressing a bit, bought 1699.5
10:12 110 min EXMA curling up
10:11 in anticipation of a buy set up, placing a sell stop under the lows
10:09 getting some buying
10:06 I've simplified my NinjaTrader screen to just have the 3 minute bars and the 7 bar(20 minute)
36 bar ( 110 minute) and 147 bar (440 minute EXMAs
9:58 on my NinjaTrader screen on the AUX page, I've added a drawing toolbar on the left. It comes from
a Ninja Trader forum. For your convenience, you can download it from http://moneytide.com/download/ToolBarShortcut.zip
9:54 so far we have a double bottom; 440, 110, and 20 minute EXMA's are down, so watching for turn in them
9:52 I'm inclined to wait to see how we come out of the trade time
9:50 testing the low -just watching
9:45 today I am displaying my NinjaTrader screen on the AUX page; the vertical lines are the trade times
9:35 if follow the green +Tide, may get a dip to about 1693.5 ; have a flux cluster there
Mars,Uranus, Jupiter,Pluto
9:31 S&P outcry session open
9:20 the move down on the jobs report found support on the Mercury +M090 electric field flux
this may hold all day
9:13 market down a bit after the jobs report - somewhat weaker than hoped for
trade times today are 10:30 and 14:37
9:00 Good Morning. Welcome to the Chaos Clinic. This site has a lot of charts,
so you may find it useful to have several of them available within your
browser. If you have a tabbed browser, you can open separate charts
in separate tabs by right clicking on any link, and selecting "open in new tab"
from the menu. The main list of site pages is at
http://daytradingforecasts.com/chartlistsec.asp
Recommended pages to watch are SPKISS, MTRainbow, and Chat.
For astro stuff, add SPSunMoonMer, Wheel, and Chaos Clinic.
Chaos clinic comments appear at the bottom of the SPKISS, MTRainbow,
and ChaosClinic pages. Comments in the chat room are announced by a
"duck call" noise. This noise also occurs when the sofware detects a
resonant hex pattern on the Wheel page. Trading tutorials
are on the right side of the ListOfCharts page. One should
read Trading the MoonTide Tutorial and Keep it Simple as a minimum.


---
Besides the comments made by Al, the chat room is has live
comments from other traders who sometimes share their views,
trades and tips. Below are the chat room comments from this clinic
---


8/2/2013 1:07:47 PM MT kwc:: Getting a sell signal here on my system
8/2/2013 12:21:40 PM MT BBB****:: Ahhh - just reread that you had added to your position. I have been taking 2/3 of my position off for +1 lately and then tightening up the stop on the balance. It has definitely smoothed out my equity curve.
8/2/2013 12:05:49 PM MT Al****:: I could have covered on at +2 and held the other
8/2/2013 11:58:31 AM MT BBB****:: I think from a money management standpoint you did the right thing.
8/2/2013 11:47:30 AM MT Al****:: OK, what could I have done better on that trade?
8/2/2013 11:14:25 AM MT Al****:: 5 points is a good target on average days-on slow days going for 2 or 3 may work better
8/2/2013 11:07:13 AM MT kwc:: Do we still target 5 points from entry point? Any there any variations depending on volatility?
8/2/2013 10:53:58 AM MT BBB****:: Thanks. I am just targeting the days highs after taking 1 pt on half.
8/2/2013 10:45:15 AM MT Al****:: BBB: just a recross of the 20/110 off of a higher low
8/2/2013 10:35:03 AM MT BBB****:: Al, I was long at 1700.25 too, but just wondering what got you to rebuy?
8/2/2013 10:25:41 AM MT jts:: I was a subscriber in the past, but was not able to get the hang of it, was hoping chaos clinics could help that but almost all fridays are a bust trading wise...
8/2/2013 9:31:37 AM MT Al****:: the Chaos Clinic is not a product but a free service-would you be willing to pay a nominal fee for one done on another day?
8/2/2013 9:20:39 AM MT jts:: I would like to see Chaos Clinic moved from OPEX Fridays. Friday opex destroying mkt. action.
8/2/2013 9:06:43 AM MT BBB****:: I would love to get the Tides (+ and -) on the Ninja platform. That would be so great.
8/2/2013 8:55:15 AM MT SPX:: Service - swing trade buy/sell recommendation
8/2/2013 8:44:58 AM MT Al****:: I have a question for you: What new service or product would you like to see?
8/2/2013 5:48:59 AM MT mm****:: gm all - have a great day
8/2/2013 5:01:37 AM MT Al****:: GM all-good luck today

9:00 Eastern-System: No comments

---