Chaos Clinic Recap
---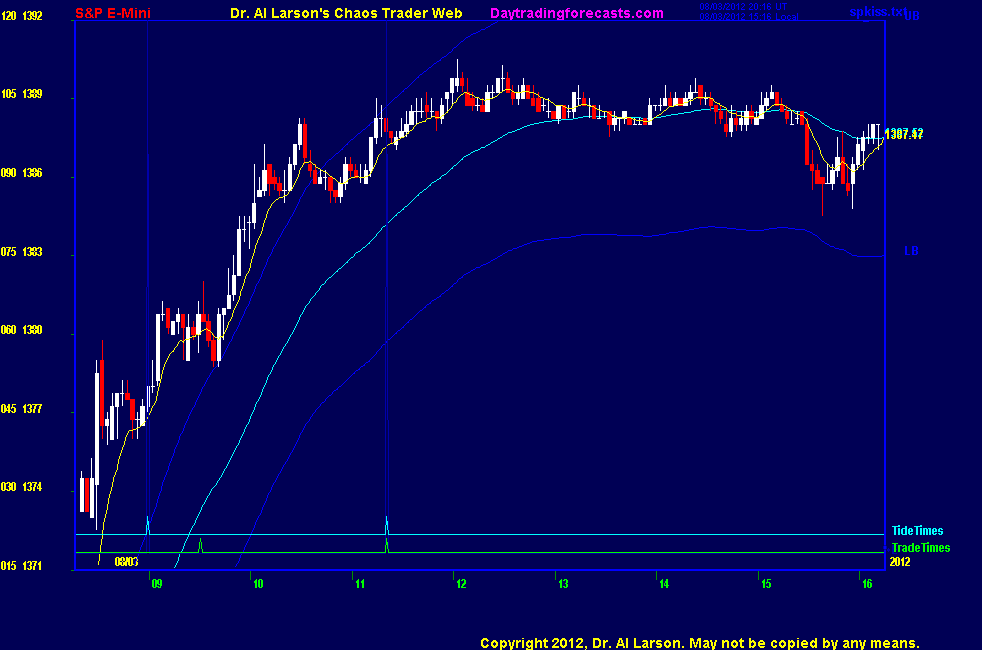 ---
Here are Al's comments
---
12:13 that's my planned trades for the day, so I'm done. Thanks for coming. See you in 2 weeks.
Next week is camping. Take a course or 2.
12:10 I don't like the pace of this rally-covered for +5
12:08 stop to 1386.5 - just under the 110 minute EXMA
12:00 stop to 1386 -lock 2
11:58 I'm back -see market is still moving up
11:35 I'm going to take a break for breakfast now
11:26 trading takes a lot of patience - I'm ususally short on patience
11:21 stop to 1385 -locking a big one point
11:16 I didn't expect a good move today, since I'm not camping :)
11:13 continuation buy signal on the 20/55 - I'm just holding
11:12 I have placed a Fractal of Pi chart in the Certified Chaos Trader's Room. That room is open
to graduates of my 4 main courses. See http://moneytide.com -> Courses for details.
eMylar Fractal of Pi overlays help you be patient, since they show you future potential moves.
The best bargain in my courses is to take the Cash In On Chaos and Fractal of Pi courses and
learn to use the FOP overlay
11:06 the 110 EXMA is still up, near 1383.2
10:58 support on the 55 EXMA-it slowed but did not turn down -sitting tight
10:55 stop still OK -trying to be patient
10:48 already in the second trade window - I'll just carry this one through unless stopped out
10:44 stop to 1384.5 -lock .5
10:34 on a fast move like this, the 55 EXMA is useful-when it turns down, the move is probably over
10:31 stop to 1384 -going for 9 so cover 1393 if get there
10:24 still OK-trying to be patient
10:08 broke that- the juice is up -stop to 1383
10:04 testing the rally high of the 30th
9:55 probably late, but taking a continuation buy off the 20/55 at 1384 stop 1381
9:47 new high
9:42 on the MTRainbow chart, the 55 minute EXMA is magenta. The yellow 20 EXMA would have to cross down through it for a sell .
9:38 in this situation, one can substitute the 55 EXMA for the 110 in the hotline rules
9:35 on the MTRainbow chart we see a very diverent pattern, so prices will com back toward the white 440 EXMA
9:32 outcry session open
9:25 prices are hanging around the Moon +T090 electric field flux-see the SPSunMoonMer chart.
I know the Moon is strong, because the full Moo woke me up last night-it gave me insomnia
9:20 unfortunately, for our hotline trade near 9:31, the market is too far from the 110 minute EXMA for a trade setup
by the rules we use
9:15 may be topping out - on the Aux page I am showing a research in progress chart that shows
natural support/resistance levels - have one at 1381
8:55 trade times today are 09:31 and 11:21 . The first is just after the outcry session open.
8:53 market up overnight going into the jobs report-which is good but not great
I think we will see a fairly narrow range today from here
8:51 Good Morning. Welcome to the Chaos Clinic. This site has a lot of charts,
so you may find it useful to have several of them available within your
browser. If you have a tabbed browser, you can open separate charts
in separate tabs by right clicking on any link, and selecting "open in new tab"
from the menu. The main list of site pages is at
http://daytradingforecasts.com/chartlistsec.asp
Recommended pages to watch are SPKISS, MTRainbow, and Chat.
For astro stuff, add SPSunMoonMer, Wheel, and Chaos Clinic.
Chaos clinic comments appear at the bottom of the SPKISS, MTRainbow,
and ChaosClinic pages. Comments in the chat room are announced by a
"duck call" noise. This noise also occurs when the sofware detects a
resonant hex pattern on the Wheel page. Trading tutorials
are on the righty side of the ListOfCharts page. One should
read Trading the MoonTide Tutorial and Keep it Simple as a minimum.


---
Besides the comments made by Al, the chat room is has live
comments from other traders who sometimes share their views,
trades and tips. Below are the chat room comments from this clinic
---


8/3/2012 10:17:28 AM MT BBB****:: Nice. I am out on the day too. Have a good weekend...
8/3/2012 10:08:10 AM MT AG:: FWIW, there is a gap at 1394.50 that has yet to be filled from ages ago. That level also happens to be 9-point extension from low of current move at 1385.
8/3/2012 10:02:31 AM MT sdg:: Meetings all morning, but got in before this juice...hope your correct BBB.
8/3/2012 9:19:13 AM MT BBB****:: Took the continuation buy at 86.75 and holding. I figure they are going to run the SPX to 1400 at least for today... at least I hope they do
8/3/2012 8:16:50 AM MT BBB****:: I have the high on the 30th at 1387.50 and we only hit 1387.25 today, so far....
8/3/2012 8:09:14 AM MT BBB****:: Out for a nice one - thanks Al!
8/3/2012 7:51:27 AM MT BBB****:: Bought 79.75 on the little dip. I took 3 out earlier and bought right on the little dip before 9 am EST tide time.
8/3/2012 7:26:01 AM MT sdg:: The combination of out of band and near resistance is temtping for a smaller position short setup.
8/3/2012 7:21:47 AM MT srj****:: gm all.
8/3/2012 6:47:34 AM MT Al****:: GM all-good luck today
8/3/2012 6:34:20 AM MT BBB****:: Lets have a good one today
8/3/2012 6:18:32 AM MT sdg:: GM all - here's to persistency.
8/3/2012 6:06:43 AM MT MK:: GM all-have a great day.
8/3/2012 5:20:18 AM MT mm****:: gm all - have a great day

9:00 Eastern-System: No comments

---