Chaos Clinic Recap
---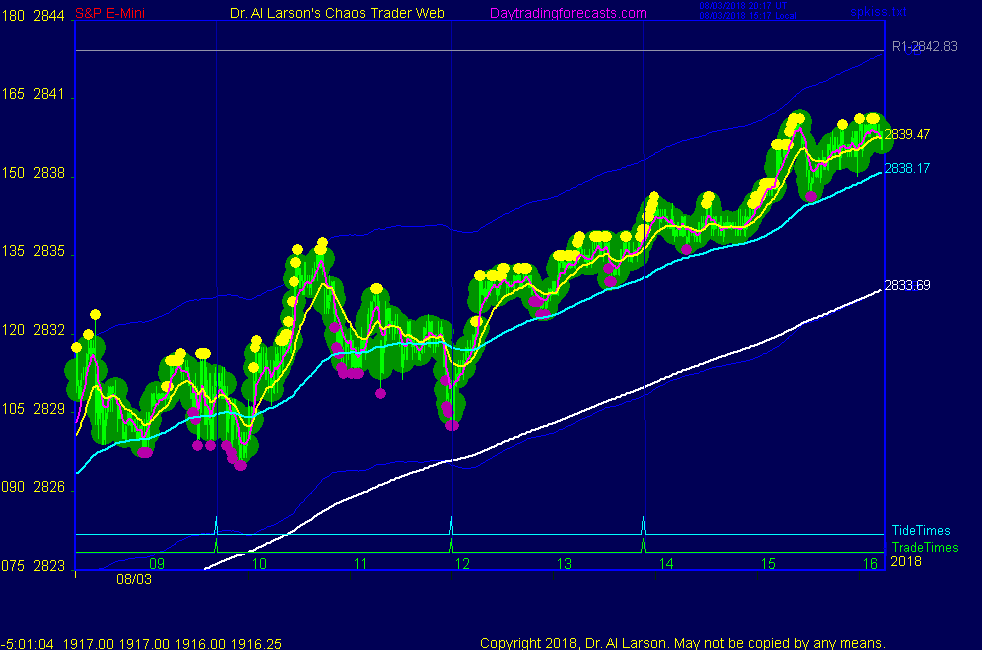 ---
Here are Al's comments
---
4:01 long hard day, but positive. Thanks for coming. See you next week. Take some courses.
4:00 sold 2840 for +9.5
3:48 stop to 2836.75
3:41 have a sell market order ready to submit at 4:00
3:39 have my sell limit at 2842.5 -still possible
3:33 still in; low at 12:00 suggest 16:00 is harmonic-4 hr cycle
3:26 stop to 2836.25
3:17 stop to 2835.25 ; one tick below yellow vibration on Secret->esnat72
3:12 looking good
3:07 new highs
3:00 putting a sell limit at 2842.5 near R1 just in case get a pop up; otherwise cover near close
2:58 looks like did switch to red -Tide; up to close
2:54 the EXMAs are still moving up, so sitting tight
2:47 stop to 2834.25
2:41 the big danger here is falling asleep :)
2:33 stop to 2834
2:28 after 2:30 on Fridays big firms will cover any shorts that are not working
2:23 stop to 2833.75 just under 220
2:15 not exactly a barn burner
on Secret->esnat72 yellow vibration was resistance, is now support
2:08 stop to 2833.5
2:03 stop to 2833-just under the 220
1:55 stop to 2832
1:53 pushing through the highs
1:48 coming to green swan
1:36 early in day saw evidence of red -Tide; then midday green +Tide; usually means end on red -Tide
such and inversion would be evident after 13:53
1:25 stop to 2830
1:20 if this trade keeps working I will carry it through the 13:53 trade time
1:16 testing highs
1:13 the pit prices have not been a factor today. Yesterday's wide range expanded them. But
R1 is at 2842.83
1:07 now needs to make a new high - may get a short covering rally as stops are hit
1:04 it did
1:01 watching to see if Sun added energy
12:49 coming up on solar noon
12:30 on 24 hour chart I note that this is move 5 in an up Chaos Clamshell from 4:00 AM
Move 5 is usually the biggest move
12:27 stop to 2828.5
12:22 on Secret->esnat72 low was white vibration - next white is 2838.5
12:17 now some Moon juice
12:15 today we have a green swan in the afternoon
12:09 on dull days especially a few minutes in timing may make a difference, since the main actor is the rotating earth
12:07 may still rally-staying-rebought 2830.5 stop 2826
12:00 stopped out-entry too soon
11:53 bought 2832.5 stop 2828.5; on Secret->esnat72 chart entry is on the green vibration level, stop below the white
11:39 near 12:00 exchange squares Moon, and near 1:45 exchange conjoins Mercury-possible rally as per green +Tide
11:27 one of my cycle trackers is flat along 2831, indicating no energy; may be time to go camping
11:25 however, given today's lack of juice, I don't think I'd trade it
11:18 next trade time is 12:00; may get a sell setup
11:09 no juice today-normal session range 8.5 at 11:00 Eastern is lower than average
11:01 aborting for 0
10:58 looking weak-stop Ok for now
10:48 stop to 2830.5 risk .5
10:35 stop to 2830 under 110
10:27 moving cover to 2838 and stop to 2829, just under the 110 minute EXMA
10:24 prices dipped to the 110 and move up, which suggests move gaining strength
10:17 I rebought because I saw that prices bounced off the 220 minute EXMA, which is up
10:06 back-rebought 2831 stop 2827 cover 2836 -a bit more juice
9:52 looks like the big guys are headed for the Hamptons today; taking a break
9:48 trading flat on the 110 minute EXMA; a good trade would have some separtation
9:46 aborting -1.25; no juice
9:41 tepid
9:37 stop to 2826.5, just under the 220
9:32 looking Ok
9:16 bought 2830.5 stop 2826 cover 2835.5
9:04 trend is up from yesterday - possible continuation buy setup; 440 minute EXMA at 2822 is support
8:44 now waiting until the normal session open
8:37 the Employment report is widely traded by computers and sometimes there is a sizable move, but not today
8:32 barely a ripple in price on the report - numbers in low end of consensus range
8:25 prices did little overnight
8:21 starting early too watch the 8:30 Employment report. Trade times are 09:42, 12:00, and 13:53
8:20 Good Morning. Welcome to the Chaos Clinic. This site has a lot of charts,
so you may find it useful to have several of them available within your
browser. If you have a tabbed browser, you can open separate charts
in separate tabs by right clicking on any link, and selecting "open in new tab"
from the menu. The main list of site pages is at
http://daytradingforecasts.com/chartlistsec.asp
Recommended pages to watch are SPKISS, MTRainbow, and Chat.
For astro stuff, add SPSunMoonMer, Wheel, and Chaos Clinic.
Chaos clinic comments appear at the bottom of the SPKISS, MTRainbow,
and ChaosClinic pages. Comments in the chat room are announced by a
"duck call" noise. This noise also occurs when the sofware detects a
resonant hex pattern on the Wheel page. Trading tutorials
are on the right side of the ListOfCharts page. One should
read Trading the MoonTide Tutorial and Keep it Simple as a minimum.

---
Besides the comments made by Al, the chat room is has live
comments from other traders who sometimes share their views,
trades and tips. Below are the chat room comments from this clinic
---


8/3/2018 9:38:29 AM MT pyc:: Al good morning. I have a feeling theres is a FOG pattern developing here. What is your input? Im just going by what i researched so far on your site
8/3/2018 8:28:17 AM MT srj****:: GM AL, All
8/3/2018 8:12:23 AM MT Al****:: GM all-good luck today; all well here
8/3/2018 8:08:20 AM MT bbb****:: GM hope all is well
8/3/2018 7:33:11 AM MT mh:: good morning, im back

9:00 Eastern-System: No comments

---