Chaos Clinic Recap
---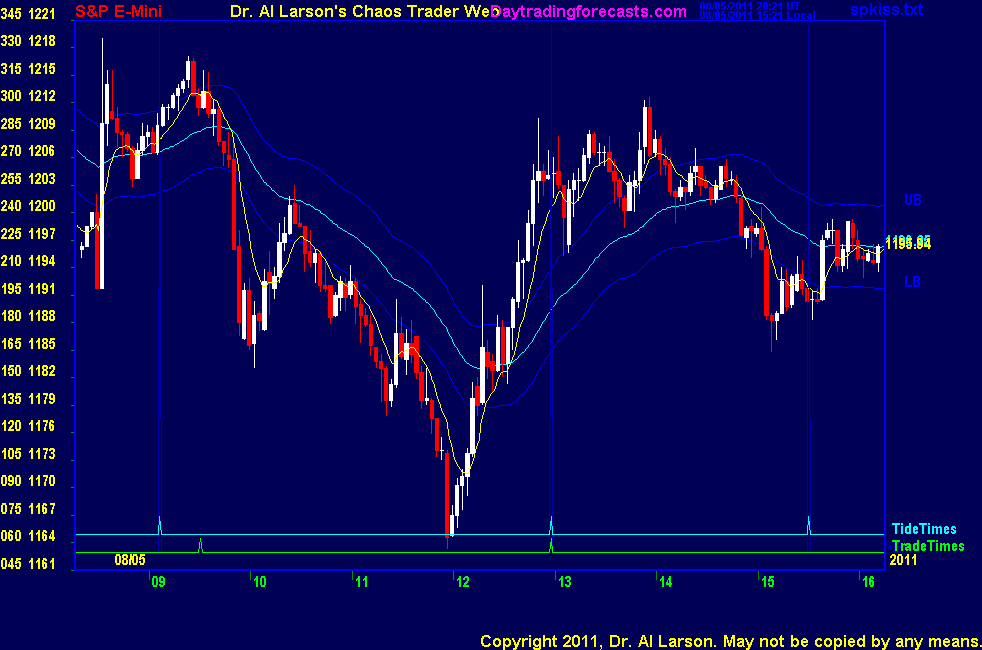 ---
Here are Al's comments
---
1:03 I'm done with this Chaos Clinic-don't get many like this-truly a Black Swan day. Thanks for coming; see you next week; take a course; learn to CASH IN ON CHAOS.
1:00 OK, so that is +18 ; may be more but I'll take that; got out just because it was a good gain and I don't like the candle wicks
12:58 covering 1206 at exact Tide time
12:57 stop OK
12:53 doji on last 3 minute candle
12:50 stop to 1200
12:49 stop to 1197; the elephants are buying and flying
12:47 stop 1194-whee-chaos is fun
12:43 stop 1191
12:43 so far OK
12:38 stop 1188
12:37 so my target is 1215, stop now to 1188
12:36 given the 3X normal range, I'm using 3X my normal stops and targets
12:35 bought 1188 stop 1179 on 20 /110 crossing
12:29 that rally had some juice- and it turned the 110 EXMA flat to up
12:19 sdg says in chat room he's feeling a case of vertigo; crashes are like parachuting out of a plane at night and
getting caught in a thunderstorm, carried up and down, and the rain and hail pelt you, and lightning flashes all around.
12:17 what a bounce - awesome ; low hit Mercury/Chiron/Neptune flux again
12:13 that last drop hit 1 point per minute ; this makes it really hard to set stops close enought for us ants
12:10 notice on the Aux page after the initial pop up the green Black Swan line prices dropped onto the red
negative Black Swan line
12:07 54 points in 3 hours = 18 points per hour; yesterday's morning speed was 9 pts per hour
12:05 the initial range from the jobs report was 27 points. This drop has doubled it to 54 + change
11:57 I'm back ; see the panic has continued; another nice continutation sell
11:35 taking a breakfast break
11:27 that down swing went from one Natural Time to the next-Natural Times are on the SP1Day chart, and there is a
tutorial on them on the right side of ListOfCharts page
11:22 down to Sun/Venus +000 electric field flux
11:17 there was a nice continutation sell about 1191-not in a trade windows so not part of our trade strategy
11:01 so far pattern is following the green +Tide. It turns up at the next Trade time. It will be interesting
to see what happens then.
10:42 That early drop after the outcry open looks to me like public panic selling in stocks after last night's news coverage of Black Thursday
10:25 You see why I took my money and ran at 1191; the computers can turn the market on a dime
10:24 and now a 50% bounce
10:18 range is now a perfect 36 points
10:10 the drop went down to just above the Mercury /Neptume electic field flux lines; the post jobs report
rally hit the same flux lines 36 point higher - half a Wheel of 72 in just over an hour
10:06 one has to remember that as an individual trader with limited funds, you are just a piss ant in a herd of elephants
When the elephants dance, it is easy to get stepped on
10:03 good demonstration of the repelling power of the 440 EXMA
10:01 our hotline rules don't get all of the moves - just a few chunks along the way
9:56 that's +14 - this thing moved too fast for me to cover at the normal +9
9:54 buying 1191 - too wild for me
9:50 OK, sold 1205 stop 1208 on 20/110 sell
9:48 pretty good dip-watching to see if it holds up - I think it will
9:37 aborted for -2; top wicks at 1215; support not set yet; also just got hex pattern at 1214
Seet Hex Wheels and Hex Wheels Today on right side of ListOfCharts page. 9:33 continutation buy at 1213 stop 1209(110 EXMA)
9:31 outcry session open
9:22 on the MTRainbow chart, the 440 EXMA is near 1218, so it should resist the move
9:13 hopefully there will be a pullback after the outcry session opens
9:10 trade times today are 9:31 and 12:58; the first one is problematic; the range is 27 points already
8:50 market up after positive jobs report. An interesting thing is that the report came
at a bifurcation point at 1200 in Dr. Al's Black Swan Cycle. I've posted my Black Swan chart on the AUX page.
Note that yesterday's drop started at a bifurcation point at 1260, and dropped at an average rate matching the
slope of the red line, the negtive Black Swan Cycle.
Note that Tuesday's drop was along another red line.


---
Besides the comments made by Al, the chat room is has live
comments from other traders who sometimes share their views,
trades and tips. Below are the chat room comments from this clinic
---


8/5/2011 11:42:21 AM MT srj****:: Thanks AL
8/5/2011 11:34:39 AM MT mm****:: Thanks - they did not tell me - they usually send a message
8/5/2011 11:24:45 AM MT Al****:: MM: note that IB has doubled the margin requirements for today 5000 initial; yesterday it was 2500
8/5/2011 11:14:39 AM MT Al****:: srj: normal daily range is about 18-we hit 54, which was 3X, and my charts with thre point price gride looked like my 1 point charts normally do
mm: 1206-1188=18
8/5/2011 11:06:11 AM MT mm****:: AL - 12 ?
8/5/2011 11:03:38 AM MT srj****:: @AL - great trade Al - how did you determine 3 X normal daily range - from the 27 point move from the jobs report?
8/5/2011 10:27:29 AM MT srj****:: greetings all - what a day to come back on (jet lagged from trip to Calcutta - wahha)
8/5/2011 10:20:22 AM MT mm****:: We're in the trade window
8/5/2011 10:17:24 AM MT sdg:: Feeling a case of vertigo coming on, what a crazy day.
8/5/2011 9:50:18 AM MT TG****:: MM, no haven't seen Jim. My move is just temporary. It's nice here but despite the U.S.'s problems it's the best place to live.
8/5/2011 9:32:10 AM MT mm****:: the MT have not let me down in the last 20 years - I count on a CiT at 12:58 - the pit is waiting for it
8/5/2011 9:15:02 AM MT mm****:: TG - Famous Jimmy Rogers also moved to Singapore - have you run into him?
8/5/2011 9:09:06 AM MT TG****:: We've been throughout much of Europe, never Asia, always seemed too far. So an opportunity to see the other side of the world. Meanwhile, pretty big adjustment. We're living at the foot of a nature preserve that is literally jungle-like and there is a tribe of macaque monkeys that live in there.
8/5/2011 8:38:33 AM MT Al****:: That sounds like a good thing and an exciting adventure. Great that you have the courage to make changes.
8/5/2011 8:34:51 AM MT TG****:: The trading and occasional consulting work I do is for the retirement nest egg, Mrs. TG is still in the corporate world. Her company asked her to go run their Asia/Pacifica region (excluding China and India which are now their own regions). I didn't want to do it at first but taking the equity out of the house and being mortgage and car loan free feels pretty good. Also I've always traded best when I've had no pressure to earn today, in other words, just concern myself with trading well as opposed to trading for current income.
8/5/2011 8:16:25 AM MT Al****:: TG-welcome back-Singapore? Why?
8/5/2011 7:03:03 AM MT TG****:: GM MM, Al and the rest of the folks here, been away from the trading for the past two months. Sold everything and relocated to Singapore with a planned stay of 3-4 yrs.
8/5/2011 7:00:27 AM MT Al****:: GM all-good luck today
8/5/2011 5:07:07 AM MT mm****:: gm all - have a great day

9:00 Eastern-System: No comments

---