Chaos Clinic Recap
---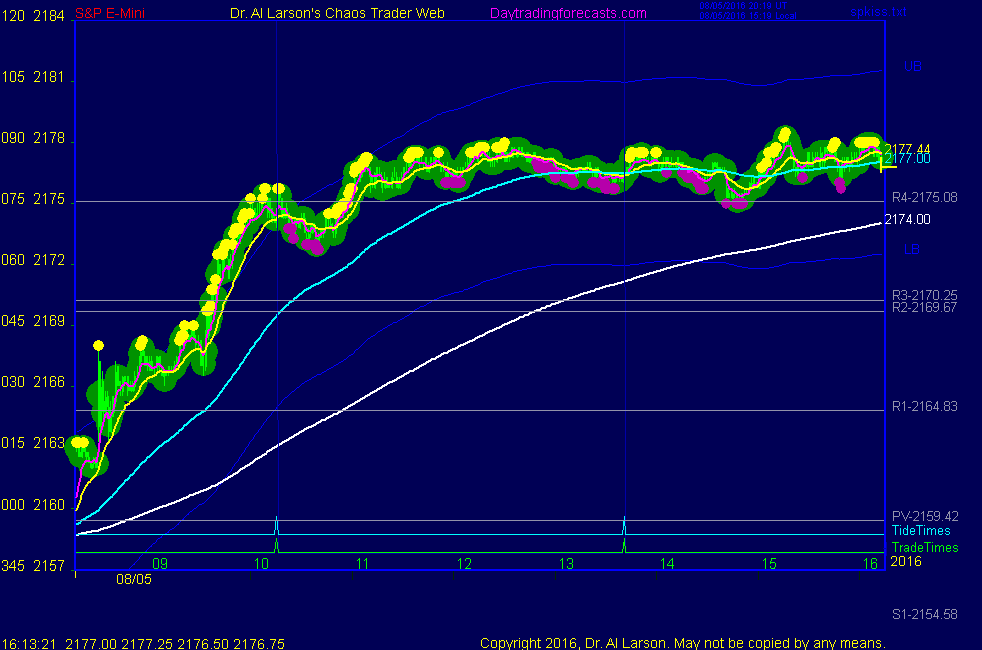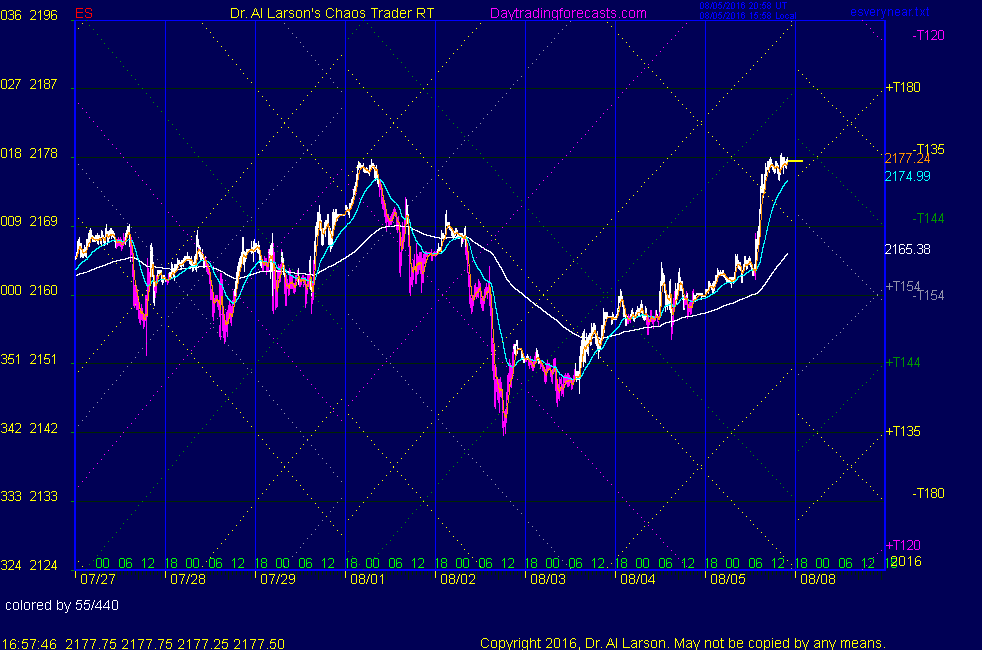 ---
Here are Al's comments
---
3:51 stopped for +6; Done for the day. See you next week. Take some courses.
2:16 I have to leave to run an errand; I'm going to leave my stop in, and it either gets hit, or I'll cover at 4:00 Eastern
2:05 raising stop to 2175, just under the 220 minute EXMA; locks 6
1:48 minor upturn; needs to expand
1:37 this is where we may switch to the red tide
1:17 After a choppy period when profits evaporate quickly, it is normal to fear they will do so again.
That's where I like the MTRainbow chart. When the EXMA's are not well separated, one needs to take quick gains.
When they are well separated, you can hold longer.
1:12 adjusted my Face of God chart in the CCT Room-suggests up resumes soon
12:53 these are the midday doldrums
12:41 stop to 2174.5
12:35 watching for new highs
12:15 on the Chaos Clinic page you can see prices running right up the Green Swan electric field flux line
12:12 what you do not want to do on a day like today is try to sell a rocket.
12:10 need to get above 2179 to get some real juice as stops above the 8/1 high get cleared out
12:00 when the pivot prices "fail" due to range expansion, I think you can just double the increment
from the pivot; pivot about 2160; R1,+5, r3/4 +10,r4 +15; so new ones: R1 2170 R2/3 2180 R4 2190
11:50 stop to 2174; lock 5; this is a "hold to close" pattern
11:40 stop to 2173, lock 4; testing 8/1 high
11:22 I'm going to take a 30 minute break now; stop is in
11:16 I have placed a Face of God chart in the Certified Chaos Trader's Room. That chart was key to my jumping in early.
The CCT room is open to graduates of my 4 main courses. See http://moneytide.com -> Courses for details.
eMylar Fractal of Pi overlays help you be patient, since they show you future potential moves.
The best bargain in my courses is to take the Cash In On Chaos and Fractal of Pi courses and
learn to use the FOP overlay. Then take Chaos Trading Made Easy, and finish with Face Of God.
11:06 stop to 2172, lock 3; like the speed-I love rockets
11:00 2178 is about the 8/1/16 high; should be resistance, but we are very likely to test it
10:57 stop to 2171, lock 2 points
10:52 on a running day, often get two MoonTide switches; like today red-green-red; just made first switch
10:46 still in a small congestion; staying well above the 110; very good
10:29 the 110 minute EXMA is tracking the Green Swan; my stop is just below it;
on a big day, a stop on the 220 will keep you in all day
10:26 since I'm doing just one, I'll just raise my stop to 2070, and lock 1 point;
10:24 this is where I like to trade multiple contacts; I would take a +5 on half my position here
10:19 you may also notice on the SPKISS page I've added the old SPKISS chart back in
10:14 on the AUX page I'm showing a multiday 24 hour chart; note how trade go on one side of the white EXMA on this rally
as opposed to crossing it over and over during the past 3 weeks
10:12 up to the r4 pivot point; pivot points fail on a volatility expansion, just like Bollinger bands
10:08 stop to 2169.5 lock .5 ; looking good for just letting it run
9:58 stop to 2168-risk one point
9:50 I may be hallucinating about higher volatility, but big move days are always red or green swans; Today's green swan reaches all the way to 2193 by the close
9:44 stop to 2167; I will let this trade run; I like the speed
9:42 in addition, we have Moon Timelines near open and close, which I call a "Two Moon Day"-often volatile and one way
9:39 may get an increase in volatility today, so don't want to miss it; I have a high respect for green and red swans
9:35 bought 2169 stop 2166-small dip, but not much to go on
9:19 I'm hoping for a pullback to get long somewhere near the trade time
9:17 daily volatility has been very low for three weeks-9 point range not uncommon
9:10 trend is up; trade times are 10:16 and 13:41 ; current move is following a Green Swan
8:37 good jobs report
8:20 Good Morning. Welcome to the Chaos Clinic. This site has a lot of charts,
so you may find it useful to have several of them available within your
browser. If you have a tabbed browser, you can open separate charts
in separate tabs by right clicking on any link, and selecting "open in new tab"
from the menu. The main list of site pages is at
http://daytradingforecasts.com/chartlistsec.asp
Recommended pages to watch are SPKISS, MTRainbow, and Chat.
For astro stuff, add SPSunMoonMer, Wheel, and Chaos Clinic.
Chaos clinic comments appear at the bottom of the SPKISS, MTRainbow,
and ChaosClinic pages. Comments in the chat room are announced by a
"duck call" noise. This noise also occurs when the sofware detects a
resonant hex pattern on the Wheel page. Trading tutorials
are on the right side of the ListOfCharts page. One should
read Trading the MoonTide Tutorial and Keep it Simple as a minimum.

---
Besides the comments made by Al, the chat room is has live
comments from other traders who sometimes share their views,
trades and tips. Below are the chat room comments from this clinic
---


8/5/2016 11:57:24 AM MT srj****:: Thanks Al
8/5/2016 11:48:50 AM MT Al****:: yes
8/5/2016 11:47:07 AM MT srj****:: @AL - the adjustment you made to the FOG chart - is it by progressing (if that is the right term) the chart to the 1:30 PM time and then refitting? TIA
8/5/2016 10:56:48 AM MT TG****:: I think there should be another run at the high but lately 4 and 5 pointers have been tough to come by lately and they evaporate quickly. Painful to watch for 2 hours as it slowly grinds up only for it to reverse it all away in minutes.
8/5/2016 10:51:47 AM MT TG****:: Took 4
8/5/2016 10:47:26 AM MT TG****:: I went long pretty late at 73.25 when price appeared to be holding the 55 EXMA after trending up above the out of band area.
8/5/2016 8:34:35 AM MT gpr:: please add back the old spkiss with colored bars following the EXMA
8/5/2016 6:20:37 AM MT Al****:: GM all-good luck today
8/5/2016 6:19:26 AM MT mm****:: gm all - have a great day !

9:00 Eastern-System: No comments

---