---
CHAOS CLINIC RECAP
---
---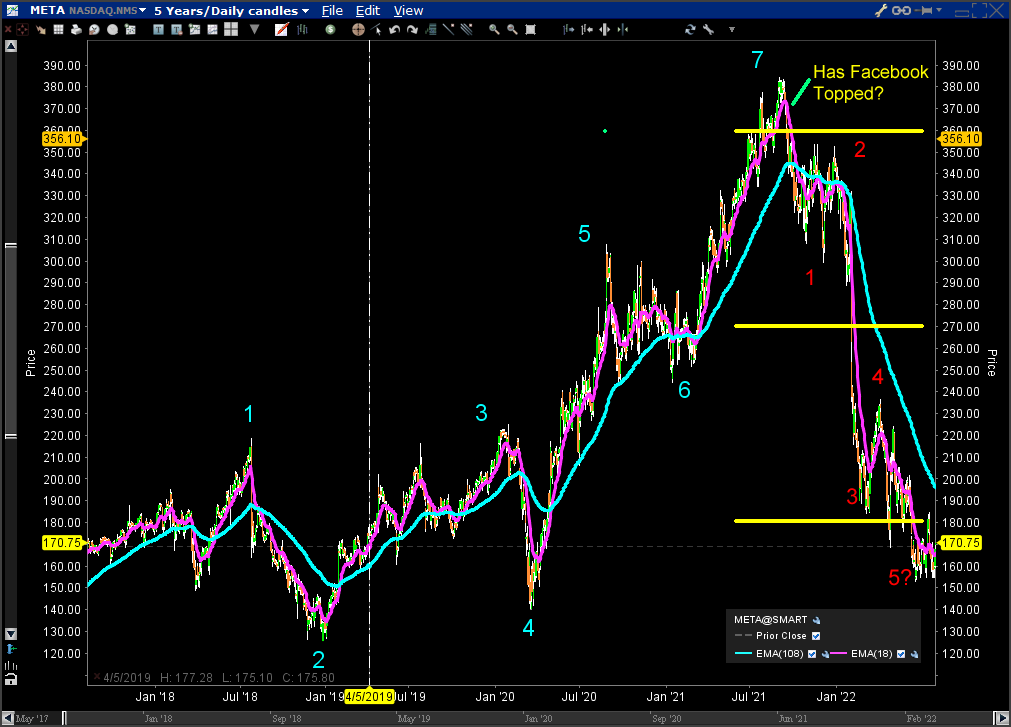 **************************************************************************************
The Collapse Of Facebook/Meta
Chaos Clinic for 8/5/2022
***************************************************************************************

In my October 15. 2021 Chaos Clinic, I asked, Has Facebook Topped?
At that point in time, it looked like Facebook had completed a 7 move up Chaos Clamshell.
Click on the link to review that Chaos Clamshell.

This chart is an update. It shows the over 50 percent drop suffered by Facebook. Renaming
it Meta apparently did not help. The 108 day EXMA shows that the decline is probably not over.
I've added possible move counts based on the 18 day EXMA but they are subject to change.

To learn more about Chaos Clamshells, I suggest my Cash In On Chaos course,
available at Moneytide.com
---

Below is one of the SPKISS charts from daytradingforecasts.com
and the chat room comments from this Chaos Clinic. Most recent comment is on top.
---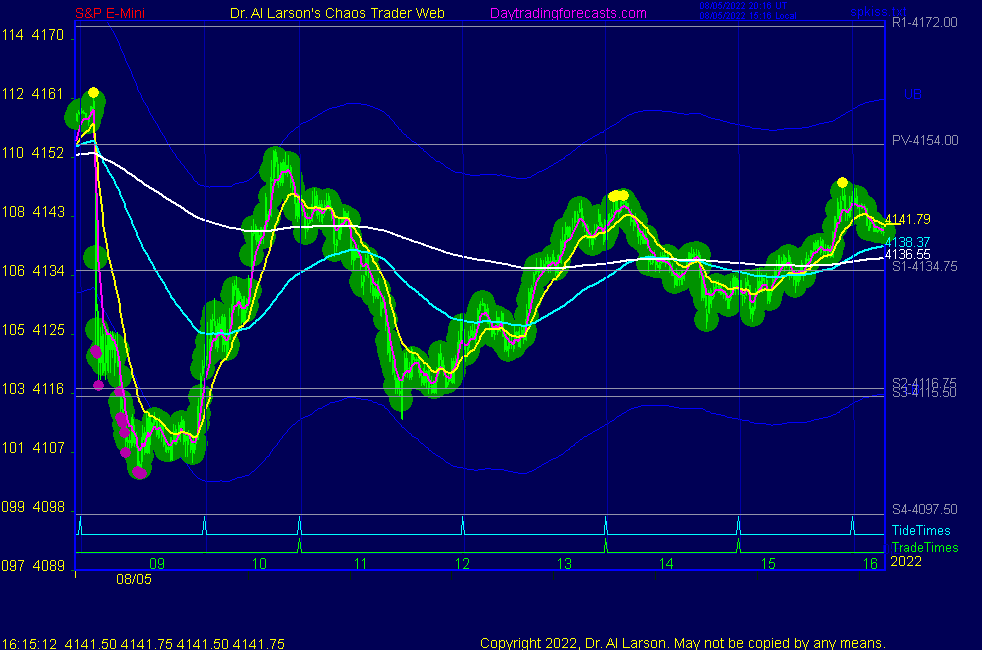 8/5/2022 10:30:20 AM MT Al****:: thanks for coming - see you nest week -take some courses
and have a good weekend
8/5/2022 10:18:06 AM MT Al****:: that suggests thanking the Creator for one good trade and calling it a day
8/5/2022 10:04:52 AM MT Al****:: if you draw a down line along the last two high on a 3 minute chart, and an up line using the last two lows, you get a converging triangle with an apex near the close
8/5/2022 9:45:30 AM MT Al****:: finally, on the Secret->esnat72 chart got support on the white vibration level
8/5/2022 9:43:20 AM MT Al****:: I also was watching an indicator taught in Chaos Trading Made Easy that suggested buying coming in
8/5/2022 9:40:54 AM MT Al****:: time wise I covered when the Exchange passed Venus, which often is a buy point
8/5/2022 9:38:30 AM MT Al****:: I sold 4140 covered 4122 for +18
sell was just under the pivot price, cover at s2/s3
8/5/2022 9:10:11 AM MT Al****:: note on the Chaos Clinic chart that the bar colors showd a sell at that MoonTide trade time
8/5/2022 9:01:25 AM MT Al****:: back from taking dogs to park - see we bounced up to a lower high
8/5/2022 8:14:39 AM MT qq:: I'm guessing mostly XTide2Plus red tide rest of day
8/5/2022 8:12:15 AM MT qq:: Rebounded beyond that ES360 white to Yellow ES72
8/5/2022 7:47:42 AM MT Al****:: the Flash Boy algos that trade the employment report typically quit after 15 minutes , so it is hard to sort things out after they leave
good time to go camping
8/5/2022 7:40:23 AM MT qq:: ES360 white horizontal would be about 50% retrace
8/5/2022 7:09:46 AM MT Al****:: Good Morning visitors. Welcome to the Chaos Clinic. The written Chaos Clinic is on the AUX page.
This site has a lot of charts,
so you may find it useful to have several of them available within your
browser. If you have a tabbed browser, you can open separate charts
in separate tabs by right clicking on any link, and selecting "open in new tab"
from the menu. The main list of site pages is at
http://daytradingforecasts.com/chartlistsec.asp
Recommended pages to watch are SPKISS, MTRainbow, and Chat.
For astro stuff, add SPSunMoon, Wheel, and Chaos Clinic.
A special set of Dr. Al's research charts are on the Secret page.
Comments in the chat room are announced by a
"duck call" noise. This noise also occurs when the software detects a
resonant hex pattern on the Wheel page. MoonTide trading tutorials
are on the right side of the ListOfCharts page. One should
read Trading the MoonTide Tutorial and Keep it Simple as a minimum.
Many subscribers do not strictly trade the MoonTides, but use the charts on this
site as input to their own trading strategies. For example, charts 5 and 6 on the
SPKiss page are a good starting point for swing traders.
Also on this site is the Certified Chaos Trader's Room. That room is open
to graduates of my 4 main courses. See http://moneytide.com -> Courses for details.

8/5/2022 6:48:12 AM MT qq:: Down coincided with Employment Situation 8:30 AM ET
8/5/2022 6:44:40 AM MT qq:: Tad down
9:00 Eastern-System: No comments

---