Chaos Clinic Recap
---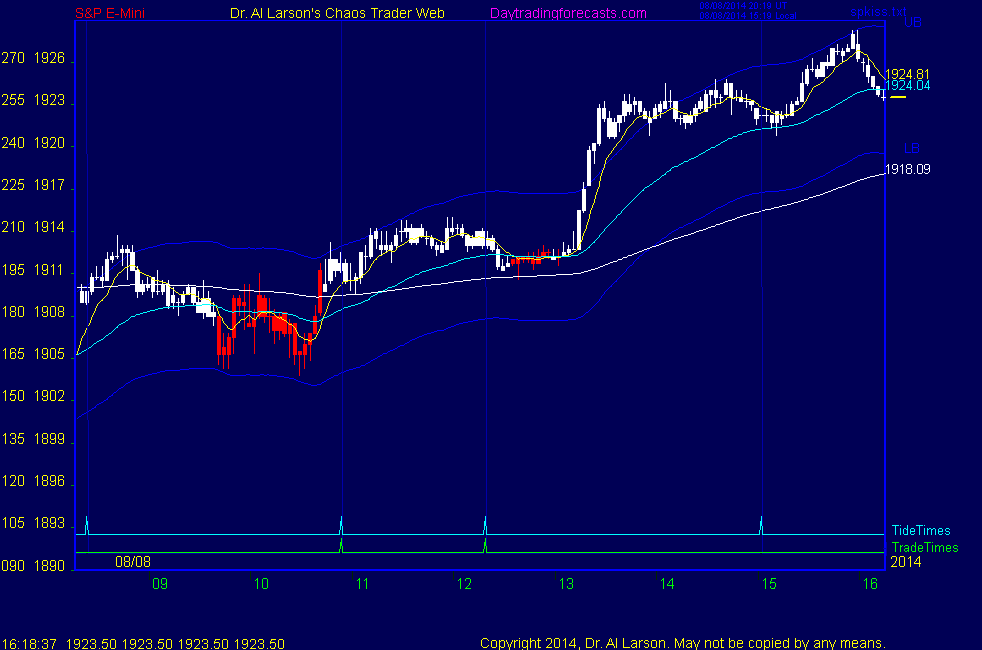 ---
Here are Al's comments
---
11:48 I'm done . I have to leave, but the screens will run and you can chat in the chat room. Thanks for coming. See you next week,
11:47 don't like this stall-out for +4
11:32 some of you may find all my astro stuff amazing. It is based on a simple, provable theory; the universe is one big electric field. That field runs everything-you, me, the markets. I have a new course that teaches the essential essence of this. The next Essentials of Personal and Market Astrophysics course will be September 22-24, 2014. Sign up by August 25th to get a $300 discount. For more detail see http://moneytide.com/hans/epmap.asp
11:30 on the Chaos clinic chart, note the magenta XTide line; It turned up near the low, and peaks at the next Tide time; often shows the minor swings
11:28 stop to 1911, locking 2
11:26 now coming to a point in the green +Tide where it moves up faster
11:21 I will have to leave after this trade; the rest of the day will be an exercise for the student
11:19 stop to 1910, lock 1 point; will cover next Tide time or target
11:18 on Chaos Clinic Chart tracking green +Tide
11:17 stop to 1908
11:13 my autotrader has a 9 point target at 1920.25; mine will be 1918
11:08 just need to be patient now.
11:00 stop to 1907
10:45 my autotrader bought at 1911.25 - see AUX page
10:43 stop to 1906
10:41 bought 1909-pressing a bit -stop 1903 for now
10:36 The low slopes of the EXMA's are telling me this is a congestion, so not to sell.
10:33 the slope of the 110 matches the green +Tide
10:20 on that same chart we see a Green Swan rising through current levels this afternoon.
If it catches we should rally into next week.
10:11 on the Chaos Clinic chart the 110 is flat and prices are trapped between the Moon -T270 and +T270 electric field flux lines.
10:03 I am showing some research in progress on the AUX page. That chart will also show an auto trader which will attempt to make the first trade.
9:55 I have placed a Fractal of Pi chart in the Certified Chaos Trader's Room. That room is open
to graduates of my 4 main courses. See http://moneytide.com -> Courses for details.
eMylar Fractal of Pi overlays help you be patient, since they show you future potential moves.
The best bargain in my courses is to take the Cash In On Chaos and Fractal of Pi courses and
learn to use the FOP overlay. Then take Chaos Trading Made Easy, and finish with Face Of God.
9:45 the market make a low near 4:00 AM Eastern, then rallied over 23 points. It is now correcting from that rally.
9:42 trade times today are 10:54 and 12:19, which is why I'm starting late.
9:40 Good Morning. Welcome to the Chaos Clinic. This site has a lot of charts,
so you may find it useful to have several of them available within your
browser. If you have a tabbed browser, you can open separate charts
in separate tabs by right clicking on any link, and selecting "open in new tab"
from the menu. The main list of site pages is at
http://daytradingforecasts.com/chartlistsec.asp
Recommended pages to watch are SPKISS, MTRainbow, and Chat.
For astro stuff, add SPSunMoonMer, Wheel, and Chaos Clinic.
Chaos clinic comments appear at the bottom of the SPKISS, MTRainbow,
and ChaosClinic pages. Comments in the chat room are announced by a
"duck call" noise. This noise also occurs when the sofware detects a
resonant hex pattern on the Wheel page. Trading tutorials
are on the right side of the ListOfCharts page. One should
read Trading the MoonTide Tutorial and Keep it Simple as a minimum.


---
Besides the comments made by Al, the chat room is has live
comments from other traders who sometimes share their views,
trades and tips. Below are the chat room comments from this clinic
---


8/8/2014 6:24:15 AM MT mm****:: gm all - have a great day

9:00 Eastern-System: No comments

---