Chaos Clinic Recap
---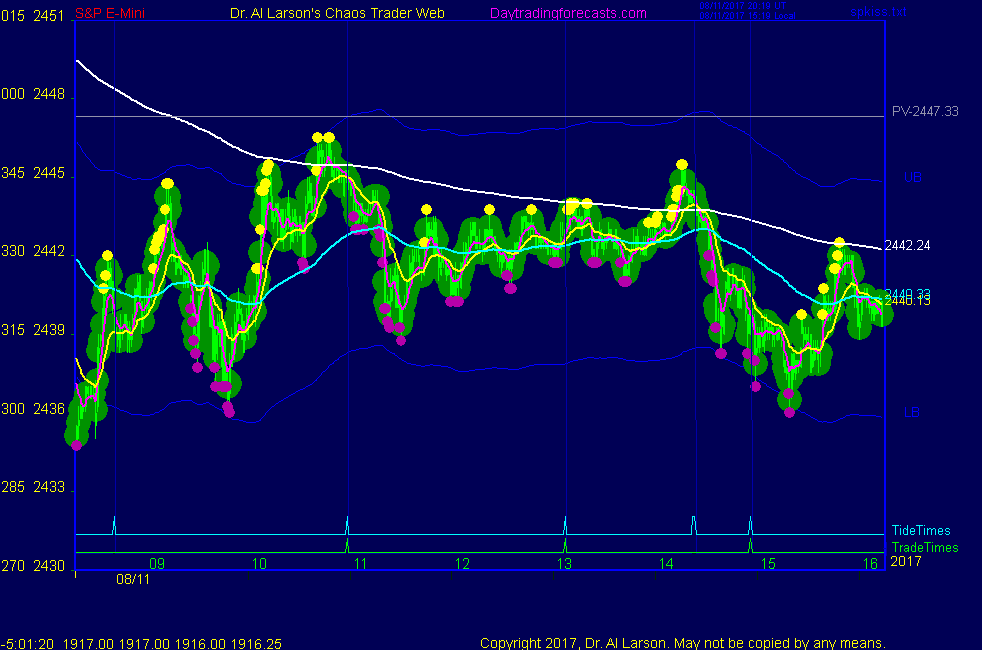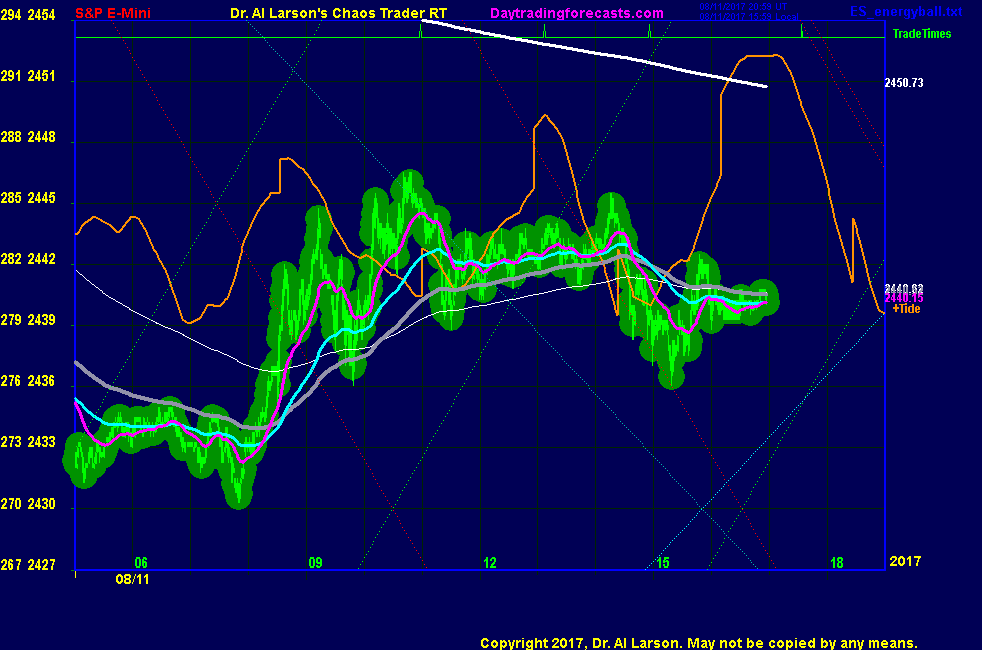 ---
Here are Al's comments
---
2:20 "may be a late rally"
1:45 out for -1.25 ; fine with me; I didn't think today would be easy; I' done with the clinic;
charts will run to close and chat room will be open; may be a late rally; see you next week
1:36 early rally was about 3 hours; congestion approaching 3 hours; 6 hour cycle due to turn up
1:31 these short 15-20 minute narrow range swings means the computers are fighting
once the trend is clear they will feed it
1:28 rebought 2442.25 stop 2441
1:26 I may rebuy but I don't like sitting on a corpse
1:25 don't like it; out for 0
1:21 no a lot of juice yet, but I think it will come
1:12 stop to 2439; risk 3 points
1:08 breaking 3 level highs on 4th try; Gann's rule of 4 says this leads to panic
1:07 third higher minor low; getting lift from Green Swan
1:04 coming to the exact Tide time- on AUX page showing red -Tide
1:00 stop to 2438.5
12:47 at the bottom of the Chaos Clinic chart is a magenta line titled XTide (not XTide2) ;
it shows a big energy pulse near 14:00 Eastern; that's about when big shorts often start covering
12:39 2444 breaks the last two minor highs-hitting that will trigger computer buying
12:33 two higher minor lows
12:20 may get lift from an upcoming Green Swan
12:13 this looks to be move 4 of 7 in and up Chaos Clamshell -I want to be long on move 5
12:10 bough 2442 stop 2438 -early but good continuation setup on EXMAs
12:08 holding up-looking to buy
11:35 looks like dip in the +Tide
11:26 taking a break
11:21 arg!! stopped for 0
11:11 need to be patient now
11:00 stop to 2441; break even
10:42 stop to 2440 risk 1 point
10:37 I am watching the yellow cycle on my Daniel chart -it was down yesterday and up today
My secret Daniel chart is on this site- your have to find it yourself
10:35 looking good; many technical traders will be looking for a full retrace of the Trump panic
10:11 stop to 2439 - will let it run
10:06 bought 2441 stop 2436 ; congestion was brief-can't wait
10:03 dip was to the 440 minute EXMA, the day trend, which is up
9:45 that just under two hours tuuns out to be 110 minute-on degree of Moon motion;
9:42 dipped below yesterday's close; congestion range 5.5 points; at 3 pts/hr just under two hours
9:32 buying came in one tick above that price; Now looks like we have a thrust and starting a congestion
9:29 selling off, yesterday's close of 2437.5 is a 50% retrace of the rally
9:11 trade times today are 10:59, 13:07, and 14:56 ; hopefully there will be a pullback
9:04 early buying indicates an up day as traders buy for a rebound rally
A strong move is in progress already. On the Aux page it shows this move was on the -Tide
9:00 Good Morning. Welcome to the Chaos Clinic. This site has a lot of charts,
so you may find it useful to have several of them available within your
browser. If you have a tabbed browser, you can open separate charts
in separate tabs by right clicking on any link, and selecting "open in new tab"
from the menu. The main list of site pages is at
http://daytradingforecasts.com/chartlistsec.asp
Recommended pages to watch are SPKISS, MTRainbow, and Chat.
For astro stuff, add SPSunMoonMer, Wheel, and Chaos Clinic.
Chaos clinic comments appear at the bottom of the SPKISS, MTRainbow,
and ChaosClinic pages. Comments in the chat room are announced by a
"duck call" noise. This noise also occurs when the sofware detects a
resonant hex pattern on the Wheel page. Trading tutorials
are on the right side of the ListOfCharts page. One should
read Trading the MoonTide Tutorial and Keep it Simple as a minimum.

---
Besides the comments made by Al, the chat room is has live
comments from other traders who sometimes share their views,
trades and tips. Below are the chat room comments from this clinic
---


8/11/2017 1:45:06 PM MT Al****:: Thank you, BBB. Well said.
8/11/2017 1:36:04 PM MT bbb****:: I feel the need to interject here. I have been watching these times for 10 years now I believe. I have never thought the time was a prediction of direction - that is a fool's errand. Rather it is a higher probability area. MT for a guy in here on a free day you sure seem butthurt about it. Have a little empathy - AL is doing this and has been doing this for a long time - and he is very good at it - one of the best. A 3 move test and a fourth break is a high probability entry, so maybe do some more homework. Al is probably best at money management and his track record shows it. But, by all means, please show us the way Gann traded so we can all make those perfect moves. The only guy I know of that has a very large knowledge of Gann and its applications is Jeffrey Cooper. But as for the impact that the markets get from the material Al has studied for years and years, there is no one better. We can tell you probably lost today and might be upset about it. Ego is a sign of weakness, not strength, in trading and Al has that part down cold. Relax and study - there is gold in Al's work.
8/11/2017 1:20:32 PM MT Al****:: As for Gann, beware the claims fore what he did. I do not believe anyone has duplicated his work.
8/11/2017 1:18:31 PM MT Al****:: You mistake the Chaos Clinic as all of my work; My Stargo forecast called this spectacular bull market; XGO forecast had me accumulating TSLA at an average price of 27. They also had me into FB at 36 when it gapped up. So please don't disparage my work during a free online session.
8/11/2017 12:53:29 PM MT .:: No need to swear at me Al, take the hint. Your method fails to predict the market, you put that down to the market being chaotic, clearly that cover you when your predictions are wrong. Gann hit 85% winning trades, predicted the price of wheat to the day and level. Clearly your research does not allow you to do that, so you would have to conclude that you have failed in your analysis and that you need to address this gap in your knowledge.
8/11/2017 12:42:01 PM MT Al****:: make that 2434 and 2438
8/11/2017 12:39:19 PM MT Al****:: MT: you are full of shit. What I did in my swing trade today was buy early at 2434 and 1438 and sell both at 2442;
8/11/2017 12:26:25 PM MT .:: You miss the point Al, I can see from the way you trade that you have lost a lot in the markets, hence you trade scared. Your investigation into the planetary aspects were designed to give you some basis on which to make a trading decision, but they sometimes work and sometimes don't. This is due to your incomplete knowledge and lack of application of mathematical principles to your analysis. In short you only have half of the picture. Gann used solid principles in conjunction with his analysis, you don't hence your work will always be hit and miss.
8/11/2017 12:21:58 PM MT Al****:: "may be a late rally"
8/11/2017 12:00:01 PM MT Al****:: The green swan support failed; it's like a wind; it does not always catch the market; if it does it is powerful; It was a possibility; not a certainty; Trading is not about being macho; its is about probabilities; When I saw reality I protected my capital; I can always trade later;
8/11/2017 11:49:44 AM MT Al****:: MT a forecast is just that=a forecast; you have to compare it to what the market is doing and control your risk - I'm a devout coward when it comes to losses; which is why I'm still around It's not about being macho; its about making money;
8/11/2017 11:34:28 AM MT .:: 1:28 rebought 2442.25 1:26 I may rebuy but I don't like sitting on a corpse 1:25 don't like it; out for 0 1:21 no a lot of juice yet, but I think it will come You seem to have very little faith in your material, firstly you talk about a green swan supporting the market. Then you talk about a a breaking of three highs causing a buy move, like you really know it will. Then on the first small pull back you are out like a scared chicken. Either it works Al or it fails, but you seem to have little confidence in your forecast.
8/11/2017 10:20:16 AM MT Al****:: GM TG. good to see you; pyc - just take it slow
8/11/2017 9:11:23 AM MT pyc:: GM new here. Very grateful for the opportunity. A bit overwhelming with all the material. Taking it one bit at a time
8/11/2017 9:01:52 AM MT TG****:: GM AL, BBB, MM, Everybody.

9:00 Eastern-System: No comments

---