---
CHAOS CLINIC RECAP
---
---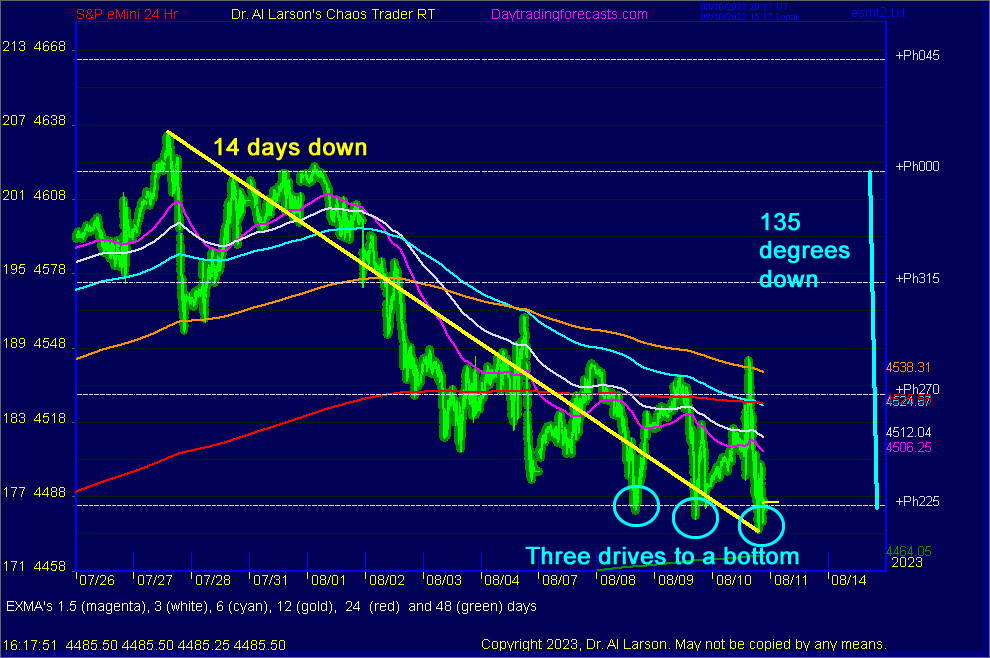 ********************************************************************************
Is The S&P Ready To Rally?
Chaos Clinic for 8/11/2023
********************************************************************************

This two week chart of the S&P suggests it may be ready to rally.

First, the S&P has traded lower since 7/17. The 8/10 low is two weeks down.
In that time, prices have declined from the +Ph000 Pluto electric field flux line
to the +Ph225 flux. This is a 135 degree drop, or 3/8 of a circle.

Second, the last three lows have formed a classic "Three drives to a low" pattern.
These three lows were along the +Ph225 flux. This flux is 5/8 of a circle above the
P+000 flux.

Third, the 8/10 CPI report initially sent prices sharply higher, to the 12 day EXMA. Then
selling drove prices down to the 3rd low. Note that this low, and the low on 8/9
were what I call "tweezers lows." These type lows often have more power than a
simple low.

Counting the swings in the down move gives 11. Most Chaos Clamshells have 7. Some expand
to 13, and a few to 11. I've never seen one go past 13. All this suggests a rally.
We shall see.

For more on my work and to subscribe to Tomorrow's Market Email Hotline and access to daytradingforecasts.com see
Moneytide.com
Software to plot electric field flux lines in NinjaTrader is available at
energyfieldtrading.com
---

Below is one of the SPKISS charts from daytradingforecasts.com
and the chat room comments from this Chaos Clinic. Most recent comment is on top.
---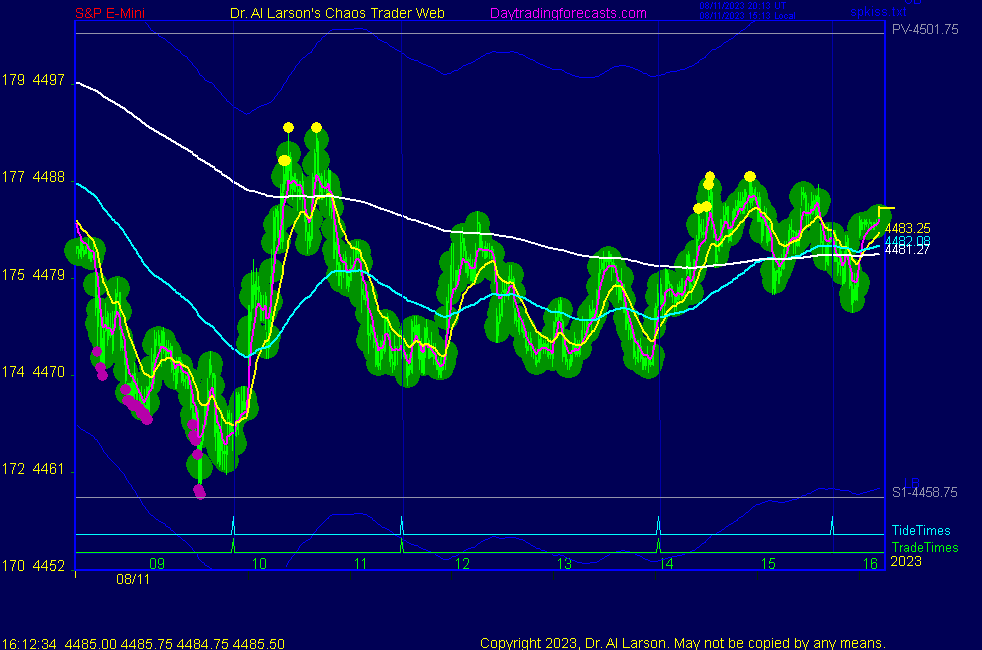 8/11/2023 1:39:22 PM MT Al****:: I'm done-have a good weekend-thanks for coming-take some courses-see you next week
8/11/2023 1:20:39 PM MT Al****:: last hour short squeeze
8/11/2023 1:11:36 PM MT Al****:: also give me your last name
8/11/2023 1:10:15 PM MT Al****:: RR-I just checked my email and do not have one from you
send one directly to me at al12@cashinonchaos.com
8/11/2023 12:41:39 PM MT Al****:: turned up on Saturn time line
8/11/2023 12:40:11 PM MT Al****:: I'll look for the email and get back to you
8/11/2023 12:35:49 PM MT RR:: Hi Dr. Al, I hope all is well with you. In follow up to my post from last week, still I don't have access to the Chaos Clinic.I emailed you the copy of the CC statement that shows payment of $297.00 0n 07/02/2023. Would you please re-initiate my access. Thank you
8/11/2023 11:21:25 AM MT Al****:: low on Moon, low at Noon; suggests up to the Moon/Neptune time lines about 15:30
8/11/2023 11:05:08 AM MT Al****:: If you can wait, and not be tired by waiting ...
8/11/2023 11:02:05 AM MT Al****:: getting a little juice passing solar noon and first vertical line
8/11/2023 10:31:30 AM MT Al****:: holding up but not a lot of juice
8/11/2023 10:17:45 AM MT Al****:: note on the Secret charts the two vertical lines ahead
these are cycle time lines that can add energy
8/11/2023 10:08:11 AM MT Al****:: I keep an eye on the daily SPY chart - the candle stick just turned green=up
8/11/2023 10:05:59 AM MT Al****:: I have posted my Fractal of Pi chart in the CCT Room
8/11/2023 10:00:35 AM MT Al****:: looks like move 3 has started
8/11/2023 9:39:17 AM MT Al****:: on secret->esnat72 support on white vibration
8/11/2023 9:38:31 AM MT Al****:: passing the Pluto time line - fitting Fractal of Pi overlay to my chart
8/11/2023 9:31:47 AM MT lik:: thanks
8/11/2023 9:23:46 AM MT Al****:: only for a brief time for +3
now waiting for a Chaos Clamshell to develop
have a possible 1 - 2
8/11/2023 9:21:17 AM MT lik:: Al, sorry to ask again, with your method, did you long after first signal at 10:13 aprox ?
8/11/2023 8:43:21 AM MT Al****:: lower low today may be move 13 down
came precisely on the Moon +T000 timeline
8/11/2023 8:41:59 AM MT lik:: was 9:52 a signal to buy with the Al's rule? tia
8/11/2023 7:43:27 AM MT DA:: Good morning to all
8/11/2023 7:11:24 AM MT kb1:: good morning all
8/11/2023 6:35:50 AM MT oag****:: Good morning everyone! Hope everyone has a prosperous day!
8/11/2023 5:24:47 AM MT Al****:: Good Morning visitors. Welcome to the Chaos Clinic. The written Chaos Clinic is on the AUX page.
This site has a lot of charts,
so you may find it useful to have several of them available within your
browser. If you have a tabbed browser, you can open separate charts
in separate tabs by right clicking on any link, and selecting "open in new tab"
from the menu. The main list of site pages is at
http://daytradingforecasts.com/chartlistsec.asp
Recommended pages to watch are SPKISS, MTRainbow, and Chat.
For astro stuff, add SPSunMoon, Wheel, and Chaos Clinic.
A special set of Dr. Al's research charts are on the Secret page.
Comments in the chat room are announced by a
"duck call" noise. This noise also occurs when the software detects a
resonant hex pattern on the Wheel page. MoonTide trading tutorials
are on the right side of the ListOfCharts page. One should
read Trading the MoonTide Tutorial and Keep it Simple as a minimum.
Many subscribers do not strictly trade the MoonTides, but use the charts on this
site as input to their own trading strategies. For example, charts 5 and 6 on the
SPKiss page are a good starting point for swing traders.
Also on this site is the Certified Chaos Trader's Room. That room is open
to graduates of my 4 main courses. See http://moneytide.com -> Courses for details.
9:00 Eastern-System: No comments

---