---
CHAOS CLINIC RECAP
---
---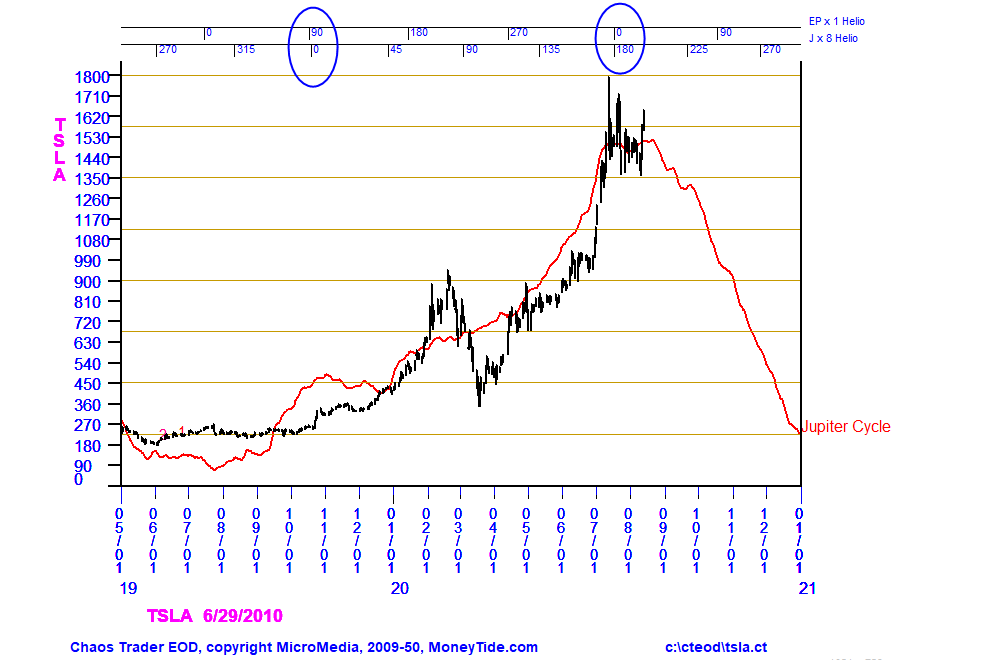 ********************************************************************************
Tesla's Bull Run May Be Ending
Chaos Clinic for 8/14/2020
********************************************************************************

Tesla has been on a tear over the past 20 months. This chart shows that bull move.
That move was forecast by the dark red Jupiter Energy cycle overlaid on prices.

That forecast is a XGO energy forecast, filtered to bring out the longer term
cycle due to Jupiter, the bull planet. XGO is an energy forecast computed only from
a stock's first trade date. The ZGO forecast is made by filtering the XGO data with
a fixed length Zero Delay filter. The choice of a length based on Jupiter comes from the work
of Grace Morris of AstroEconomics. She picks stocks to buy based on the Sun being
in the sign of natal Jupiter.

The time lines at the top of the chart show two cycles: the Earth-Pluto cycle, and
the 8th harmonic cycle of Jupiter. These two cycles synchronize at the two points shown.

In the TSLA natal chart, Jupiter is near 0 degrees, conjoin Uranus. This point anchors
several cycles. It is square natal Sun and Pluto (EP time line). That square is frequency doubled to
the eighth harmonic by Venus and Moon. That explains the 8th harmonic of Jupiter.

Also on the chart are harmonic vibration levels. Prices followed the first level,
then rallied 3 levels, followed by a two level decline. Prices then shot up six levels.
They have now dropped back two levels.

The forecast decline will probably not be as severe as forecast. Energy forecasts are
arbitrarily scaled to price, so do better at forecasting time than price.

Both XGO and ZGO forecasts are made by the WinXGO software available
at Moneytide.com
---

Below is one of the SPKISS charts from daytradingforecasts.com
and the chat room comments from this Chaos Clinic. Most recent comment is on top.
---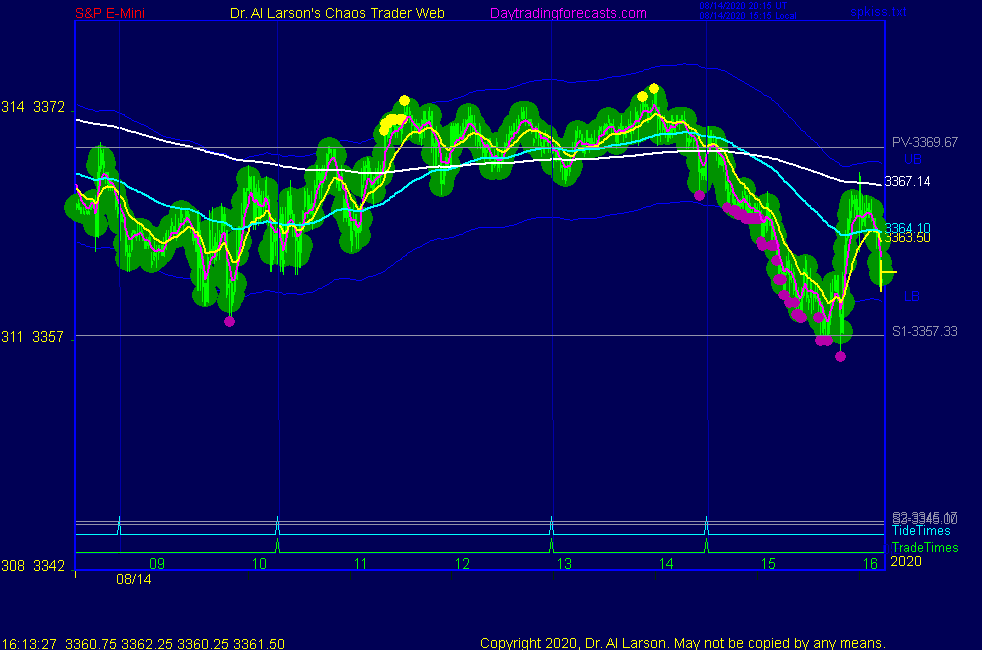 8/14/2020 1:33:34 PM MT qq:: I'd like to see Tuesday's low challenged on Monday.
8/14/2020 11:22:50 AM MT Al****:: I think I'm going to call it a day. Thanks for coming. See you next week. Take some courses. Have a good weekend. Stay safe.
8/14/2020 11:03:23 AM MT qq:: Not sure it correlates with much, but SLV:GLD shows a big drop. A few days ago this preceeded a drop in S&P
8/14/2020 10:01:45 AM MT Al****:: also note on the 4th chart on the SPKiss page the isolated yellow "pushball" at the high of the rally
that shows there was no real follow through on the rally
8/14/2020 9:58:10 AM MT Al****:: note on Secret->esNat72 early support was on magenta vibration level and now that level stopped the rally
example of support becomes resistance
8/14/2020 9:50:35 AM MT Al****:: You are welcome BOG
following red -Tide on SPKiss page
8/14/2020 9:27:50 AM MT BOG****:: Thanks much.
8/14/2020 9:24:45 AM MT Al****:: got nothing on that trade sold 65 stopped 65
8/14/2020 8:14:43 AM MT Al****:: here 440 still down so 20/110 crossing not a buy, but a "hook and go" type sell setup
8/14/2020 7:34:43 AM MT Al****:: third chart on SPKiss page and the MTRainbow chart showing decline
8/14/2020 6:35:54 AM MT Al****:: Good Morning visitors. Welcome to the Chaos Clinic. The written Chaos Clinic is on the AUX page.
This site has a lot of charts,
so you may find it useful to have several of them available within your
browser. If you have a tabbed browser, you can open separate charts
in separate tabs by right clicking on any link, and selecting "open in new tab"
from the menu. The main list of site pages is at
http://daytradingforecasts.com/chartlistsec.asp
Recommended pages to watch are SPKISS, MTRainbow, and Chat.
For astro stuff, add SPSunMoon, Wheel, and Chaos Clinic.
A special set of Dr. Al's research charts are on the Secret page.
Comments in the chat room are announced by a
"duck call" noise. This noise also occurs when the sofware detects a
resonant hex pattern on the Wheel page. MoonTide trading tutorials
are on the right side of the ListOfCharts page. One should
read Trading the MoonTide Tutorial and Keep it Simple as a minimum.
Many subcribers do not strictly trade the MoonTides, but use the charts on this
site as input to their own trading strategies. For example, the bottom chart on the SPKiss page is good starting point for swing traders.
Also on this site is the Certified Chaos Trader's Room. That room is open
to graduates of my 4 main courses. See http://moneytide.com -> Courses for details.

8/14/2020 6:34:57 AM MT Al****:: esnat72 and Daniel
8/14/2020 5:21:17 AM MT BOG****:: Good Morning Dr. Al, U mentioned the 2 vertical lines on the SECRET chart, pls which of the SECRET chart where U alluding to, Thanks
9:00 Eastern-System: No comments

---