Chaos Clinic Recap
---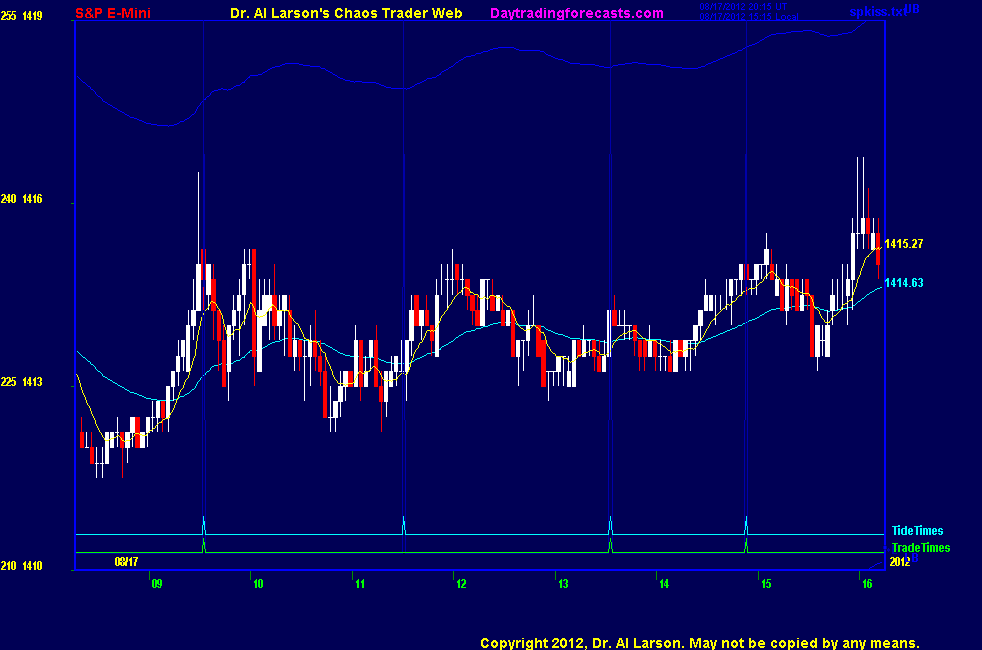 ---
Here are Al's comments
---
I suspect we hold up / rally weakly rest of day
2:10 I'm done-sorry it was so dead; I don't make the markets, just trade them; No Clinic next week.
see you in two weeks. Take a course or two.
2:08 aborted for -.75 on each
2:06 stop to 1312.5
2:03 this thing is a corpse
1:56 needs to move in next 15 minutes or I'm done
1:47 its clear to me that all the hedge fund guys took today off
1:42 if this trade works, I'll skip the third one, just because it is so dull
1:38 this is move 5 in today's pattern - usually the best to trade
today I'll be thankful for anything
1:36 so long 2 from 1413.25 stop 1312, raising to 1312.25
1:33 buying another 1314.25 stop 1412
1:24 almost to the 1:33 trade time -EXMAs are flat and pinched together-watch for divergence
1:15 on the AUX page, I have placed a research chart - it shows prices trapped inside a
MoonTide Fractal Set, with a potentila up move dead ahead
1:00 if we don't get some juice from the next Tide turn, I'm punting
12:40 still pretty boring - was tracking green +Tide, may be inverting to red -Tide

12:26 there is an old technique called the "trader's mirror"
after a big move followed by a congestion, find the middle of the fourth swing
trace prices up to this point, then rotate your tracing 180 degrees about this
midpoint. It may show you the next big move. Does not always work, but useful.
12:19 stop to 1312, one tick below last swing low
12:04 stop to 1311.5; effectively long from 1314.25
11:57 there is always a question of when to hold tight or let a trade go. Today the two day trend is up, the pullback was minimal, my trade had not been stopped, so I decided it was a time for "strong hands"
11:52 my trade selection software did not pick the 11:31 Tide time a a trade time, but today it should have done so . My stubborness was a bit of luck.
11:47 I'm back; I rebought before I left because I decided I had given up on my initial trade too easily, and I was going to be away from the screen for awhile. The 440 EXMA was still rising, so I re-established my trade. Basically a judgement call.
11:00 rebought 1413 stop 1411; now I'll go eat
10:52 taking a break for breakfast
10:47 I may rebuy if we start moving up
10:45 aborted at 13 - no go and 110/20 sell crossing
10:40 the S&P spends 51% of its time in congestions
10:34 here I'm just watching the 440 EXMA moving slowly higher - stop is in
10:24 the Chaos Trading Made Easy course contains a tool that can tell you when a market is due to move - but you must do your homework to find the right setting
10:20 one has to be unemotional about what the market is doing and just be patient
10:18 slow start to the day
10:08 slope of 110 and 440 is up
10:00 trade looking OK
9:58 on the SPSunMoonMer chart, the Sun and Moon flux cross in about an hour, which is the exact time of the New Moon
9:50 1413 looks like the 3 point quantum base; +9 = 1422, +12=1425 , potential targets
9:47 the 440 EXMA is up and curling up -positive
9:44 need to be patient here
9:35 new highs for the year should attract buying
9:33 bought 1414.25 stop 1411
9:31 continuation buy right on the open -waiting a bit
9:29 the MTRainbow chart shows a bullish pattern-trend is up-white 440 minute EXMA is up
9:25 I don't know how the volatility will be tyoday-yesterday was the only good day in the last 8 trading days
Trade times today are 09:33, 13:33, and 14:53
9:24 Good Morning. Welcome to the Chaos Clinic. This site has a lot of charts,
so you may find it useful to have several of them available within your
browser. If you have a tabbed browser, you can open separate charts
in separate tabs by right clicking on any link, and selecting "open in new tab"
from the menu. The main list of site pages is at
http://daytradingforecasts.com/chartlistsec.asp
Recommended pages to watch are SPKISS, MTRainbow, and Chat.
For astro stuff, add SPSunMoonMer, Wheel, and Chaos Clinic.
Chaos clinic comments appear at the bottom of the SPKISS, MTRainbow,
and ChaosClinic pages. Comments in the chat room are announced by a
"duck call" noise. This noise also occurs when the sofware detects a
resonant hex pattern on the Wheel page. Trading tutorials
are on the righty side of the ListOfCharts page. One should
read Trading the MoonTide Tutorial and Keep it Simple as a minimum.


---
Besides the comments made by Al, the chat room is has live
comments from other traders who sometimes share their views,
trades and tips. Below are the chat room comments from this clinic
---


8/17/2012 1:22:41 PM MT sdg:: Should have done that, out for 0. Have a good weekend!
8/17/2012 1:19:58 PM MT BBB****:: Never been happier to get 1 point.
8/17/2012 12:52:26 PM MT sdg:: I need anything to have 1 green day in a few weeks! Lack of volatility is killer.
8/17/2012 12:48:00 PM MT BBB****:: sdg - thanks man! i went against myself after yesterday and have been trading in the personal account today. I need a 9 point end to the week!
8/17/2012 12:45:36 PM MT nella****:: looks good to me sdg
8/17/2012 12:42:53 PM MT sdg:: in @14.50; 20/110 buy and break of downtrend line.
8/17/2012 12:36:53 PM MT sdg:: @BBB, - put this 1 in the practice account so it will rally 9 pts, thanks!
8/17/2012 12:26:45 PM MT Al****:: I put a chart in the CCT Room
8/17/2012 11:51:27 AM MT sdg:: Maybe they left the machines on, ala Knight :-)
8/17/2012 10:20:05 AM MT sdg:: See it, thanks. Like the trend as well, but can only control the downside.
8/17/2012 10:18:24 AM MT Tg****:: sdg, Al addressed it in the clinic, too.
8/17/2012 10:13:29 AM MT sdg:: Thanks for the insight Tg
8/17/2012 10:10:39 AM MT Tg****:: My guess is the rebuy took place because the 20/110 downside cross was looking like noise as opposed to something more serious. No curl, not much separation to it and support was found on the 440 exma.
8/17/2012 9:59:00 AM MT sdg:: I took the leap of faith as well....
8/17/2012 9:43:27 AM MT BBB****:: What a tease yesterday was. 5 point range again.
8/17/2012 9:15:11 AM MT sdg:: Confused by the re-buy; is that a CTME move?
8/17/2012 8:19:06 AM MT sdg:: Especially if you (meaning me) jumped in too soon, on the streak.
8/17/2012 8:17:31 AM MT BBB****:: Well this is annoying.
8/17/2012 7:21:29 AM MT Al****:: GM all-good luck today
8/17/2012 7:13:58 AM MT BBB****:: GM and good luck today
8/17/2012 6:36:16 AM MT sdg:: Buenos Dias!
8/17/2012 5:38:33 AM MT mm****:: gm all - have a great day

9:00 Eastern-System: No comments

---