---
CHAOS CLINIC RECAP
---
---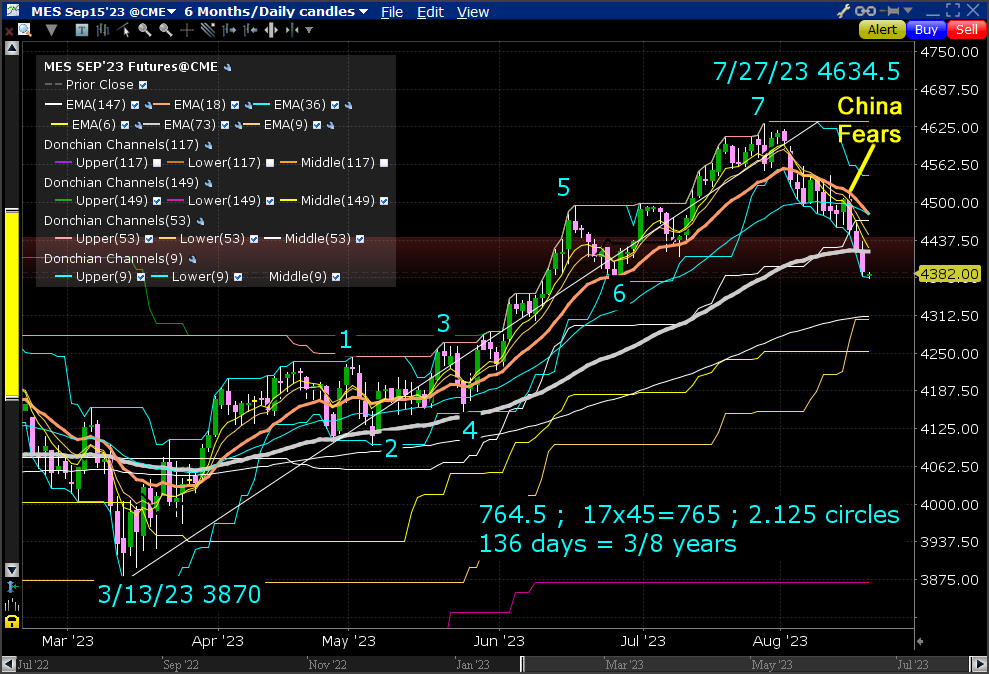 ********************************************************************************
Is The S&P Ready To Crash?
Chaos Clinic for 8/18/2023
********************************************************************************

Last Friday I asked if the S&P was ready to rally? A two week chart suggested it could.
The market did rally on 8/14. I held a long overnight, intending to hold long all week.
Tuesday morning I found I had been stopped out for a modest gain. When I checked the news
I learned the decline was attributed to concerns about the Chinese economy. ??
So I looked at the longer term.

This six month daily chart of the S&P futures shows that the rally from March has topped.
I have labeled 7 moves in an up Chaos Clamshell. In the top right corner I have marked
the switch from bullish to bearish brought about by the China fears.

I've included the legend for the indicators. I use these setting on my 3 minute charts,
but find they work well on daily charts. Experience watching the intraday charts transfers
to the daily chart. For example, the curl down in the cyan 36 day EXMA is the same as the 110 minute
EXMA curling over on the intraday chart on daytradingforecasts.com.

The rally lasted 3/8 of a year. An equal time down move would be December 9, 2023.
A 120 day down move would be October 24, 2023. This is reminiscent of 1987 when the
market topped in August and crashed October 19th. This could be interesting.

For more on my work and to subscribe to Tomorrow's Market Email Hotline and access to daytradingforecasts.com see
Moneytide.com
Software to plot electric field flux lines in NinjaTrader is available at
energyfieldtrading.com
---

Below is one of the SPKISS charts from daytradingforecasts.com
and the chat room comments from this Chaos Clinic. Most recent comment is on top.
---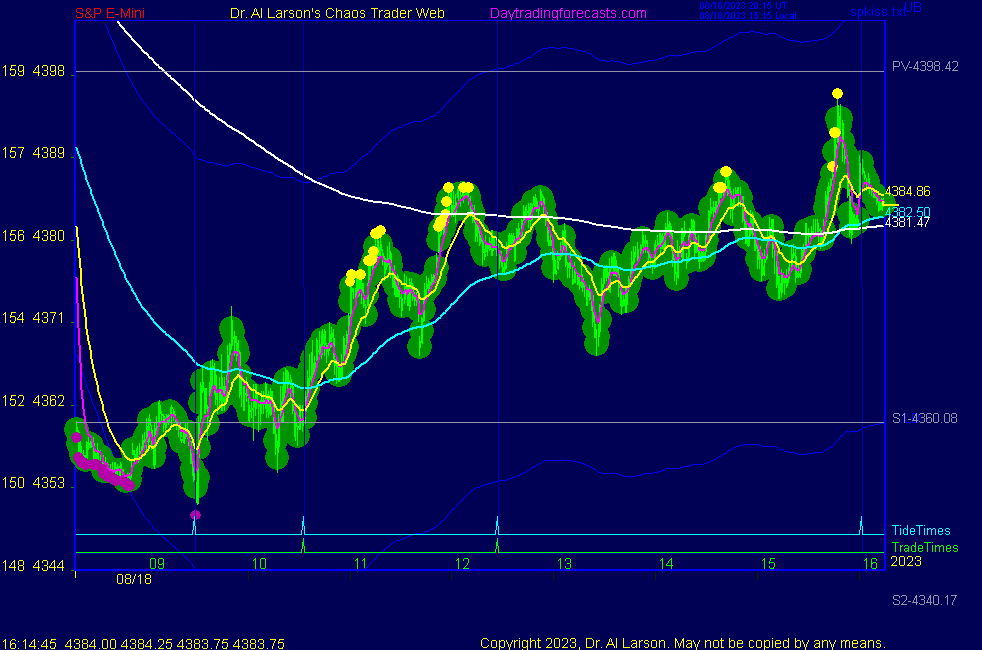 8/18/2023 11:13:43 AM MT Al****:: may still rally, but I'm done for the day-thanks for coming-see you in two weeks-take some courses
8/18/2023 11:12:06 AM MT Al****:: now it did hit it for +4.5
8/18/2023 11:05:54 AM MT Al****:: dip passing Sun missed my stop by 1 tick
8/18/2023 10:47:05 AM MT Al****:: got a continuation buy at second MoonTide trade time which coincided with the Venus timeline
8/18/2023 10:40:44 AM MT Al****:: I thought I may have pushed my stop too hard, but still OK
looking for the rally to at least reach the pivot at 4398
8/18/2023 10:11:42 AM MT Al****:: pushing my stop up to 4375
8/18/2023 10:09:20 AM MT Al****:: on chart 6 SPKISS page you see a rainbow of EXMAs. This week's drop created a large divergence
I would expect they might converge up to the 6 day next week
8/18/2023 10:01:43 AM MT Al****:: up to yesterday's close-pushed stop to 4372.5, lock 2
8/18/2023 9:56:49 AM MT Al****:: my initial stop was 4365; now moved to 4370.5 break even
8/18/2023 9:47:55 AM MT Al****:: rebought 4370.5 based on bounce off yellow vibe secret-esnat72 and 220 minute EXMA
8/18/2023 9:41:54 AM MT Al****:: stopped out 4368 - oh well
8/18/2023 9:39:46 AM MT Al****:: the exchange rotates past the Moon and Mercury near 14:40
8/18/2023 9:37:34 AM MT Al****:: trade is now along the Mercury +Mh135 electric field flux
8/18/2023 9:25:41 AM MT Al****:: and on Secret->esNar360 you see the 7 moves down from the yellow vibration level to the white
8/18/2023 9:21:54 AM MT Al****:: if you look at Secret->esnat72 you see the decline from about 2:00 had 7 little moves
8/18/2023 9:20:09 AM MT Al****:: based on the 7 moves down and Moon flux support I was a bit aggressive, buying 4367.5 stop now 4368
8/18/2023 9:11:20 AM MT Al****:: first MoonTide trade : bars colored up by 36/220
8/18/2023 7:02:16 AM MT Al****:: may get a bounce today - have 7 moves down from week's high and support on Moon +T225 electric field flux
8/18/2023 6:36:52 AM MT Al****:: Good Morning visitors. Welcome to the Chaos Clinic. The written Chaos Clinic is on the AUX page.
This site has a lot of charts,
so you may find it useful to have several of them available within your
browser. If you have a tabbed browser, you can open separate charts
in separate tabs by right clicking on any link, and selecting "open in new tab"
from the menu. The main list of site pages is at
http://daytradingforecasts.com/chartlistsec.asp
Recommended pages to watch are SPKISS, MTRainbow, and Chat.
For astro stuff, add SPSunMoon, Wheel, and Chaos Clinic.
A special set of Dr. Al's research charts are on the Secret page.
Comments in the chat room are announced by a
"duck call" noise. This noise also occurs when the software detects a
resonant hex pattern on the Wheel page. MoonTide trading tutorials
are on the right side of the ListOfCharts page. One should
read Trading the MoonTide Tutorial and Keep it Simple as a minimum.
Many subscribers do not strictly trade the MoonTides, but use the charts on this
site as input to their own trading strategies. For example, charts 5 and 6 on the
SPKiss page are a good starting point for swing traders.
Also on this site is the Certified Chaos Trader's Room. That room is open
to graduates of my 4 main courses. See http://moneytide.com -> Courses for details.

8/18/2023 6:26:37 AM MT oag****:: Good morning everyone! Hope everyone has a prosperous day!
9:00 Eastern-System: No comments

---