---
CHAOS CLINIC RECAP
---
---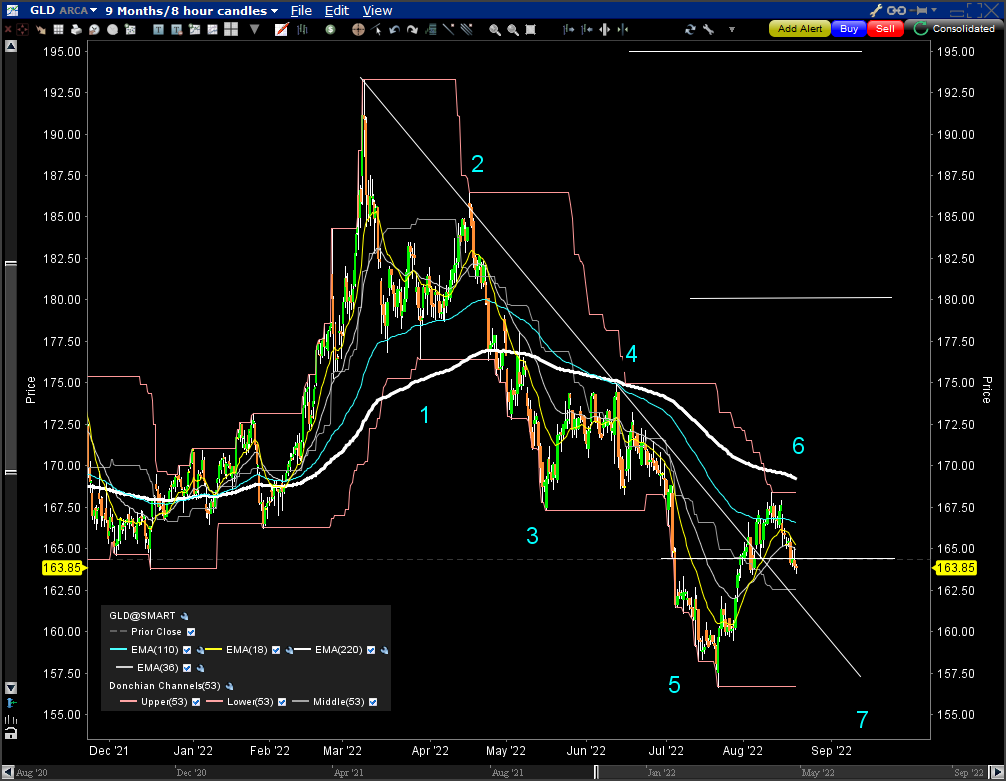 **************************************************************************************
Gold Approaching Low
Chaos Clinic for 8/19/2022
***************************************************************************************

This chart shows nine months of the gold Exchange Traded Fund, GLD.
GLD peaked in late March, and since then has been in a decline.

That decline may b e nearing an end. The rainbow of EXMAs and the
Donchian channels show a clear 6 moves in a 7 move Chaos Clamshell.

Move 7 is underway. It looks like it could complete in early October
near a price of 150-155.

For more on my work and to subscribe to Tomorrow's Market Email Hotline and access to daytradingforecasts.com see
Moneytide.com
Software to plot electric field flux lines in NinjaTrader is available at
energyfieldtrading.com
---

Below is one of the SPKISS charts from daytradingforecasts.com
and the chat room comments from this Chaos Clinic. Most recent comment is on top.
---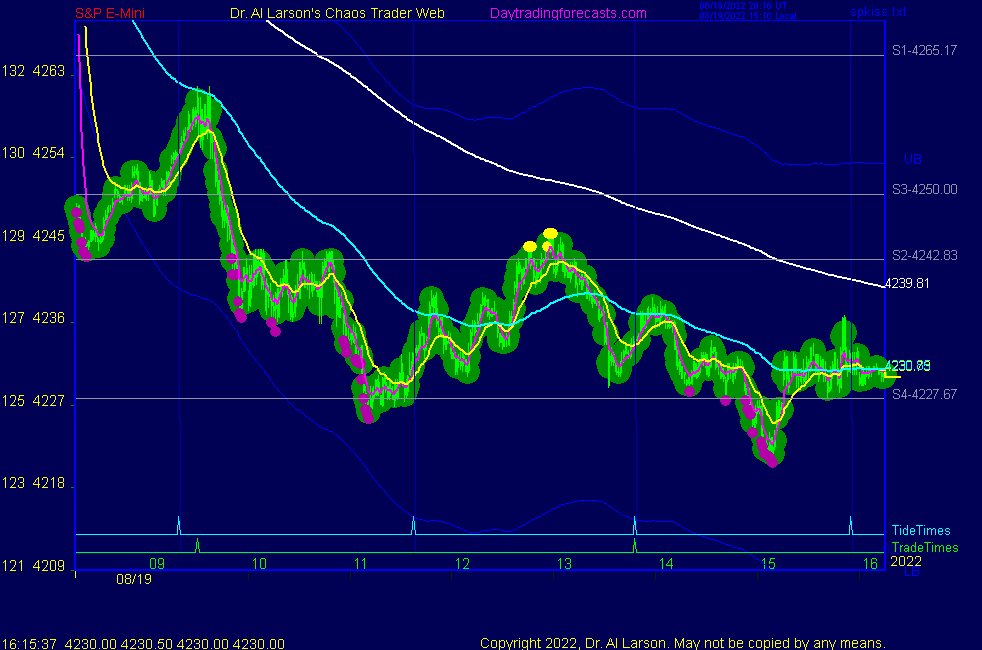 8/19/2022 1:34:53 PM MT nel****:: late short covering rally?
8/19/2022 11:41:17 AM MT pab:: Have fun on vacation---2 weeks---that's a good idea---we will miss you, but you deserve a vacation.
8/19/2022 11:35:09 AM MT Al****:: still looks like it could hold up today - I think I'm done for the day
NO CHAOS CLINIC NEXT WEEK -I WILL BE ON VACATION-thanks for coming - see you in two weeks
8/19/2022 11:31:51 AM MT Al****:: not there
8/19/2022 11:19:45 AM MT Al****:: watching for second round of buying to come in
8/19/2022 10:46:50 AM MT Al****:: here is the energy from the first vertical line on secret charts
8/19/2022 10:21:09 AM MT Al****:: note on Secret->esnat72 how S4 is on top of a magenta vibration level - that gives it strength
8/19/2022 10:13:01 AM MT Al****:: note on the Secret->esnat72 chart the 3 vertical lines coming up
these can add energy
8/19/2022 10:03:20 AM MT Al****:: today that will come about the time the exchange rotates 90 degrees to the Moon - something to watch for
8/19/2022 10:00:41 AM MT Al****:: on big overnight drops, there is a tendency for the S&P to make a low near 11:00 Eastern, and attract more buying 2 1/2 to 3 hours later
8/19/2022 9:50:32 AM MT Al****:: if you look at the Wheel, the exchange passed 180 degrees to Pluto, and is conjoining Venus
8/19/2022 9:22:51 AM MT Al****:: the sp1day chart shows prices following the red -Tide
prices are now at S4 , so flash boy algos may buy
8/19/2022 8:22:31 AM MT srj****:: Thanks Al
8/19/2022 7:40:36 AM MT Al****:: that means the aspects are within 3 degrees of a harmonic aspect like 0, 30, 45, 60 ..etc
8/19/2022 7:34:12 AM MT srj****:: GM Al, was using Ephi recently and had a question: in the Helio (and Geo) Aspects some have an Asterix next to them - what does that indicate? TIA
8/19/2022 6:47:42 AM MT Al****:: that overnight decline ran from the pivot to S2 - pit pivot prices are shown on the SP1Day page
8/19/2022 6:39:38 AM MT Al****:: I have updated the Wheel page - it show that the Exchange passed Moon conjoin Mars just after 7:00
secret->esnat72 shows 7 swings down in the overnight decline into that time area
8/19/2022 6:18:17 AM MT Al****:: Good Morning visitors. Welcome to the Chaos Clinic. The written Chaos Clinic is on the AUX page.
This site has a lot of charts,
so you may find it useful to have several of them available within your
browser. If you have a tabbed browser, you can open separate charts
in separate tabs by right clicking on any link, and selecting "open in new tab"
from the menu. The main list of site pages is at
http://daytradingforecasts.com/chartlistsec.asp
Recommended pages to watch are SPKISS, MTRainbow, and Chat.
For astro stuff, add SPSunMoon, Wheel, and Chaos Clinic.
A special set of Dr. Al's research charts are on the Secret page.
Comments in the chat room are announced by a
"duck call" noise. This noise also occurs when the software detects a
resonant hex pattern on the Wheel page. MoonTide trading tutorials
are on the right side of the ListOfCharts page. One should
read Trading the MoonTide Tutorial and Keep it Simple as a minimum.
Many subscribers do not strictly trade the MoonTides, but use the charts on this
site as input to their own trading strategies. For example, charts 5 and 6 on the
SPKiss page are a good starting point for swing traders.
Also on this site is the Certified Chaos Trader's Room. That room is open
to graduates of my 4 main courses. See http://moneytide.com -> Courses for details.
9:00 Eastern-System: No comments

---