Chaos Clinic Recap
---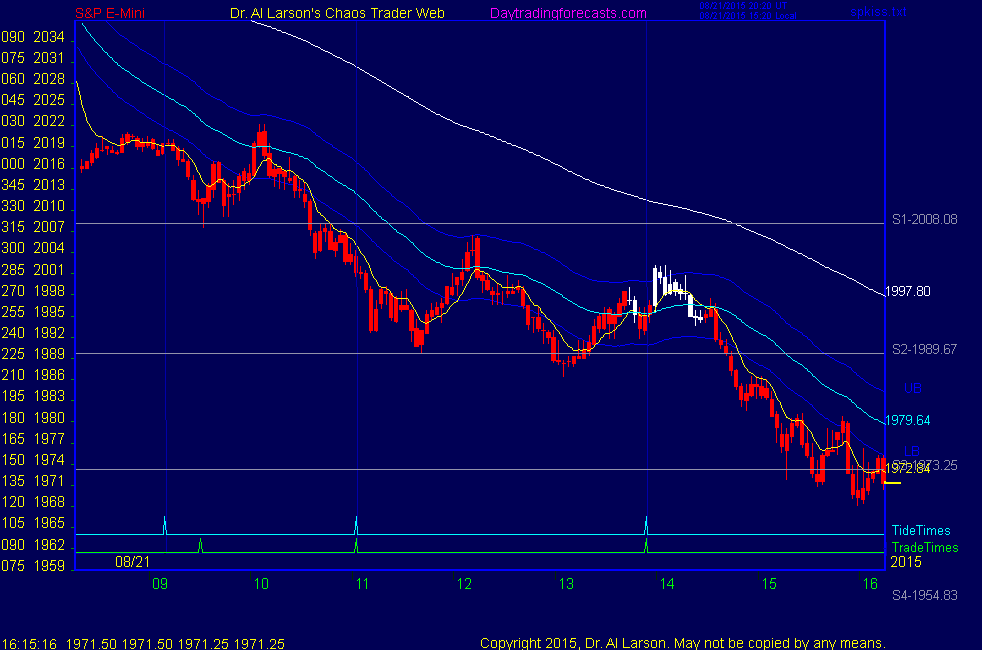 ---
Here are Al's comments
---
11:28 I'm back - see I could have gotten more-oh well-next time; today I'm getting ready for vacation
So I'm going to sign off- see you in two weeks-take some courses
10:54 that's my first two trades - taking a break now
10:53 that FOP helped me decide to cover
10:52 I have placed a Fractal of Pi chart in the Certified Chaos Trader's Room. That room is open
to graduates of my 4 main courses. See http://moneytide.com -> Courses for details.
eMylar Fractal of Pi overlays help you be patient, since they show you future potential moves.
The best bargain in my courses is to take the Cash In On Chaos and Fractal of Pi courses and
learn to use the FOP overlay. Then take Chaos Trading Made Easy, and finish with Face Of God.
10:44 I was quick to cover because of the volatility, and the XTide at bottom of Chaos Clinic chart is forecasting a low
10:40 taking +7 - range of 18 points = 1/4 Wheel of 72
10:39 stop 2004 lock 4
10:38 stop 2009 lock 2
10:37 stop 2011
10:34 sold 2011 stop 2014
10:33 retesting the lows
10:15 not I'll just watch until nearer the next Tide time. Market fishing for a bottom.
10:11 Fine; controlled my risk and preserved my capital
10:08 stopped for 0
10:05 will take 5 if get it; stop 2118
10:05 stop 2117
10:02 OK, buying 2018 stop 2115
9:57 the 20 and 55 minute EXMAs are curling up, the 110 and longer are still down
9:54 bar volatility dying down
9:50 higher minor low
9:47 I'm just watching 9 minute swings with 6 to 9 point 3 minute candles ist to wild for me
9:36 this is what I mean: sharp drop to S1, sharp bounce off of it; small guys trading manually cannot react fast enough
9:33 the other thing a wide range does is increase risk -3 point stops may be too small
9:28 a wide range day like yesterday expands the pivot prices wildly, so they are not that useful-S1 is at 2008
9:24 down about 48 points from yesterday's high-tend is down but well along so may be too late for a good sell
9:21 trade times are 09:31 11:03 13:54 -I may wait a bit on the first one
9:00 Good Morning. Welcome to the Chaos Clinic. This site has a lot of charts,
so you may find it useful to have several of them available within your
browser. If you have a tabbed browser, you can open separate charts
in separate tabs by right clicking on any link, and selecting "open in new tab"
from the menu. The main list of site pages is at
http://daytradingforecasts.com/chartlistsec.asp
Recommended pages to watch are SPKISS, MTRainbow, and Chat.
For astro stuff, add SPSunMoonMer, Wheel, and Chaos Clinic.
Chaos clinic comments appear at the bottom of the SPKISS, MTRainbow,
and ChaosClinic pages. Comments in the chat room are announced by a
"duck call" noise. This noise also occurs when the sofware detects a
resonant hex pattern on the Wheel page. Trading tutorials
are on the right side of the ListOfCharts page. One should
read Trading the MoonTide Tutorial and Keep it Simple as a minimum.

---
Besides the comments made by Al, the chat room is has live
comments from other traders who sometimes share their views,
trades and tips. Below are the chat room comments from this clinic
---


8/21/2015 7:50:30 AM MT gue:: R u in some othere room on othere weakdays ??
8/21/2015 6:07:39 AM MT mm****:: gm all - have a great day

9:00 Eastern-System: No comments

---