Chaos Clinic Recap
---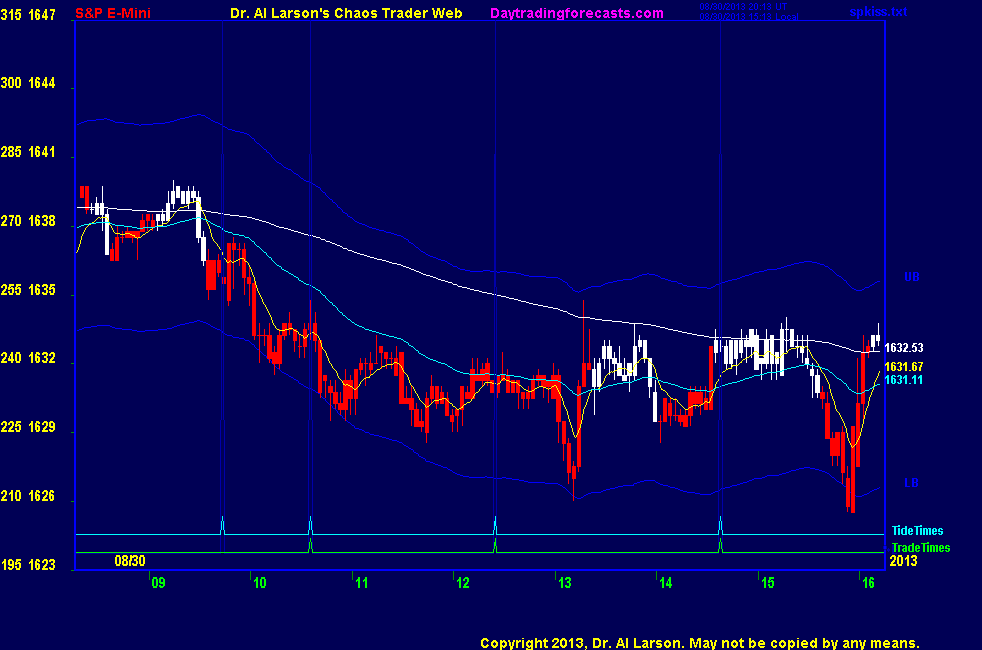 ---
Here are Al's comments
---
12:26 I think I'm going to call it quits - I got in one good trade and now expect volume to dry up
last trade of a good month-thanks for coming-take a course-see you next week
12:18 1629 is the balance point between the Moon +T135 and -T045 electric field flux
turned prices back up, so I expect we just hold up into the close
1638 is the balance point between the Moon +T180 and -T000 flux, so move went from balance point to balance point
12:12 not a lot of juice due to the holiday weekend-may not be another decent trade
12:06 updated my Fractal of Pi chart in the CCT Room
11:58 I covered because I noticed 7 swings down from the high - a small Chaos Clamshell
11:56 don't like the stall -covering for +3.5
11:43 stop back to 1633.5 - trend of day is down, so may carry it through next trade time
11:39 back-looking good-sitting tight
11:22 taking a breakfast break-backing stop off to 1635
11:11 hard to sit tight here- stop to 1633.5
10:55 this thing could tank, given the climate of uncertainty
10:52 stop to 1633.75 -break even
10:47 stop to 1634
10:45 stop to 1635
10:43 my stop entry got me in early-the trade was still there at the 10:36 Tide time-now moving
10:38 passed the exact Tide time-still viable-FOP says sit tight
10:26 trade still OK-stop is where it should be-just need to be patient
10:20 updated my Fractal of Pi chart in the CCT room - looking good
10:15 stop to 1636.5
10:05 stop to 1637 -at the 110 minute EXMA
10:01 elected short at 1633.75 -putting stop at 1638 for now
9:59 looking weak
9:55 had a little trouble with the chart-it is there now
9:50 I have placed a Fractal of Pi chart in the Certified Chaos Trader's Room. That room is open
to graduates of my 4 main courses. See http://moneytide.com -> Courses for details.
eMylar Fractal of Pi overlays help you be patient, since they show you future potential moves.
The best bargain in my courses is to take the Cash In On Chaos and Fractal of Pi courses and
learn to use the FOP overlay. Then take Chaos Trading Made Easy, and finish with Face Of God.
9:43 looks like flat to down today
9:40 putting a sell stop at 1633.75 in case of a breakdown
9:36 early selling and 20/110 sell setup-waiting a bit-not in the trade window
9:33 outcry session open
9:29 it's interesting to note that the high yesterday and the overnight high were set by the Mars +R180 electric field flux line. Mars is the god of War.
9:19 trade times today are 10:36, 12:25, and 14:38 ; the last may be too dull to trade on this long weekend Friday
9:00 Good Morning. Welcome to the Chaos Clinic. This site has a lot of charts,
so you may find it useful to have several of them available within your
browser. If you have a tabbed browser, you can open separate charts
in separate tabs by right clicking on any link, and selecting "open in new tab"
from the menu. The main list of site pages is at
http://daytradingforecasts.com/chartlistsec.asp
Recommended pages to watch are SPKISS, MTRainbow, and Chat.
For astro stuff, add SPSunMoonMer, Wheel, and Chaos Clinic.
Chaos clinic comments appear at the bottom of the SPKISS, MTRainbow,
and ChaosClinic pages. Comments in the chat room are announced by a
"duck call" noise. This noise also occurs when the sofware detects a
resonant hex pattern on the Wheel page. Trading tutorials
are on the right side of the ListOfCharts page. One should
read Trading the MoonTide Tutorial and Keep it Simple as a minimum.

---
Besides the comments made by Al, the chat room is has live
comments from other traders who sometimes share their views,
trades and tips. Below are the chat room comments from this clinic
---


8/30/2013 8:21:30 AM MT BBB****:: Maybe it is just my computer but I cannot see the chart in CCT room Al.
8/30/2013 5:41:01 AM MT mm****:: Al: welcome back, I hope you had good weather again - as usual I got your weekly report twice, but both times stsrting with paragraph 4
8/30/2013 5:38:20 AM MT mm****:: gm all - have a great day

9:00 Eastern-System: No comments

---