Chaos Clinic Recap
---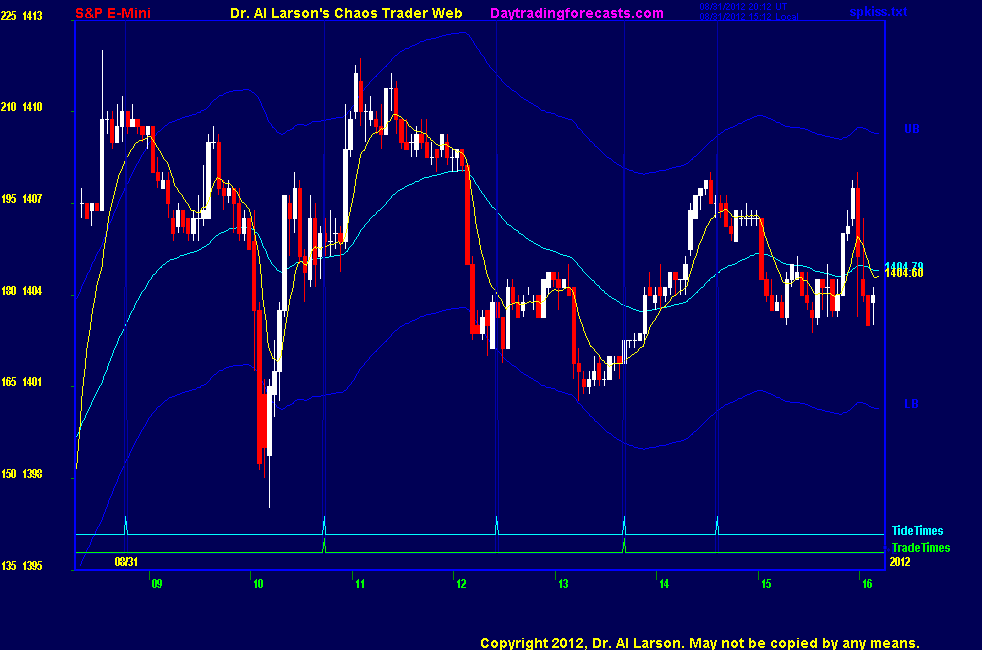 ---
Here are Al's comments
---
2:20 OK-I'm done for the day, week, and month. Have a good Labor Day weekend. See you next week. Take some courses
2:18 stopped out on second one for -1.5
2:14 EXMAs have converged here -sitting tight
2:09 covered the one I sold at 1407 for +3 just based on the stall
2:07 after about 2:30 we may see some selling
2:03 stop held so far
1:57 testing last minor high -my stop is just above it
1:40 I have placed a Face of God chart from the FOG couse in the CCTRoom
1:32 3 minute bars are small - getting duller as people leave - I'm going to hang in because I know that this morning's wild moves are firbrilation, as precedes a heart attack
1:20 stops to 1405.5
1:14 short 1 from 1407 and one from 1403 -stop 1406 on both now
1:10 longer term EXMAs slowly turning down and 20/110 continuation setup - sold 1403 stop 1406
1:01 passing the Sun timeline - Moon T180 timeline comes soon-latter because we are past the full Moon
see the SPSunMoonMer chart
12:54 but the 20 EXMA is up, so waiting for it to turn down
12:50 the 55, 110, 220,440, 880, and 1760 are all sloping down
12:44 watching the MTRainbow chart to see if longer EXMAs turn down
12:32 hopefully we'll get a continuation sell setup near the next trade time
12:25 I put that stop order in based on a pattern I say on a version on the MTRainbow chart
I have placed that chart in the Certified Chaos Trader's Room. That room is open
to graduates of my 4 main courses. See http://moneytide.com -> Courses for details.
eMylar Fractal of Pi overlays help you be patient, since they show you future potential moves.
The best bargain in my courses is to take the Cash In On Chaos and Fractal of Pi courses and
learn to use the FOP overlay
12:16 not a hotline trade, but before I left I put a sell stop at 1407, under the 110 EXMA
it was hit so now I'm short. I put my protective buy stop at 1406.5
12:11 I'm back -looks like the highs are in
stopped out -taking a breakfast bresk
10:52 to me the Fed (Ben) said "we've taken away your punch bowl, but we're not going to tell you that."
10:50 if you've ever been to Jackson Hole, you know it is not where you go to do serious business
its a party resort
10:40 still OK
10:31 resold 1405 stop 1408
10:22 pretty wild swings - Big Ben's pendulum :)
10:20 stopped for +.25
10:16 stop to 1405 -lock one tick -below the 110 EXMA
10:14 add in that today the Moon is full - prices dropped to the Sun/Moon flux -Market Astrophysics in action
10:11 I also was aware that Benn Bernanke was starting a talk at 10:00 - some hoped he would be
announcing a stimulus program, but I was doubtful that he would do that going into a long weekend
10:10 on that entry, I noticed that on the SPSunMoonMer chart that the Moon -T180 line
looked to have turned prices down
10:08 this could get ugly
10:04 stop at 1408.25 for now
10:01 sold 1405.25 -bit early but had to take it

9:54 the 55 minute EXMA has turned down-usually means the rally is over
9:51 I'm watching 110 EXMA here-it has risen up to the price area-will it roll over?
9:43 the slope of the 110 matches the slope of the red -Tide, which tops out at first trade time
9:34 on the SPRainbow chart the EXMAs are converging, but the 110 and 440 are up, at least for now
nothing to do but watch until near trade time
9:24 this week has seen low volatility as many traders are on vacation
the main question today is "Will there be enough volatility for decent trading?"
9:15 today's trade times are 10:44 and 13:41
9:13 overnight rally popped prices up to test Wednesday's highs-looks to have failed
9:10 Eastern: Good Morning. Welcome to the Chaos Clinic. This site has a lot of charts,
so you may find it useful to have several of them available within your
browser. If you have a tabbed browser, you can open separate charts
in separate tabs by right clicking on any link, and selecting "open in new tab"
from the menu. The main list of site pages is at
http://daytradingforecasts.com/chartlistsec.asp
Recommended pages to watch are SPKISS, MTRainbow, and Chat.
For astro stuff, add SPSunMoonMer, Wheel, and Chaos Clinic.
Chaos clinic comments appear at the bottom of the SPKISS, MTRainbow,
and ChaosClinic pages. Comments in the chat room are announced by a
"duck call" noise. This noise also occurs when the sofware detects a
resonant hex pattern on the Wheel page. Trading tutorials
are on the righty side of the ListOfCharts page. One should
read Trading the MoonTide Tutorial and Keep it Simple as a minimum.


---
Besides the comments made by Al, the chat room is has live
comments from other traders who sometimes share their views,
trades and tips. Below are the chat room comments from this clinic
---


8/31/2012 9:29:47 AM MT AG:: There`s a spanish saying that goes `El perro que ladra no muerde`. Big bark, no bite.
8/31/2012 8:42:05 AM MT Al****:: "Sound and fury, signifying nothing"
8/31/2012 8:32:32 AM MT Tg****:: Sounds like a whole lot of double talk in his speech: Speaking at the Kansas City Fed's symposium at Jackson Hole, Wyoming, Fed Chairman Ben Bernanke is not jumping to conclusions about policy decisions at the upcoming FOMC meeting in September. He fell short of endorsing another round of quantitative easing. However, he is keeping the door open but "if" is a key word. Bernanke said that the Fed should not rule out additional easing if conditions warrant such a move. He set up the possibility of another move, noting that non-traditional tools (quantitative easing and guidance) have been effective and continue to be effective. The Fed chief stated that the costs of non-traditional tools appear to be manageable. More detail coming.
8/31/2012 8:24:27 AM MT Tg****:: Looks like his speach was treated like an FOMC rate decision anncmnt.
8/31/2012 7:42:46 AM MT BBB****:: I am sure the Bernanke speech in about 20 minutes will add a little fun to the day
8/31/2012 7:29:31 AM MT BBB****:: Have a good one today
8/31/2012 7:10:09 AM MT Al****:: GM all -goo0d luck today
8/31/2012 6:20:54 AM MT sdg:: gm all!
8/31/2012 5:37:59 AM MT mm****:: gm all - have a great day

9:00 Eastern-System: No comments

---