---
CHAOS CLINIC RECAP
---
---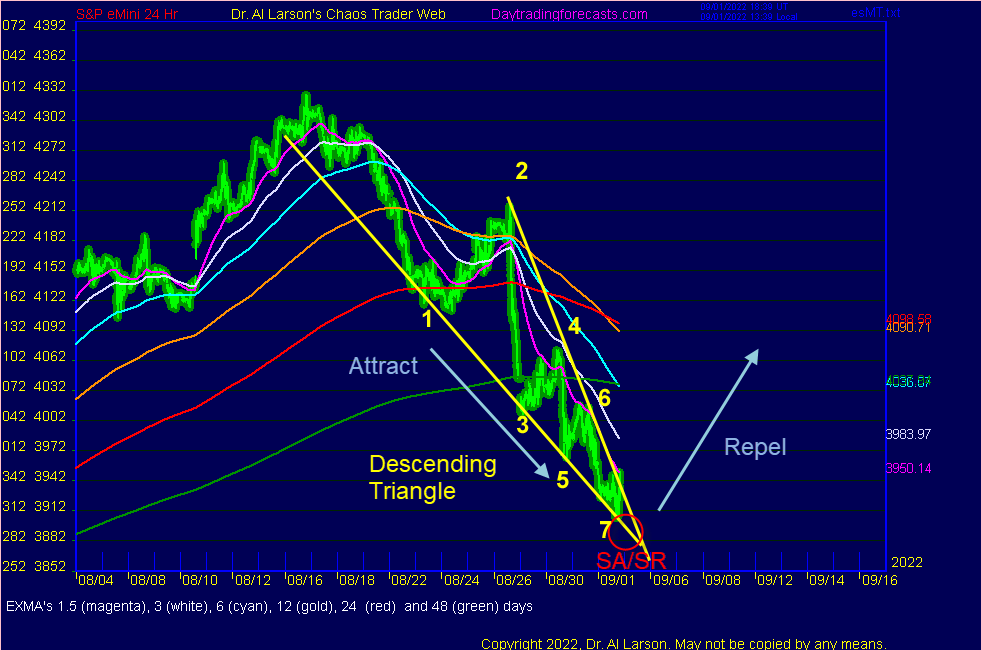 **************************************************************************************
           S&P Ready To Rally
            Chaos Clinic for 9/2/2022
***************************************************************************************

This chart shows chart from my SPKISS page on daytradingforecasts.com as of noon
on 9/1/2022. This is a plasma chart showing the last month in the S&P futures.

It shows a rally into mid-August, followed by a decline. The decline has the
shape of a descending triangle. Inside that triangle I have labeled 7 moves
of a down Chaos Clamshell.

This pattern is a chaos pattern, marking a move to a Strange Attractor/Strange Repellor.
In chaotic markets, prices are drawn to the SA/SR, then are repelled away.

This suggests the S&P is set to rally. The 9/2 employment report could fuel the
rally. The FOMC does not meet until 9/21, so a a rally could last into that
time frame.

More about finding SA/SRs in contained in my Face Of God course.

This outlook was noted in the daytradingforecast.com chat room on 9/1/2022.
It started with a comment from a subscriber.
9/1/2022 8:04:11 AM ET pb****:: My calendar shows today as a BUY day.

Mu inner child had me personally doing small buying probes as early as 5:00 Eastern. I was aided
by a chart posted in the Certified Chaos Trader by CLB on 8/26/2022. It showed his own version of
my SP3ixgo chart. It fit in with this analysis. Several other CCTs were looking for a low,
Late in the day I posted this precursor to this Chaos Clinic:


9/1/2022 14:56:15 PM ET Al****:: chart 6 on SPKISS shows a converging down triangle
it points to a chaos strange attractor/strange repeller
so a rally could be quite large and run 14-21 days

So, thanks to help from others, hard work, and lots of tools, it is possible to Cash In On Chaos.

For more on my work and to subscribe to Tomorrow's Market Email Hotline and access to daytradingforecasts.com see
Moneytide.com
Software to plot electric field flux lines in NinjaTrader is available at
energyfieldtrading.com
---

Below is one of the SPKISS charts from daytradingforecasts.com
and the chat room comments from this Chaos Clinic. Most recent comment is on top.
---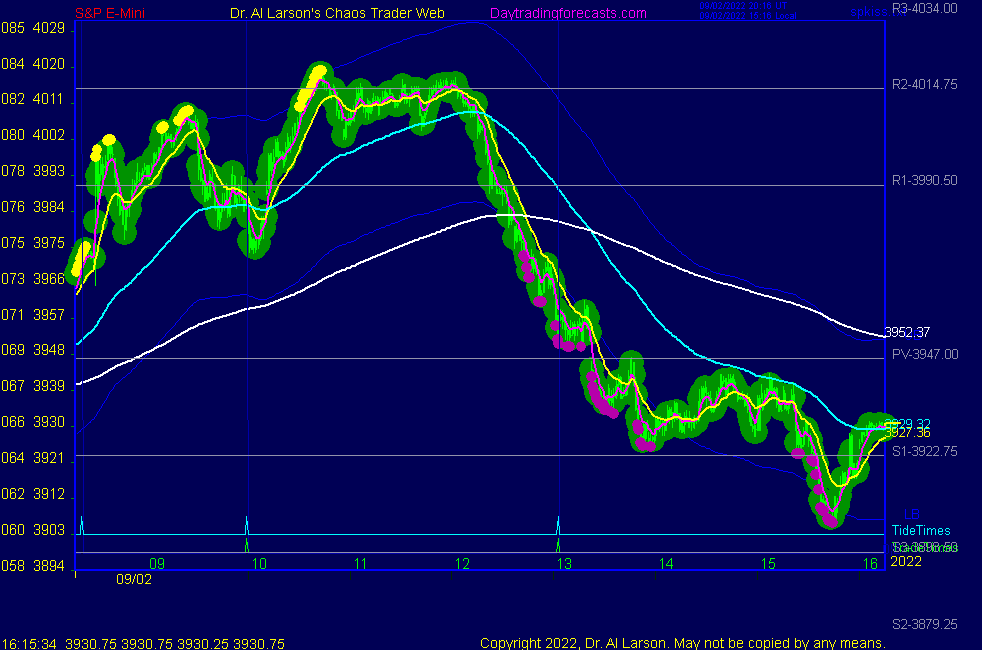 9/2/2022 12:40:14 PM MT Al****:: I'm done for today- have a great long weekend-see you next week-take some courses
9/2/2022 12:16:31 PM MT Robert****:: wonderful, thanks Al
9/2/2022 12:12:02 PM MT Al****:: yes
9/2/2022 12:09:27 PM MT Robert****:: is that a "black swan"
9/2/2022 12:08:22 PM MT Robert****:: the diagnal line up on the esMTBS what is that called
9/2/2022 12:02:20 PM MT Al****:: may recover some in last two hours - often does on Fridays
9/2/2022 11:31:54 AM MT Al****:: note on chart 6 on the SPKISS page that the rally stalled on the cyan 6 day EXMA
I find this tends to be the "Mean" that hedge funds use in their "reversion to the mean" algos
9/2/2022 11:28:28 AM MT Al****:: chaos at it's finest - this drop came as the Exchange passed the Venus V000 and Moon T270 timeline.
9/2/2022 9:56:22 AM MT Al****:: charts 5 the SPKISS page shows the trend is up
note the Moon electric field flux lines supporting the rally
and how another one supports the rally after the holiday weekend
9/2/2022 8:34:08 AM MT Al****:: the first MoonTide trade was a continuation buy right at trade time
it was a dip to the up 220 minute EXMA
it may be the last chance to get on board this rally
9/2/2022 7:18:30 AM MT Al****:: Good Morning visitors. Welcome to the Chaos Clinic. The written Chaos Clinic is on the AUX page.
This site has a lot of charts,
so you may find it useful to have several of them available within your
browser. If you have a tabbed browser, you can open separate charts
in separate tabs by right clicking on any link, and selecting "open in new tab"
from the menu. The main list of site pages is at
http://daytradingforecasts.com/chartlistsec.asp
Recommended pages to watch are SPKISS, MTRainbow, and Chat.
For astro stuff, add SPSunMoon, Wheel, and Chaos Clinic.
A special set of Dr. Al's research charts are on the Secret page.
Comments in the chat room are announced by a
"duck call" noise. This noise also occurs when the software detects a
resonant hex pattern on the Wheel page. MoonTide trading tutorials
are on the right side of the ListOfCharts page. One should
read Trading the MoonTide Tutorial and Keep it Simple as a minimum.
Many subscribers do not strictly trade the MoonTides, but use the charts on this
site as input to their own trading strategies. For example, charts 5 and 6 on the
SPKiss page are a good starting point for swing traders.
Also on this site is the Certified Chaos Trader's Room. That room is open
to graduates of my 4 main courses. See http://moneytide.com -> Courses for details.
9:00 Eastern-System: No comments

---