Chaos Clinic Recap
---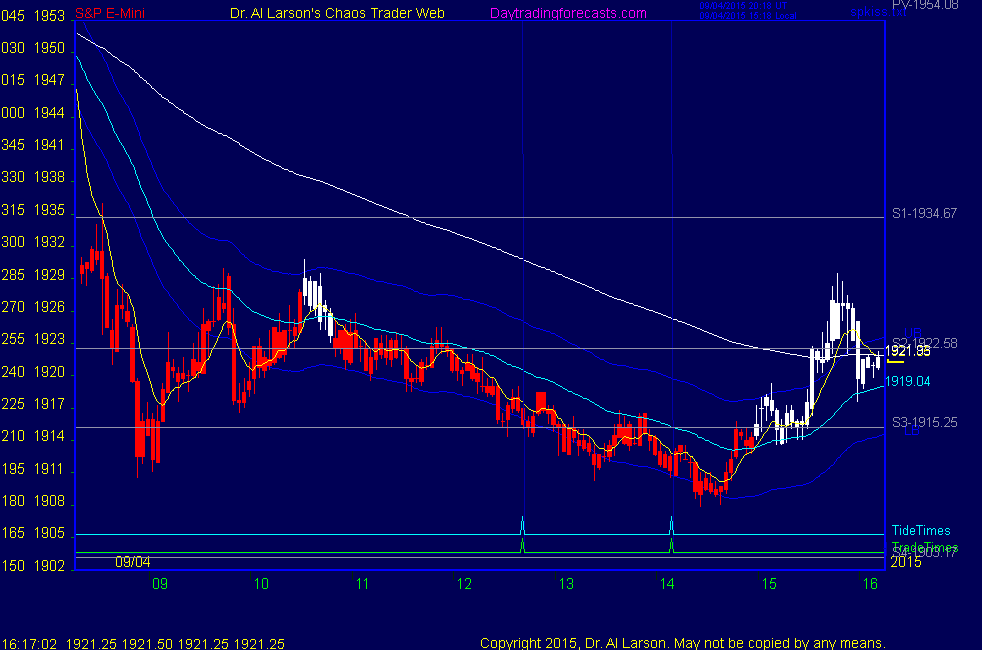 ---
Here are Al's comments
---
14:37 I'm done-it was fun-see you next week; take a course or two or three
14:36 don't like it-taking +3
14:25 placing buy limit at 1903
14:24 got it-stop to 1912; break even
14:21 stop to 1914-risk 2
14:19 testing double bottom-I think it will break
14:08 looking good - computers sold S3; will be looking for S4 near 1903
14:03 sold 1912 stop 1915 on continuation sell 20/110 going into Tide time
14:00 if the double bottom holds past 2:30, I expect a short covering rally
13:54 placing a buy stop at 1917 - above the 110
13:51 higher minor low-pressing the 110 EXMA - watching for a buy setup
13:46 now we have a double bottom with the low near 9:00, so may get some programmed buying
13:41 I'm back; I see the AUX page trading system has been busy giving away what it made on the first 3 trades
the reason for this is that the amplitude of the cycle it trades has decreased.
12:54 I'm going to take a break now to run an errand-should be back for last trade time
12:52 double bottom on S3 - tells me whatever computers are still on are buying S3
12:50 not moving aborted +1
12:45 stop 1920 - risk 2
12:41 resold 1918 stop 1921 - Rainbow of EXMAs still down
12:37 stopped for 0
12:32 stop to 1919, break even
12:30 down to S3-took the Red Swan branch in the Swan Highway
12:28 stop 1920
12:26 placing buy limit at 1910-trying for 9
12:19 OK, sold 1919 stop 1922; 20/110 continuation sell; Red Swan may catch it
12:15 The volatility has died out- this leads to a lot of head fakes
12:13 the AUX page autorader has had 3 losses in a row and is now short
12:05 I obviously jumped too soon-aborted for -3
12:02 trade looking marginal right now-I can abort or let may stop do the work
11:52 pressing a bit-bought 1923 stop 1918
11:51 coming into the trade window
11:49 last minor lows were supported by the Green Swan
11:47 when the market is down early, then holds up for more than 2 1/2 hours, it usually is up the rest of the day
11:42 that energy COULD start a rally up the Green Swan
11:38 at the bottom of the ChaosClinic page and the AUX page cahrt is a magenta line named XTide.
It shows a sharp increase in energy over the next hour.
11:35 it covered for -4 and went short ; 110/20 shows a continutation sell from S2, may go to S3
11:33 the AUX page autotrade went long but I think it got suckered
11:31 coming to the Red/Green Swan crossover soon -will be watching to see if the trend shifts
11:29 the volatility has decreased
11:25 the autotrader did get to its target-barely-
11:06 the autotrader is short but having trouble reaching its target
11:00 hanging around S2-the 110 EXMA is flat
10:33 OK, this little system just bought and took another 7 points - some days it is good-some days not
9:59 this system tries to trade the QPFE indicator from the Chaos Trading Made Easy course. I highly recommend that course.
9:56 that was a continuation setup on the 20/110 minute EXMAs - but not one coinciding with a MoonTide time.
9:52 I set the take profit at 7 points as well. So that system sold and took 7 points - not real money yet
9:49 the high volatility over the last two weeks has made normal stops too close. This autotrader had 5 point stops
but now needs 7 points to hold a trade
9:41 because there is not much to do, I'm running a research chart on the AUX page-this is work on an autotrader

9:33 the market is down from yesterday's high. that high came near the crossing of the Red Swan and Green Swan.
Today we have another crossing mid day, so maybe the first trade will be a decent setup. But this is a holiday
weekend, so volatility may dry up. We just have to watch and see.
9:30 today's trades are later today: 12:41 and 14:09
9:00 Good Morning. Welcome to the Chaos Clinic. This site has a lot of charts,
so you may find it useful to have several of them available within your
browser. If you have a tabbed browser, you can open separate charts
in separate tabs by right clicking on any link, and selecting "open in new tab"
from the menu. The main list of site pages is at
http://daytradingforecasts.com/chartlistsec.asp
Recommended pages to watch are SPKISS, MTRainbow, and Chat.
For astro stuff, add SPSunMoonMer, Wheel, and Chaos Clinic.
Chaos clinic comments appear at the bottom of the SPKISS, MTRainbow,
and ChaosClinic pages. Comments in the chat room are announced by a
"duck call" noise. This noise also occurs when the sofware detects a
resonant hex pattern on the Wheel page. Trading tutorials
are on the right side of the ListOfCharts page. One should
read Trading the MoonTide Tutorial and Keep it Simple as a minimum.

---
Besides the comments made by Al, the chat room is has live
comments from other traders who sometimes share their views,
trades and tips. Below are the chat room comments from this clinic
---


9/4/2015 9:06:55 AM MT BBB****:: hey all - hope everyone is doing well.
9/4/2015 8:36:38 AM MT Al****:: GM all- have a good holiday weekend
9/4/2015 6:29:34 AM MT mm****:: gm all - have a great day

9:00 Eastern-System: No comments

---