Chaos Clinic Recap
---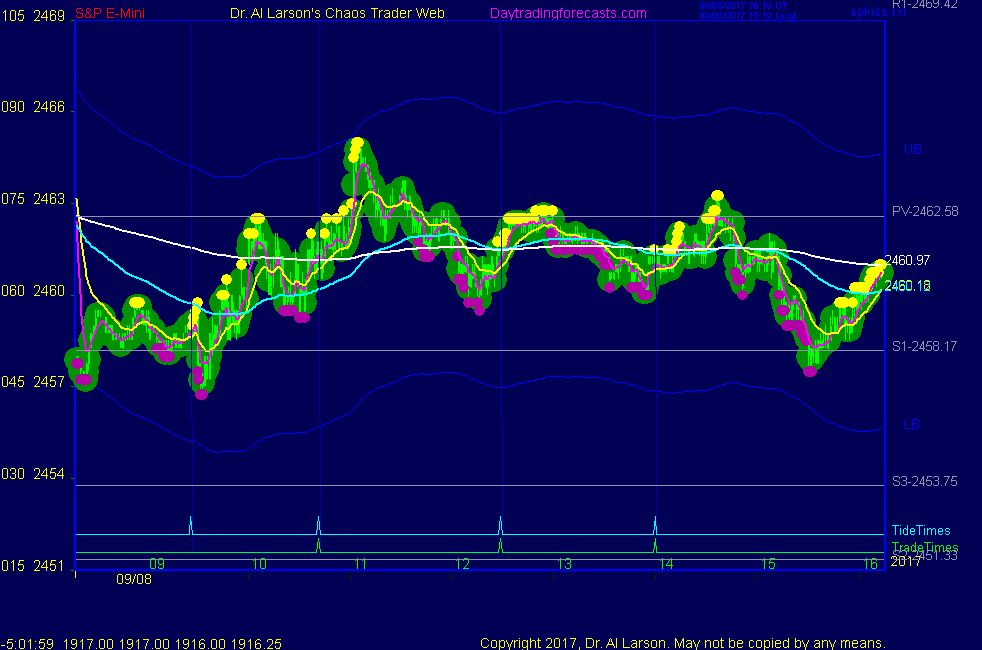 ---
Here are Al's comments
---
12:18 posted additional chart in CCT Room
11:43 often on Friday the volatility is all en the morning;
so I'm going to leave the other trades as an exercise for the student;
Thanks for coming; see you next week. Take some courses.
11:35 What helped me cover that trade was a CTME chart
from the Chaos Trading Made Easy course.
I have placed that CTME chart in the Certified Chaos Trader's Room. That room is open
to graduates of my 4 main courses. See http://moneytide.com -> Courses for details.
eMylar Fractal of Pi overlays help you be patient, since they show you future potential moves.
The best bargain in my courses is to take the Cash In On Chaos and Fractal of Pi courses and
learn to use the FOP overlay. Then take Chaos Trading Made Easy, and finish with Face Of God.
11:26 next trade time is about an hour away-taking a break
11:20 the rally looks to have 5 moves - may be 7
11:18 that rally took 4 hours - now has encountered Red Swan
11:05 taking +3 at yesterday's close
11:04 stop to 2462
11:02 stop to 2460
10:47 bought 2462 stop 2459 on continuation buy-440 has curled up
10:43 just watching-not a lot of juice
10:40 rally stalling
10:27 up to the 440 minute EXMA - may settle here for a while
10:13 computers sold the pivot
10:02 may make it to the pivot at 2462.5
9:53 holding up but weakly
9:43 aborted for -1.25
9:37 if S1 fails, S2 is next support 2453.75
9:33 continuation sell-early, but sold 2457.5 stop 2560.5
9:31 normal session open
9:28 on the MTRainbow chart, all of the EXMAs are down
9:23 trade looks to be following the green +Tide, near the S1 pivot price
9:14 longer term, last Friday's high was a text of the early August "Nuke Spook" high. It was a lower high.
Interestingly, this Tuesday's drop was blamed on worries over North Korea.
9:05 the market made a high lat Friday, lost lift over the long weekend, the dropped into a spike low
on Tuesday. The pattern since then looks to be a "hold it up and distribute" pattern, with lots of short,choppy moves.
To see this, look at the last chart on the SPKISS page.
8:57 early trading is down overnight, made a lower low than yesterday, and is now in an upswing
This "gap down" usually means a rally until about 11:00, then down the rest of the day
the question today is whether or not we will get enough volatility for decent day trades
8:50 Eastern: Good Morning. Welcome to the Chaos Clinic. This site has a lot of charts,
so you may find it useful to have several of them available within your
browser. If you have a tabbed browser, you can open separate charts
in separate tabs by right clicking on any link, and selecting "open in new tab"
from the menu. The main list of site pages is at
http://daytradingforecasts.com/chartlistsec.asp
Recommended pages to watch are SPKISS, MTRainbow, and Chat.
For astro stuff, add SPSunMoonMer, Wheel, and Chaos Clinic.
Chaos clinic comments appear at the bottom of the SPKISS, MTRainbow,
and ChaosClinic pages. Comments in the chat room are announced by a
"duck call" noise. This noise also occurs when the sofware detects a
resonant hex pattern on the Wheel page. Trading tutorials
are on the right side of the ListOfCharts page. One should
read Trading the MoonTide Tutorial and Keep it Simple as a minimum.

---
Besides the comments made by Al, the chat room is has live
comments from other traders who sometimes share their views,
trades and tips. Below are the chat room comments from this clinic
---


9/8/2017 9:38:31 AM MT TG****:: Large divergence between the ES and NQ.
9/8/2017 9:36:46 AM MT TG****:: Same to you, AL
9/8/2017 6:46:06 AM MT Al****:: GM all-good luck today

9:00 Eastern-System: No comments

---