---
CHAOS CLINIC RECAP
---
---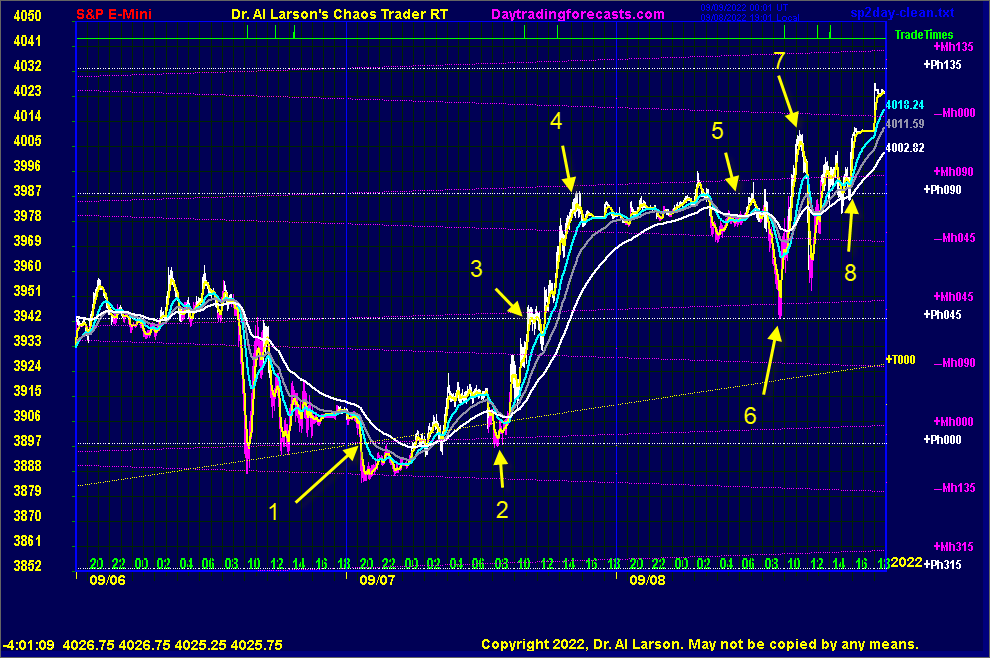 **************************************************************************************
The Moon, The Devil, And The Messenger Spark S&P Rally
Chaos Clinic for 9/9/2022
***************************************************************************************

This chart shows the Market Astrophysics of this week's low in the S&P futures.
It contains arrow for points of interest.

The first day on the chart 9/6/2022is the day after the Labor Day weekend. The S&P still seemed
to be probing for a low. So I was looking for a physical reason for it to turn up.
On that day I noticed this line on the Aspects page on daytrading forecast.com and pointed it out in the chat room.
9/6/2022 14:02:19 PM EDT Al****:: Helio Moon at 298.35 0.00 to Plut at 297.79 9 6 2022 20 04

This aspect is point 1. Note here the magenta +Mh000 electric field flux line white +Ph000 flux line.
At the same time, the Moon also conjoined the Messenger (Mercury) and The Devil (Mercury). Mercury
goes by that name in many biblical chapters containing coded cycles. Mercury-Moon is the 40 day cycle
mentioned throughout the bible. So I knew this was a powerful cycle.

I learned something new when I divided the Pluto cycle by the Mercury cycle. Their ratio is 1024:1.
that ratio is 2 raised to the 10th power. I realized they are the same note 10 octaves apart.
I learned about this type ratio from "The Cosmic Octave" by Hans Cousto.

These type of flux line cross overs form Strange Attractors/Strange Repellor energy points in the universal energy field.
By point 2, it was clear that this energy point would repel prices upward. I pointed this out in the chat room.
9/7/2022 9:19:37 AM EDT Al****:: FWIW: the overnight low was timed by
Helio Moon at 298.35 0.00 to Plut at 297.79 9 6 2022 20 04
from yesterday's aspect table
add 3600 to the Pluto position gives 3898 as the price of the event - A SA/SR

From point 2 prices rallied 45 points to point 3, then 45 points more to point 4. Ninety point straight up in one day
from +Ph000 to +Ph090 Pluto flux lines, a very harmonic move.

On 9/8/2022 prices met resistance near point 5. Then at point 6 prices spiked off of +Ph045. This came as the
Exchange rotated to oppose Pluto-a perfect 50% retracement. At point 7 the Exchange rotated to oppose the Moon.
The oscillation induced by these finally settle don at point 8 where prices based on +Ph090.

You can replicate this chart in NinjaTrader8 using Flux Line indicators from energyfieldtrading.com

For more on my work and to subscribe to Tomorrow's Market Email Hotline and access to daytradingforecasts.com see
Moneytide.com
Software to plot electric field flux lines in NinjaTrader is available at
energyfieldtrading.com
---

Below is one of the SPKISS charts from daytradingforecasts.com
and the chat room comments from this Chaos Clinic. Most recent comment is on top.
---

9/9/2022 12:13:07 PM MT Al****:: done for the day - have a good weekend -takes some courses
9/9/2022 12:12:11 PM MT Al****:: I guess that's because I'm not God :)
9/9/2022 11:58:17 AM MT ...:: Al sometimes your stuff works other times it is completely useless. Have you figured out why it fails.
9/9/2022 11:15:04 AM MT Al****:: lows on Pluto and Moon time lines
9/9/2022 9:12:22 AM MT Al****:: 4077 is +Ph180 up 180 degrees from low on Wednesday
9/9/2022 7:08:07 AM MT Al****:: Good Morning visitors. Welcome to the Chaos Clinic. The written Chaos Clinic is on the AUX page.
This site has a lot of charts,
so you may find it useful to have several of them available within your
browser. If you have a tabbed browser, you can open separate charts
in separate tabs by right clicking on any link, and selecting "open in new tab"
from the menu. The main list of site pages is at
http://daytradingforecasts.com/chartlistsec.asp
Recommended pages to watch are SPKISS, MTRainbow, and Chat.
For astro stuff, add SPSunMoon, Wheel, and Chaos Clinic.
A special set of Dr. Al's research charts are on the Secret page.
Comments in the chat room are announced by a
"duck call" noise. This noise also occurs when the software detects a
resonant hex pattern on the Wheel page. MoonTide trading tutorials
are on the right side of the ListOfCharts page. One should
read Trading the MoonTide Tutorial and Keep it Simple as a minimum.
Many subscribers do not strictly trade the MoonTides, but use the charts on this
site as input to their own trading strategies. For example, charts 5 and 6 on the
SPKiss page are a good starting point for swing traders.
Also on this site is the Certified Chaos Trader's Room. That room is open
to graduates of my 4 main courses. See http://moneytide.com -> Courses for details.
9:00 Eastern-System: No comments

---