Chaos Clinic Recap
---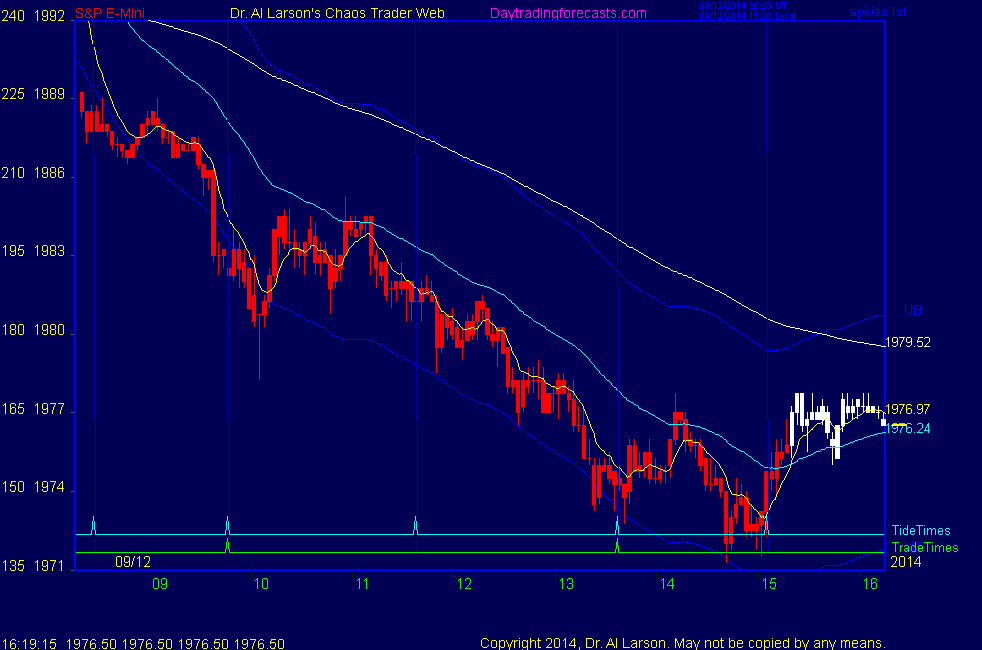 ---
Here are Al's comments
---
1:55 I'm not going to make another trade; I need to get ready for some out of town company. Thanks for coming.
see you next week. Take a course or two.
1:46 see why my 75.5 sell entry had me nervous? see the Chaos Clinic chart
1:44 hotline rules trade from the center out-this is a band edge to center buy setup - not recommended for newbies
1:42 passed exact Trade time - watching for minor rally
1:33 I also respect the upcoming minor swan and green swan and XTide up energy on the Chaos Clinic cahrt
1:32 I realize I've been trading very cautiously; so I don't want to get into "OMG I missed $$$$$"
1:29 aborting for +.5 -too close to Tide time
1:27 71 will be 18 point down from 1989 early price at 8:30
1:24 stop to 77
1:21 OK; taking continuation sell at 75.5 stop 78.5 -77 fell, next major support 71
1:12 the 110 EXMA is only moving about 2 points per hour, so this is a slow trend
1:08 looking weak coming into green Tide low - XTide is warning not to be sucked in by it
1:06 may get a pop up to 1983 - prior support -to give it a GBK-"Good Bye Kiss" - now resistance
1:02 smells like a bottom -watching for some accumulation
12:58 trading at Sun time and price - not an accident - and now got a resonant hex pattern
12:55 at the bottom of the Chaos Clinic chart, the XTide has a low at next trade time, in synch with green MoonTide
12:51 The general pattern fits the green +Tide, so watching for a rally at next trade time-but it may not be tradable
with our rules
12:40 earlier I said that I had support at 77 if 83 fell-we are now there, so watching for that support
12:34 trading on Sun flux line as approach Sun timeline at 1:00
12:32 looking weak-but not in trade window so just watch
12:19 now trapped between the T+135 and -T135 flux - a region of balance
12:08 not much happened while I was gone-on Chaos Clinic chart, ran down minor swan to Moon T+135 flux
11:08 I'm going to take a break now until near the second trade time
10:54 tracking green +Tide inside a trading range; may get mixed Tides now
10:22 now we watch for a while -the early Friday volatility often dries up
10:13 Now we know that the Moon +T180 flux is resistance and the +T135 is support; may spend the rest of the day in that range
10:11 my resell was like a late throw over the middle in football-risky; so I was ready to get out quick
10:08 don't like the big bottom wick off the Moon +T135 flux-aborting for +.5
10:05 resold 81 stop 83 -inverted to red -Tide
10:00 range of day about 9 points-1/8 of Wheel of 72; may see harmonic support
9:56 I hate Friday morning early trades-often have head fakes
9:53 OK-took +3 on stall - tracking green +tide, which turns up at this Tide time
9:50 I think I'm hallucinating-but stop is in-waiitng
9:47 stop to 1985-lock one-will try for 9
9:45 stop to 1985.75-lock one tick
9:43 getting some support near Wednesday's low-if it falls, 1977 is my next lower support price
9:40 stop to 1986-break even
9:38 stop to 1988-just above the Moon flux
9:34 taking 20/110 continuation sell at 1986 stop 1989 -support of Moon +T180 fluxline broken
9:31 getting a hex pattern alert-see hex wheels today and hex wheel tutorial on list of charts page
9:24 there is a red swan this afternoon, which may produce some selling;
the pattern for the week is a downtrend, so an acceleration of that trend is possible
9:21 today's trade times are 09:47 and 13:37. Volatility may be low
9:00 Good Morning. Welcome to the Chaos Clinic. This site has a lot of charts,
so you may find it useful to have several of them available within your
browser. If you have a tabbed browser, you can open separate charts
in separate tabs by right clicking on any link, and selecting "open in new tab"
from the menu. The main list of site pages is at
http://daytradingforecasts.com/chartlistsec.asp
Recommended pages to watch are SPKISS, MTRainbow, and Chat.
For astro stuff, add SPSunMoonMer, Wheel, and Chaos Clinic.
Chaos clinic comments appear at the bottom of the SPKISS, MTRainbow,
and ChaosClinic pages. Comments in the chat room are announced by a
"duck call" noise. This noise also occurs when the sofware detects a
resonant hex pattern on the Wheel page. Trading tutorials
are on the right side of the ListOfCharts page. One should
read Trading the MoonTide Tutorial and Keep it Simple as a minimum.
The next Essentials of Personal and Market Astrophysics course will be September 22-24, 2014. For more detail see http://moneytide.com/hans/epmap.asp
---
Besides the comments made by Al, the chat room is has live
comments from other traders who sometimes share their views,
trades and tips. Below are the chat room comments from this clinic
---


9/12/2014 12:39:29 PM MT GRT:: Thank you I have been watching the September contract
9/12/2014 9:59:41 AM MT BBB****:: GRT, it is the E-MINI SP 500, December contract.
9/12/2014 8:26:23 AM MT GRT:: Are the prices forecasted, cash or futures etc?
9/12/2014 8:05:36 AM MT GRT:: What prices are being depicted on the chart?
9/12/2014 7:53:41 AM MT BBB****:: GM all
9/12/2014 7:45:50 AM MT GRT:: Good Morning
9/12/2014 7:20:23 AM MT Al****:: GM all-good luck today

9:00 Eastern-System: No comments

---