Chaos Clinic Recap
---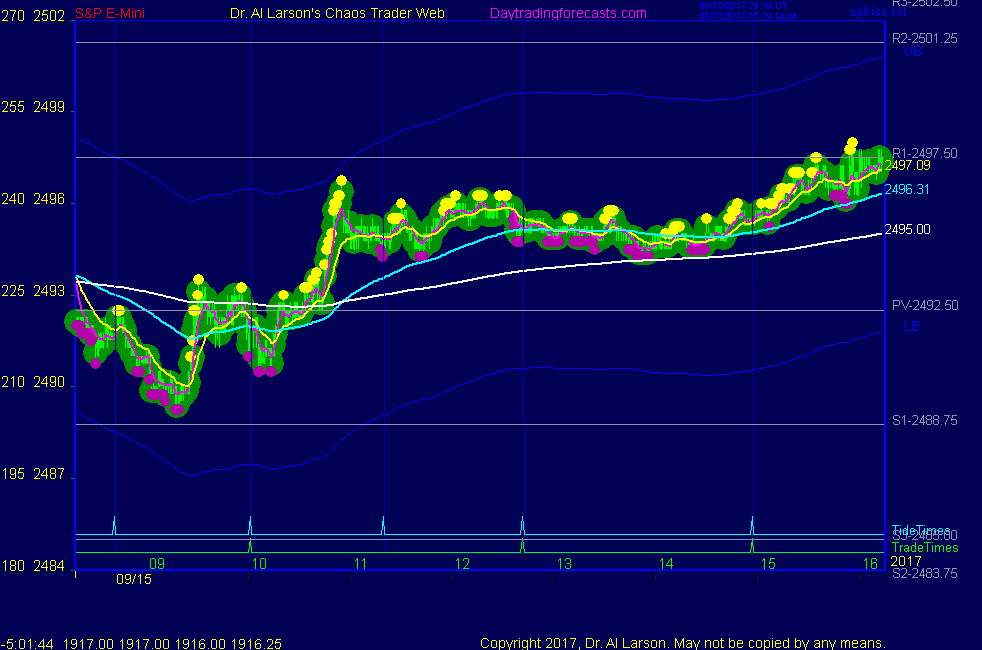 ---
Here are Al's comments
---
12:28 this has gotten too dull for me. I'm done. Thanks for coming. See you next week. Take some courses.
12:25 no juice now
12:16 hanging around the highs but not breaking them
11:42 could be a one and done day; rally ran into down Moon -T270 flux on wheel of 360
11:22 next trade time is near 12:42; may not be anything there; volatility often dies on Friday PM
10:55 that is first trade. Taking a break now.
10:53 out for +2
10:49 stop to 2492.5
10:47 stop to 2491.5
10:46 elected long 2494, stop 2490, cover 2496
10:444 no breakout so far
10:39 testing 2493.5
10:24 range is 6 points; next quantum range is 9, so trade is set up to capture a 6 point to 9 point
range expansion; this is shown on the secret nat72 chart
10:21 if elected my stop will go in at 2490
10:16 may make second attempt at rally
10:07 it is congestions like this that kill trading systems and traders
9:58 no follow through-remaining is 6 point range-congestion continues
9:50 if elected long will cover 2496
9:43 pivot price is 2492.5 - a balance point
9:36 2493.5 held so far; getting resonant hex pattern; see hex tutuorial and link on right side of ListOfCharts page
9:32 putting buy stop at 2494
9:29 there may be a buy opportunity if prices break the 24 hour high of 2493.5, but it may only be for 3 points
9:10 The real question today is volatility; On the AUX page I have posted a chart showing that
the S&P is trapped in a congestion. Congestions are often bounded by a horizontal ellipse. At the center
of the ellipse is usually a vertical move. Yesterday's early drop and recovery could be the center point of this ellipse.
The end of the ellipse is on Monday. That says today may be more dullness.
So my strategy today is to do nothing unless prices move above 2496.5 or below 2487.
Trade times are 10:02, 12:42, and 14:57
9:00 Good Morning. Welcome to the Chaos Clinic. This site has a lot of charts,
so you may find it useful to have several of them available within your
browser. If you have a tabbed browser, you can open separate charts
in separate tabs by right clicking on any link, and selecting "open in new tab"
from the menu. The main list of site pages is at
http://daytradingforecasts.com/chartlistsec.asp
Recommended pages to watch are SPKISS, MTRainbow, and Chat.
For astro stuff, add SPSunMoonMer, Wheel, and Chaos Clinic.
Chaos clinic comments appear at the bottom of the SPKISS, MTRainbow,
and ChaosClinic pages. Comments in the chat room are announced by a
"duck call" noise. This noise also occurs when the sofware detects a
resonant hex pattern on the Wheel page. Trading tutorials
are on the right side of the ListOfCharts page. One should
read Trading the MoonTide Tutorial and Keep it Simple as a minimum.

---
Besides the comments made by Al, the chat room is has live
comments from other traders who sometimes share their views,
trades and tips. Below are the chat room comments from this clinic
---


9/15/2017 2:10:22 PM MT TG****:: Was a two moon day with a moon to moon move. Last two Fridays were moon noon moon .
9/15/2017 1:36:20 PM MT TG****:: This is big time afternoon volatility.
9/15/2017 10:43:06 AM MT pyc:: good session for low volatility
9/15/2017 10:39:23 AM MT Al****:: GD TG. Always good to see you on. Have a good weekend
9/15/2017 8:39:51 AM MT TG****:: GM everyone, have a great day.

9:00 Eastern-System: No comments

---