Chaos Clinic Recap
---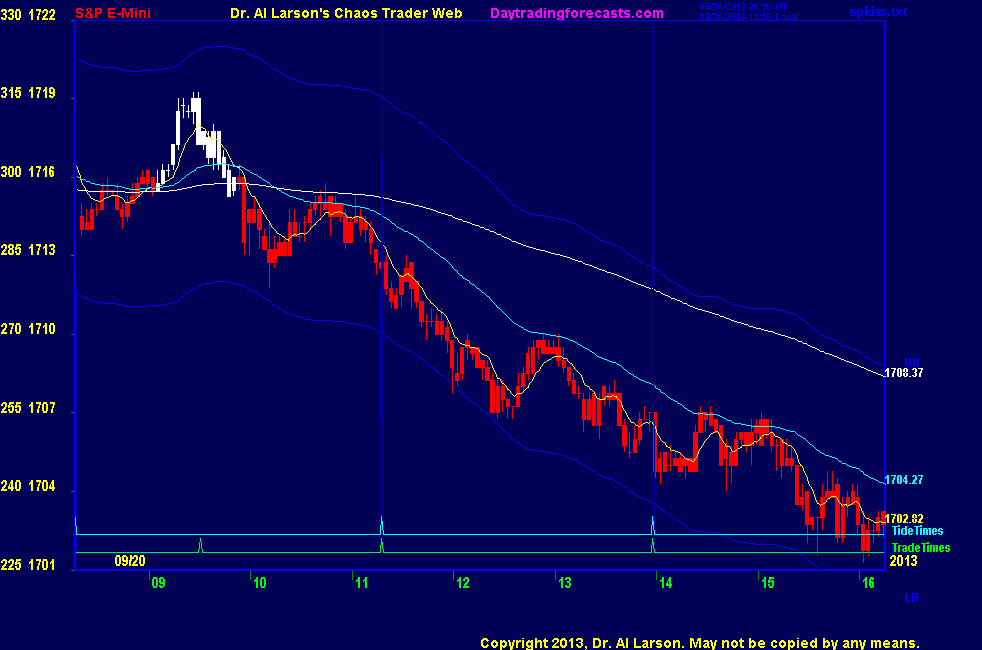 ---
Here are Al's comments
---

2:42 that trade not there-calling it quits - thanks for coming-see you next week-take a course
2:30 putting buy stop at 1707.75 -if hit, red -Tide up to close
2:25 still flat for the day -watching for an end of day rally
2:23 aborting for 0 - not going
2:22 this is what my trader friend Jim Twentyman calls a "grinder"
2:18 110 steady down - concern is the energy pop up in XTide near 3:00
2:15 stop to 1707.5 -just above 110 and Moon flux
2:08 I will now try to hold into the close
2:04 looks like back to green +Tide in a green-red-green day
2:02 stop 1708
2:01 sold 1706 stop 1709
2:00 just watching
1:58 at exact Tide time
1:53 watching for a buy setup
1:50 if so, may get a modest rally into the close
1:49 may have inverted to -Tide
1:43 not chasing this - have to regain my poise
1:39 riding along -T090 Moon flux, support below near 1703.5 from +T225
1:35 back above the Moon flux-looks like a "hold up to close"
1:31 this sets me up emotionally for a revenge trade -need to be patient
1:30 life is about letting your mistakes go and moving on
1:27 shows how one mistake can cost you
1:16 aborted for -3.5 ; back to flat for the day
1:15 trying not to over react to making a bad entry- stop is in
1:10 at the bottom of the Chaos Clinic chart is a magenta XTide energy forecast -often shows
minor turns; it has two fast rallies in the next 2 hours
1:05 looks like I could have waited
1:00 pressing a bit-bought 1710 stop 1706
12:59 110 is flattening, 20 has turned up, watching for a buy crossing
12:57 found the shift is actually 60 minutes -the time difference between Chicago (futures) and New York (stocks)
12:52 playing around with shifting the +MoonTide I get a decent fit with a 45 minute right shift
so next trade may come early - potential rally back up to 1716
12:46 back from breakfast see bottomed on -T090 Moon flux
11:57 taking a breakfast break
11:52 1710 is the cardinal 270 degree price on the Wheel of 72 -a balance point

11:49 don't like it, out for +.5 -have 9 point range

11:46 will cover 1708 if get there -just above the Moon -T090 flux

11:44 stop to 12-just above the 20 minute EXMA

11:41 OK-sold 1711.25 stop 1713 -gave Moon flux a GBK -good bye kiss

11:39 retesting low-8 point range-may get to 9

11:31 fractal down may be ending - back up to the Moon flux

11:30 I have placed a Fractal of Pi chart in the Certified Chaos Trader's Room. That room is open
to graduates of my 4 main courses. See http://moneytide.com -> Courses for details.

eMylar Fractal of Pi overlays help you be patient, since they show you future potential moves.
The best bargain in my courses is to take the Cash In On Chaos and Fractal of Pi courses and
learn to use the FOP overlay. Then take Chaos Trading Made Easy, and finish with Face Of God.

11:24 I wasn't quick enough to sell , so now I'll watch to see if we rally
back up to the Moon flux

11:22 making a low at trade time-just below the Moon flux

11:01 it's a dull day, I have one nice trade, not anxious to do another unless there is some volatility

10:58 looking like a low near 11:18/1713 , so not taking a sell-just watching

10:55 going into this trade time the EXMAs indicate a congestion
trapped between the +T 270 and -T045 flux

10:25 taking a break now until next trade time

10:13 I put my cover just above the Moon +T270 flux because with full Moon last night
Moon flux should be hot and act as attractors, but they can also "capture" prices

10:13 there may be more, but my focus was to get a positive first trade

10:12 out for +3

10:05 still OK

9:58 stop to 1716

9:56 stop to 1717

9:55 have the 20/110 sell crossing now- pretty low energy level so far

9:50 stop to 1718

9:47 will cover at 1713

9:45 pressing the 20/110 sell a bit-sold 1716 stop 1719

9:44 110 minute EXMA flattening, 440 flat

9:41 I think we might decline to the Moon +T270 electric field flux line near 1713 - not much of a move except for scalpers

9:35 Looks like a fade- +MoonTide pattern suggests a decline into second trade time but may not be tradable

9:32 9:31 Friday trades are often head fakes, so I'll watch a while

9:25 trade times today are 09:31 11:18 and 13:58 ; will be cautious on first one

9:00 Good Morning. Welcome to the Chaos Clinic. This site has a lot of charts,
so you may find it useful to have several of them available within your
browser. If you have a tabbed browser, you can open separate charts
in separate tabs by right clicking on any link, and selecting "open in new tab"
from the menu. The main list of site pages is at
http://daytradingforecasts.com/chartlistsec.asp
Recommended pages to watch are SPKISS, MTRainbow, and Chat.
For astro stuff, add SPSunMoonMer, Wheel, and Chaos Clinic.
Chaos clinic comments appear at the bottom of the SPKISS, MTRainbow,
and ChaosClinic pages. Comments in the chat room are announced by a
"duck call" noise. This noise also occurs when the sofware detects a
resonant hex pattern on the Wheel page. Trading tutorials
are on the right side of the ListOfCharts page. One should
read Trading the MoonTide Tutorial and Keep it Simple as a minimum.

---
Besides the comments made by Al, the chat room is has live
comments from other traders who sometimes share their views,
trades and tips. Below are the chat room comments from this clinic
---


9/20/2013 11:46:18 AM MT BBB****:: 7 move chaos clamshell down it looks like to me.
9/20/2013 7:23:44 AM MT Al****:: MM: glad you had a good time - thanks for the "catch" on the technocrap
9/20/2013 7:22:30 AM MT Al****:: here's what's missing in the email : 0.******************************************************************************** NOTE: This email is being sent to you because you requested it by signing up for Dr. Al Larson's weekly email at MoneyTide.com DO NOT REPLY TO THIS EMAIL. REPLIES GO TO THE GALACTIC CENTER. To contact us, go to http://moneytide.com/hans/emailsend.asp To subscribe, unsubscribe, or change your email address go to https://secure.moneytide.com/secure/moneytide/admin/userlogin.asp *******************************************************************************
Greetings, Chaos Fans;
1. This week the market made new highs after the Fed kept the punch bowl in place.
2. This week I made a bit more progress on my new web server. It's coming along nicely,
if slowly.
The full scale of last week's storm and flooding are now apparent. This was a
Super Storm like Huricane Katrina and Huricane Sandy, just inland. Climate change
is real. We just don't have a name for super rain storms. I'm calling it
Super Storm Diablo.
The damage across the state is staggering. All of the valleys along the east side
17,000 homes damaged, 4000 swept away, and 2000 destroyed. Many businesses and
schools are severly damaged. Over 200 miles of roads
are are badly damaged, parts simply gone, isolating several towns. Thousands of peoples' lives
are in chaos, and changed forever. Recovery efforts
are underway, but winter is fast approaching, so much has to be done now.
One particular town hard hit was Estes Park, where we vacation at the YMCA of the Rockies.
Today I got an email from the YMCA. It said
"We have received many questions about donations to flood
recovery efforts, flood victims and the Estes Park community.
To help directly support victims, you are encouraged to make
donations to Crossroads Ministry of Estes Park, PO Box 3616,
Estes Park, CO 80517. Please earmark your gift for flood
recovery as 84% of each gift to Crossroads will directly
assist the people of Estes Park with flood relief."
Of course, you can also give to the Red Cross, marking it for Colorado Flood
relief.
I follow the practice of always making donations harmonic nubers, like
36, 72, 120, 240, 360, etc.
So please think about all these people less forunate than yourself,
and make a donation.
A good source for current news on Colorado's disaster is
http://www.9news.com
9/20/2013 5:22:50 AM MT mm****:: Al - I was not in Bavaria but next door in Switzerland - the folklotic highlight was watching a traditional ALPABZUG: about 100 cows, heavily decorated with flowers and carrying/ringing their bells, some 2' tall, to spend the winter in their stables in the vally - a Swiss tradition hundeds of years old.
9/20/2013 4:58:59 AM MT mm****:: Al - your report starts at about paragraph 2.5
9/20/2013 4:58:13 AM MT mm****:: gm all - have a great day

9:00 Eastern-System: No comments

---