---
CHAOS CLINIC RECAP
---
---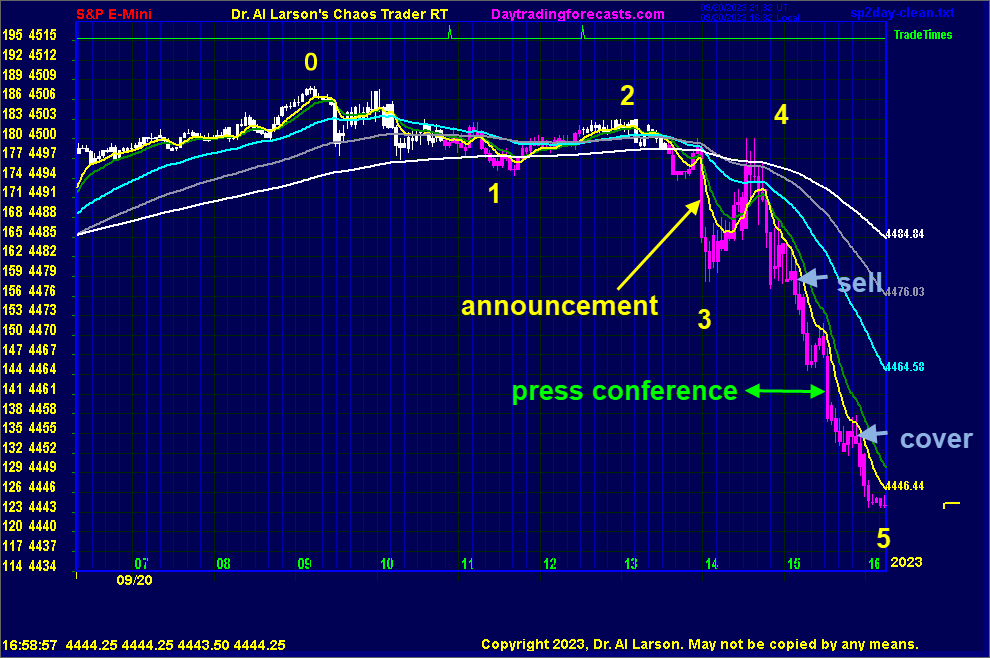 ********************************************************************************
Cashing In On FOMC Chaos
Chaos Clinic for 9/22/2023
********************************************************************************

One of the most watched market events is the periodic two day meeting
of the Federal Open Market Committee (FOMC). At the end of two days of debate,
the FOMC announces their next step on interest rate adjustments. Starting with the 2:00 PM
announcement and continuing through the press conference, prices of the S&P futures can
move wildly in both directions. Both long term and short term trading firms are trying
to profit from the FOMC news. This cam be very difficult.

This chart shows how knowledge of Chaos Clamshells and a rainbow of EXMAs let me Cash In On Chaos
on 9/20/2023. Times marked along the bottom are in Eastern Daylight time. The 3 minute
bars are colored by the 36/220 minute EXMAs. The rainbow of EXMAs are:
440 minute - white
220 minute - grey
110 minute - cyan
65 minute - green
20 minute - yellow

This rainbow of EXMAs can be used to find the 7 moves of a Chaos Clamshell. On this FOMC
day my personal approach was to do nothing unless I saw a good trade setup. By the time the
2:00 announcement was approaching, I could see, starting at the high at 0, moves 1 and 2 and
the beginning of a move 3. The announcement extended move 3 a bit, then prices rallied in a
move 4. It is common for prices to rally during the press conference, which lasts an hour.

But on this day, the 20 minute EXMA turned down sharply under the 110, giving a "continuation sell."
That started a move 5 down in the Chaos Clamshell. This move is usually the biggest and best to trade.
I sold 4478 when the move 3 support collapsed. Just before the close, I covered at 4455 for a quick
gain of 33 points.

My thinking was to take it while I had it. Prices often bounce a bit just before the close. I had found
part of a Chaos Clamshell, and had Cashed In On Chaos. Not bad for a day that I wasn't sure I would trade.

For more on my work and to subscribe to Tomorrow's Market Email Hotline and access to daytradingforecasts.com see
Moneytide.com
Software to plot electric field flux lines in NinjaTrader is available at
energyfieldtrading.com
---

Below is one of the SPKISS charts from daytradingforecasts.com
and the chat room comments from this Chaos Clinic. Most recent comment is on top.
---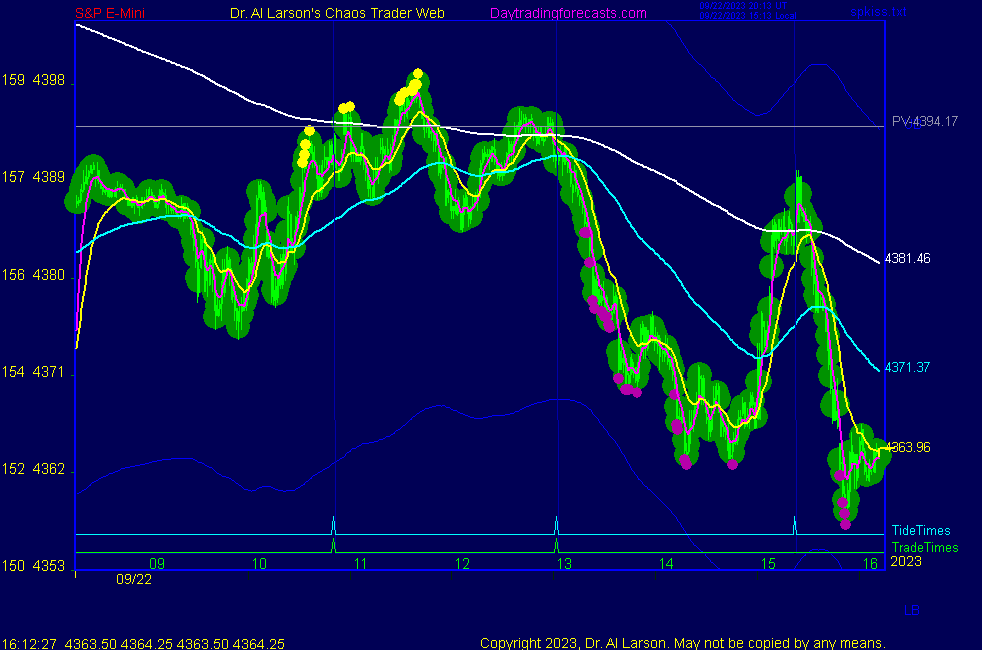 9/22/2023 11:56:02 AM MT Al****:: i sold 85 covered 74 -covered because I have to leave-have a good weekend
9/22/2023 11:44:57 AM MT Al****:: on SPKISS chart 3 you see what happened - I tried a buy going into the second trade time
just after the trade time I was stopped out
At that point I had to disconnect, clear my head, and take the trade coming out of the trade time

9/22/2023 11:31:56 AM MT Al****:: sorry to end the clinic so abruptly - had to pay attention to my own trading - I did get short
9/22/2023 11:23:43 AM MT lik:: exact signal on time to short now
9/22/2023 11:22:35 AM MT Al****:: solar noon high is bearish
9/22/2023 11:14:29 AM MT Al****:: I'm calling it quits for today-thanks for coming-take some courses
9/22/2023 11:11:01 AM MT Al****:: stopped out for -2
9/22/2023 11:10:37 AM MT Al****:: yes
9/22/2023 11:06:52 AM MT EJS:: Hello, Dr Al, would the Cash In On Chaos course help me understand the charts a little better ?
9/22/2023 10:56:01 AM MT Al****:: may get more energy at 13:00 solar noon
9/22/2023 10:47:15 AM MT Al****:: chart 3 on SPKISS shows EXMAs up with possible 20/110 buy near 4392
9/22/2023 10:29:18 AM MT Al****:: now trading along Mercury +Mh000 electric field flux line
modest lifting action
9/22/2023 9:56:56 AM MT Al****:: note on secret->esnat72 high on vertical magenta line
9/22/2023 9:55:44 AM MT Al****:: not easy trading today - first MoonTide trade bought 4387 stopped 4394
7 small moves up from Venus low
9/22/2023 8:39:35 AM MT Al****:: note on SPSunMoon chart low on Venus timeline
9/22/2023 8:31:52 AM MT Al****:: mark.larson@orbitup.com
he is out until Monday going to a college parent's weekend
9/22/2023 7:03:14 AM MT srj****:: GM Al, all. @AL - Hi Al, hope you are doing good after your recent vacation. Can you please send me your son's email - I tried to log into energy field trading but had password problems, did not want to create new login incase it altered my sign up in your website. I wanted to get his data file ploting indicator. Thanks srj
9/22/2023 6:21:59 AM MT Al****:: Good Morning visitors. Welcome to the Chaos Clinic. The written Chaos Clinic is on the AUX page.
This site has a lot of charts,
so you may find it useful to have several of them available within your
browser. If you have a tabbed browser, you can open separate charts
in separate tabs by right clicking on any link, and selecting "open in new tab"
from the menu. The main list of site pages is at
http://daytradingforecasts.com/chartlistsec.asp
Recommended pages to watch are SPKISS, MTRainbow, and Chat.
For astro stuff, add SPSunMoon, Wheel, and Chaos Clinic.
A special set of Dr. Al's research charts are on the Secret page.
Comments in the chat room are announced by a
"duck call" noise. This noise also occurs when the software detects a
resonant hex pattern on the Wheel page. MoonTide trading tutorials
are on the right side of the ListOfCharts page. One should
read Trading the MoonTide Tutorial and Keep it Simple as a minimum.
Many subscribers do not strictly trade the MoonTides, but use the charts on this
site as input to their own trading strategies. For example, charts 5 and 6 on the
SPKiss page are a good starting point for swing traders.
Also on this site is the Certified Chaos Trader's Room. That room is open
to graduates of my 4 main courses. See http://moneytide.com -> Courses for details.

9/22/2023 5:50:40 AM MT oag****:: Good morning everyone! Hope everyone has a prosperous day!
9:00 Eastern-System: No comments

---