---
CHAOS CLINIC RECAP
---
---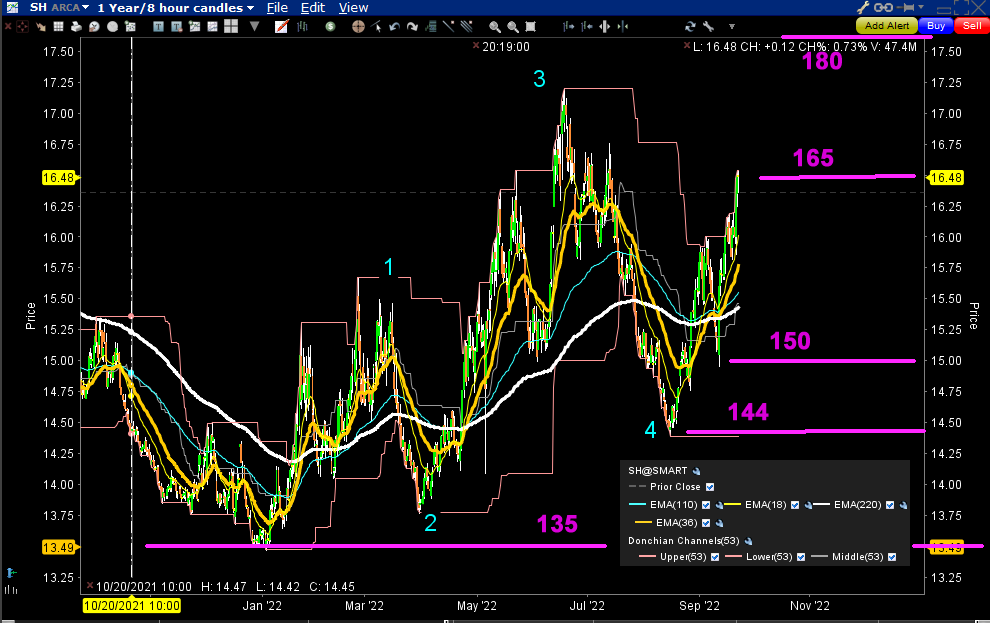 **************************************************************************************
SH Continues Rally
Chaos Clinic for 9/23/2022
***************************************************************************************

This chart shows the past 10 months of the short S&P Exchange Traded fund, SH. This
fund is widely used to hedge stock portfolios over time frames of months to years.

Marked on the chart are Moves 1, 2, 3, and 4 in an up Chaos Clamshell. Currently SH
is in move 5 of 7 in this CC. Identifying the moves is aided by the rainbow of EXMAs
and the Donchian channel. Note that the EXMA values are in bars, so dividing them by
three give the value in days.

Multiplying the price by ten reveal an underlying harmonic scale. The low of 135 is
3/8 of a circle. the low of move four is 144 or 2/5 of a circle. Every 15 degrees
can be expected to be a support/resistance level.

This suggests weakness in the S&P will continue into 2023. Proceed at your own risk.

For more on my work and to subscribe to Tomorrow's Market Email Hotline and access to daytradingforecasts.com see
Moneytide.com
Software to plot electric field flux lines in NinjaTrader is available at
energyfieldtrading.com
---

Below is one of the SPKISS charts from daytradingforecasts.com
and the chat room comments from this Chaos Clinic. Most recent comment is on top.
---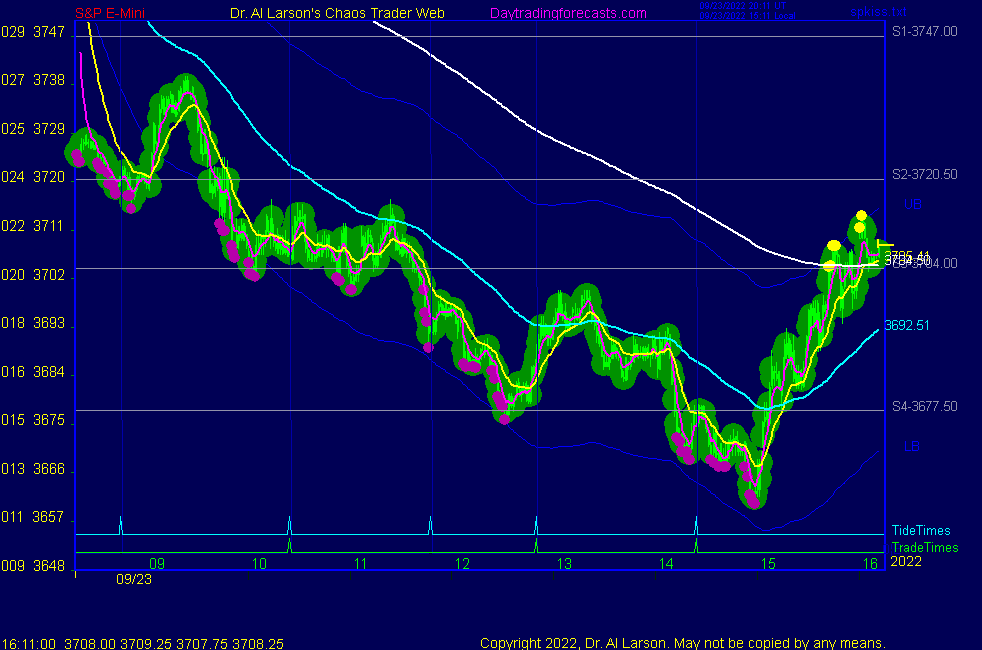 9/23/2022 11:14:15 AM MT Al****:: that bounced slowed the decline-the market may congest for a while
I made a profit on the first MoonTide trade, so I think I will call it a day and a week
thanks for coming - see you next week -take some courses.
9/23/2022 11:00:41 AM MT Al****:: got a low as Exchanged passed Venus
9/23/2022 9:59:29 AM MT Al****:: also note on the MTRainbow chart the 110- minute cyan EXMA stopped the rally before the drop
9/23/2022 9:56:55 AM MT Al****:: note on the SPSunMoon chart that prices dropped after the Moon T+000 timeline
this is where the rotating Earth rotates the NYSE past the Moon
9/23/2022 9:30:50 AM MT Al****:: today prices were sharply lower overnight - this means a lot of stock selling was done in the "dark pools" of major firms
to learn about about dark pools and how modern electronic trading works, read the book "Flash Boys"
9/23/2022 9:06:05 AM MT Al****:: a couple of things to note:
on Secret->esnat360 on the 21st, the FOMC meeting dropped
prices to the yellow vibration level, then back up to the white
today prices are probing lower, possibly to the next white level
on the Secret charts there are 3 vertical lines- I call these
confusion lines because they each can provide energy for a
change in direction
watching the 36/220 helps sort these out
9/23/2022 7:33:55 AM MT Al****:: Hi TG. Glad to see you as always. We are OK here, thank you.
9/23/2022 6:58:22 AM MT TG****:: Good Morning AL, been a while. Hope all is well with you and yours.
9/23/2022 6:45:45 AM MT Al****:: Good Morning visitors. Welcome to the Chaos Clinic. The written Chaos Clinic is on the AUX page.
This site has a lot of charts,
so you may find it useful to have several of them available within your
browser. If you have a tabbed browser, you can open separate charts
in separate tabs by right clicking on any link, and selecting "open in new tab"
from the menu. The main list of site pages is at
http://daytradingforecasts.com/chartlistsec.asp
Recommended pages to watch are SPKISS, MTRainbow, and Chat.
For astro stuff, add SPSunMoon, Wheel, and Chaos Clinic.
A special set of Dr. Al's research charts are on the Secret page.
Comments in the chat room are announced by a
"duck call" noise. This noise also occurs when the software detects a
resonant hex pattern on the Wheel page. MoonTide trading tutorials
are on the right side of the ListOfCharts page. One should
read Trading the MoonTide Tutorial and Keep it Simple as a minimum.
Many subscribers do not strictly trade the MoonTides, but use the charts on this
site as input to their own trading strategies. For example, charts 5 and 6 on the
SPKiss page are a good starting point for swing traders.
Also on this site is the Certified Chaos Trader's Room. That room is open
to graduates of my 4 main courses. See http://moneytide.com -> Courses for details.
9:00 Eastern-System: No comments

---