Chaos Clinic Recap
---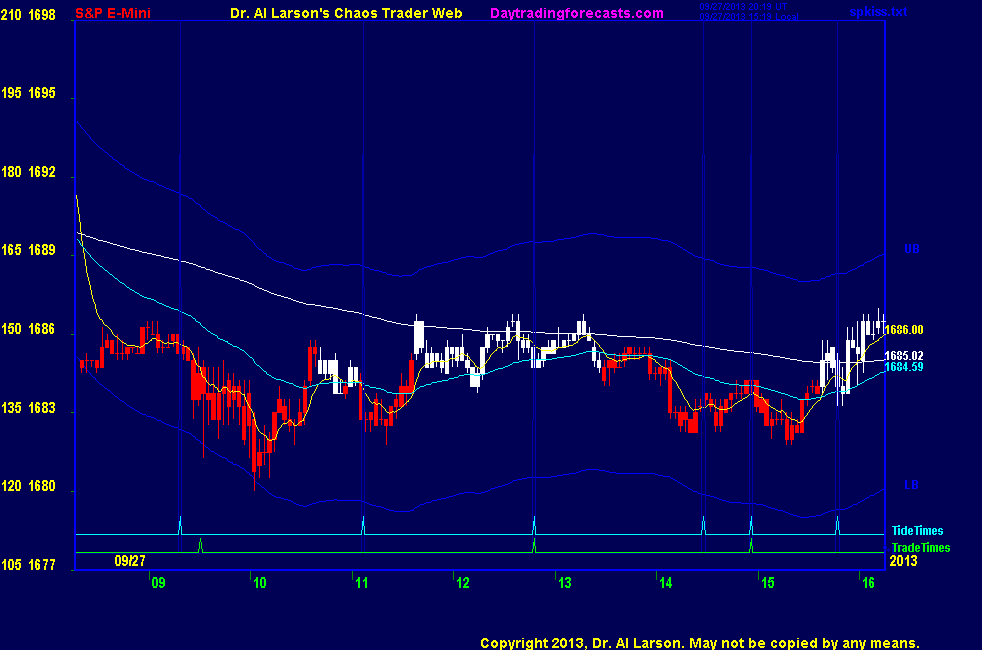 ---
Here are Al's comments
---
10:16 I'm done now because I have to go; the screens will run until close and the chat room is open
see you in 2 weeks - on vacation next week -thanks for coming-take a course
10:15 got support on the Moon flux, time in trade getting too high, and not much juice; take it and give thanks
10:13 ok, settling for +3
10:05 stop to 1683, lock 2
10:03 stop to 1684, lock 1
10:00 stop to 1685, break even
9:56 lowering stop to 1686 ; raising by buy limit to 1680
9:50 this buzz is making my ears ring - 110 EXMA is down
9:45 kissed the Moon +T045 flux again-one of these should be a GBK-good bye kiss
9:41 that may be too optimistic, but Tide pattern says down into about 11:00, so there is time
9:39 the +T000 Moon electric field flux is near 1676 , so placing a buy limit there
9:38 lots of "buzz"
9:34 stop to 1686.5, just above the 110 minute EXMA
9:32 that was fast
9:31 sold 1685 stop 1688
9:28 trading near the Moon +T045 flux; support below at the -T135 flux
9:26 selling has already begun
9:23 the trend on my 2 day charts is down, so watching for an early sell setup
9:21 today's MoonTides are weaker than the last few days, so it may be a dull day, with most of
the volatility early
9:19 trade times today are 09:31 12:48 and 14:56
I can only do the first one because I have to attend a funeral of a friend
9:00 Good Morning. Welcome to the Chaos Clinic. This site has a lot of charts,
so you may find it useful to have several of them available within your
browser. If you have a tabbed browser, you can open separate charts
in separate tabs by right clicking on any link, and selecting "open in new tab"
from the menu. The main list of site pages is at
http://daytradingforecasts.com/chartlistsec.asp
Recommended pages to watch are SPKISS, MTRainbow, and Chat.
For astro stuff, add SPSunMoonMer, Wheel, and Chaos Clinic.
Chaos clinic comments appear at the bottom of the SPKISS, MTRainbow,
and ChaosClinic pages. Comments in the chat room are announced by a
"duck call" noise. This noise also occurs when the sofware detects a
resonant hex pattern on the Wheel page. Trading tutorials
are on the right side of the ListOfCharts page. One should
read Trading the MoonTide Tutorial and Keep it Simple as a minimum.

---
Besides the comments made by Al, the chat room is has live
comments from other traders who sometimes share their views,
trades and tips. Below are the chat room comments from this clinic
---


9/27/2013 8:57:35 AM MT Al****:: BBB-Ray Merriman is a classic financial astrologer-met him years ago at the Astro Economic conferences
9/27/2013 7:25:42 AM MT BBB****:: Morning all. Al, I didn't see a response yesterday, but have you ever heard of Richard Merriman? www.mmacycles.com He seems to know his market astrology very well.
9/27/2013 6:54:20 AM MT mm****:: gm all - have a great day
9/27/2013 6:01:52 AM MT Al****:: GM all-good luck today

9:00 Eastern-System: No comments

---