Chaos Clinic Recap
---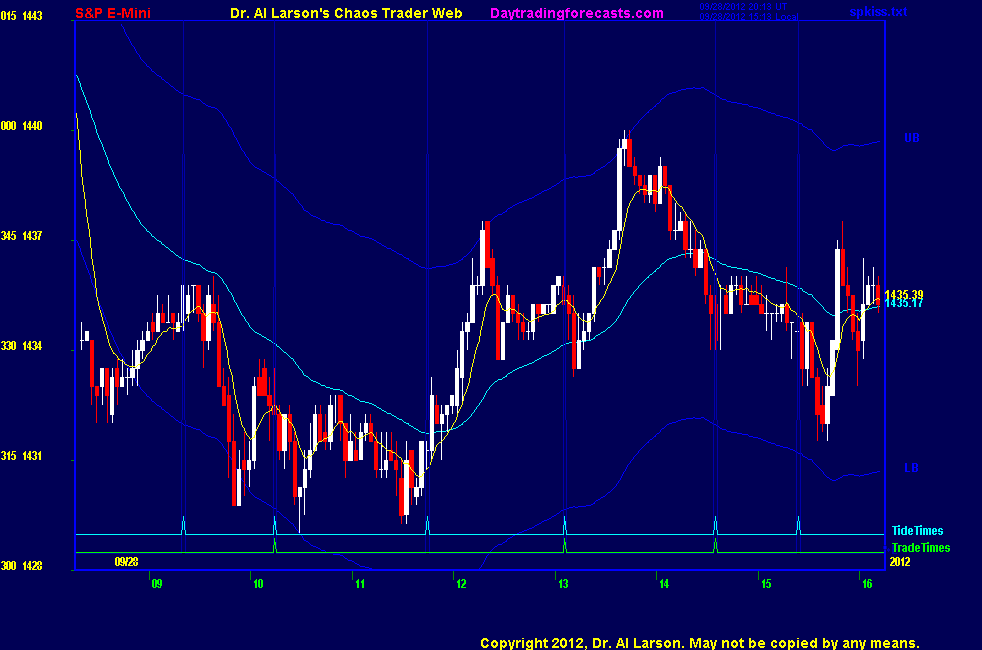 ---
Here are Al's comments
---
2:30 I'm done for the day-thanks for coming-see you next week-take a course or two
2:28 drat-stopped for -.5
2:26 move 5 is usually worth being in, so I'm waiting
2:24 holding up
2:20 dropped to 110 EXMA
2:12 from the low, this is a move 4, which I'm trying to ride out
2:03 low 20/110 crossing came on the Moon T180 timeline, now Moon flux is support
1:57 stop to 1435.5 -if this trade keeps workig, I'll carry it through the next trade time
1:54 note how the 440 EXMA has curled up - positive
1:48 on the SunMoonMer chart climbed above the Moon +T000 flux -bullish for rest of day
1:44 here I am using the 110 EXMA as a stop guide
1:39 stop to 1435
1:28 trade looking much better
1:23 getting some buying after the TideTime
1:17 stop still not hit-not much juice
1:05 I have placed a Fractal of Pi chart in the Certified Chaos Trader's Room. That room is open
to graduates of my 4 main courses. See http://moneytide.com -> Courses for details.
eMylar Fractal of Pi overlays help you be patient, since they show you future potential moves.
The best bargain in my courses is to take the Cash In On Chaos and Fractal of Pi courses and
learn to use the FOP overlay
12:51 still OK, looks up to flat to close
12:34 stop is OK, so maybe it will work out
12:30 probably should have waited
12:26 on the daily chart, the trendline was tested but held
12:18 early but bought 1336 stop 1433
12:18 440- EXMA has turned up -no hold short to close now
12:15 rally came from 11:45 low in green +Tide
12:13 a bit of juice on that rally
12:04 not a lot of juice today -7 point range
11:51 next trade time is 13:06
11:47 covering for +1 -don't like the stall
11:42 stop to 1434.5
11:37 110 EXMA is steady down
11:34 OK, not yet
11:30 Riiiiiiiiiiiiip!
11:28 stuck to 1431 with Velcro -sooner or later it rips off
11:23 in about an hour I expect more selling to come in, based on that CTME indicator
11:14 in 2007, I did a year long real time study of an indicator taught in the Chaos Trading Made Easy course.
It taught me that a pattern like today is basically a "hold short to close pattern"

11:10 patience is a virtue - need a lot of it to wait for a move to develop - like watching film develop in a dark room
yes, kids, we didn't always have digital cameras :)
11:01 stop still OK, trying to be patient. Trend is down
10:53 on my 8:15-16:15 charts, this is a gap down day. On such days, there is usually a sell at 11:00 setup
10:47 stop to 1435
10:44 back-trade OK, treading water
10:32 taking a quick breakfast break - stop is in
10:27 on a daily chart, this looks like a break of the recent trendline
10:21 the flow of the EXMA's is down on the MTRainbow chart
10:15 resold at 1433 stop 1336
10:06 that stop may have been to close, but that is all I wanted to risk
10:04 stopped for -2
10:01 on the MTRainbow chart, all the EXMA's are down.
9:54 testing yesterday's 24 hour low
9:53 stop to 1433
9:46 taking 110/20 continuation sell at 1431 stop 1434
9:45 on the SPSunMoonMer chart, trading near the Venus +V180 electric field flux
9:36 on the MTRainbow chart, the 440 EXMA and 110 are sloping down a bit, while the 20 and 55 are up
9:34 outcry session open-pretty quiet
9:12 overnight trading has erased yesterday's rally. Prices are holding above yesterday's low.
so I expect a limited range, probably from about 1432 to 1443.
9:10 today's trade times are 10:15, 13:06, and 14:35
9:06 Good Morning. Welcome to the Chaos Clinic. This site has a lot of charts,
so you may find it useful to have several of them available within your
browser. If you have a tabbed browser, you can open separate charts
in separate tabs by right clicking on any link, and selecting "open in new tab"
from the menu. The main list of site pages is at
http://daytradingforecasts.com/chartlistsec.asp
Recommended pages to watch are SPKISS, MTRainbow, and Chat.
For astro stuff, add SPSunMoonMer, Wheel, and Chaos Clinic.
Chaos clinic comments appear at the bottom of the SPKISS, MTRainbow,
and ChaosClinic pages. Comments in the chat room are announced by a
"duck call" noise. This noise also occurs when the sofware detects a
resonant hex pattern on the Wheel page. Trading tutorials
are on the righty side of the ListOfCharts page. One should
read Trading the MoonTide Tutorial and Keep it Simple as a minimum.


---
Besides the comments made by Al, the chat room is has live
comments from other traders who sometimes share their views,
trades and tips. Below are the chat room comments from this clinic
---


9/28/2012 1:49:19 PM MT JMV****:: There, I just sent you a rather lengthy email, I'm chatty like that hehe, I'm all done here. See you all next week!
9/28/2012 1:37:03 PM MT JMV****:: Hehehe, well.. I trade for a living, does that count as work? : P
9/28/2012 1:34:52 PM MT BBB****:: Don't call me sir, I work for a living!
9/28/2012 1:18:17 PM MT JMV****:: Will do sir!
9/28/2012 1:17:06 PM MT BBB****:: jmv - shoot me an email wbrandenberger at swst.com
9/28/2012 12:59:30 PM MT JMV****:: Familiar with JM Hurst's work? This is a slightly modified version of his famous FLDs (Future line of demarcation), I find they work much much better
9/28/2012 12:46:14 PM MT BBB****:: JMV what are the cycle indicators you are using?
9/28/2012 12:40:27 PM MT JMV****:: Uploaded to the CCT room in case anyone wants to know...
9/28/2012 12:31:43 PM MT JMV****:: ...And there's the big cahoona, hoping we get another buyable rally!!
9/28/2012 12:17:44 PM MT JMV****:: Out for +1, having a correction at a point in time where I don't like seeing a correction...
9/28/2012 12:05:23 PM MT BBB****:: Al, the +T000 Flux and the -T000 flux: now that we are above it would you expect the -T000 flux to be resistance and look to cover there ?
9/28/2012 11:51:23 AM MT JMV****:: Well I'm long here at 36 and feeling good about it, not going anywhere : P
9/28/2012 11:51:23 AM MT JMV****:: Well I'm long here at 36 and feeling good about it, not going anywhere : P
9/28/2012 11:48:33 AM MT AG:: I'm done for the day too. Have a great weekend everyone. Thanks as always Al.
9/28/2012 11:28:49 AM MT BBB****:: It's because he gets cheap Singapore Slings!
9/28/2012 11:20:31 AM MT Al****:: good evening TG-admire how you hang in there from Singapore
9/28/2012 10:44:39 AM MT Tg****:: Thanks for the CCT room response Al. Good luck for the rest of the day and have a great weekend. Shutting down early tonight.
9/28/2012 10:13:56 AM MT JMV****:: Yesterday Spain comes up with some phony budget and the ES shoots up 14 pts, today, Spain announces a capital shortfall for the banks (probably way underestimated at that) and the ES shoots higher who knows how much... Most fadeable rallies in the board IMHO... Not that I trade based on news, but I wouldn't be surprised to see a breakdown here in the next few days/weeks...
9/28/2012 9:32:49 AM MT Tg****:: Al, could you elaborate in the CCT room on this comment: In 2007, I did a year long real time study of an indicator taught in the Chaos Trading Made Easy course. It taught me that a pattern like today is basically a "hold short to close pattern"
9/28/2012 9:13:58 AM MT JMV****:: Al, one question. in the instructions it says to cover a trade if it stalls for over 45 mins, well this thing has been dead that long, what's your reasoning for holding on to this?
9/28/2012 8:38:25 AM MT JMV****:: I trade the eur/usd alongside this, and I just don't like how it was breaking down completely, while all we got from the ES was like 4 points, as far as sympathy selling goes, that ain't so good, no resell for me here...
9/28/2012 8:33:02 AM MT AG:: I had a ridiculously good fill on that one (33.75) but stopped out b/e.
9/28/2012 8:04:16 AM MT JMV****:: LOL, my stop was just hit for -.25, don't regret a thing
9/28/2012 8:00:20 AM MT BBB****:: Heres my number, call me maybe?
9/28/2012 7:46:31 AM MT JMV****:: Well I'm short here 32, call me crazy...
9/28/2012 7:26:26 AM MT BBB****:: Good luck today
9/28/2012 7:04:19 AM MT JMV****:: Morning everyone! GL
9/28/2012 6:27:11 AM MT Al****:: GM all-good luck today
9/28/2012 5:59:48 AM MT mm****:: gm all - have a great day

9:00 Eastern-System: No comments

---