---
CHAOS CLINIC RECAP
---
---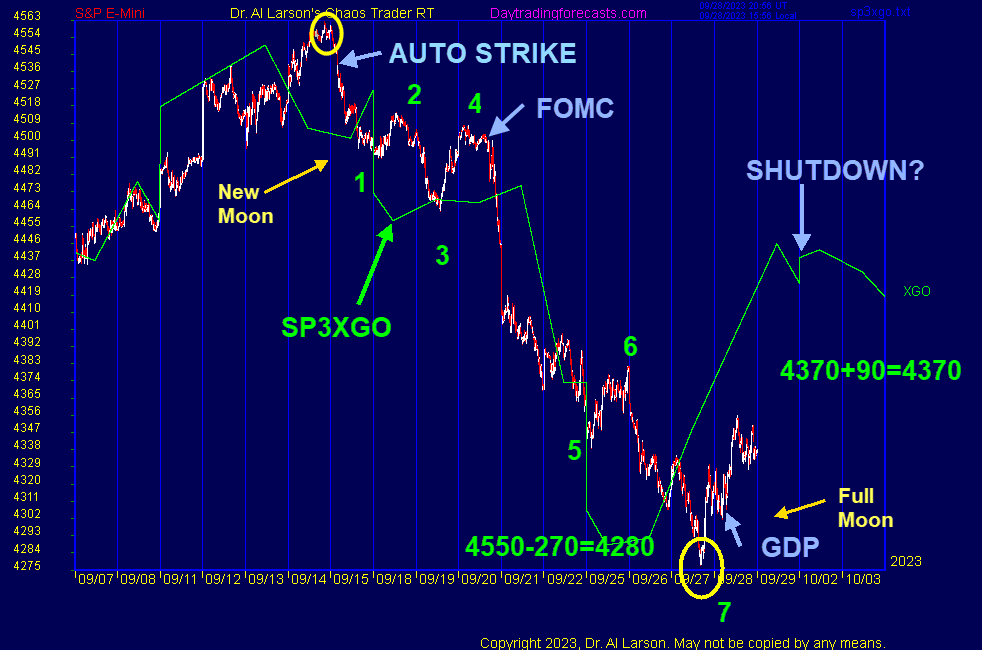 ********************************************************************************
XGO Wins Again
Chaos Clinic for 9/29/2023
********************************************************************************
The last two weeks of market action have been very bearish. This chart of the S&P
futures shows what happened. Overlaid on the chart is a plot in green of
the SP3XGO energy forecast for the S&P. It is available as a chart on daytradingforecasts.com
and as a software program on moneytide.com.

The S&P topped late 9/14/2023, on a New Moon. On a new Moon, the Moon moves between
the Sun and the Earth, blocking the flow of charged particles from the solar wind.
This interruption of energy is known for creating mental sadness and even depression.
The next day, the auto strike began. That drop was move 1 of 7 in a down Chaos Clamshell.

Move 4 peaked on 9/20/2023 on the day of the FOMC meeting. Move 5 is often the largest of
a Chaos Clamshell. The final move 7 came on 9/27/2023. That day had a late rally, creating a spike low.
The total drop was approximately 270 points, 3/4 of a circle. A rally of 90 points is likely.

The second day of the rally prices got some lift from the GDP report, showing the economy still
growing. Additionally, new jobless claims were low. The forecast suggests the rally into the
week end, when there is likely to be a government shutdown.

SP3XGO is a computation of how the S&P tunes into the universal electrical energy field. While
it might appear that humans are in control, they are confined by the energy flow in what they
can do. Traders can profit by keeping an eye on SP3XGO.

For more on my work and to subscribe to Tomorrow's Market Email Hotline and access to daytradingforecasts.com see
Moneytide.com
Software to plot electric field flux lines in NinjaTrader is available at
energyfieldtrading.com
---

Below is one of the SPKISS charts from daytradingforecasts.com
and the chat room comments from this Chaos Clinic. Most recent comment is on top.
---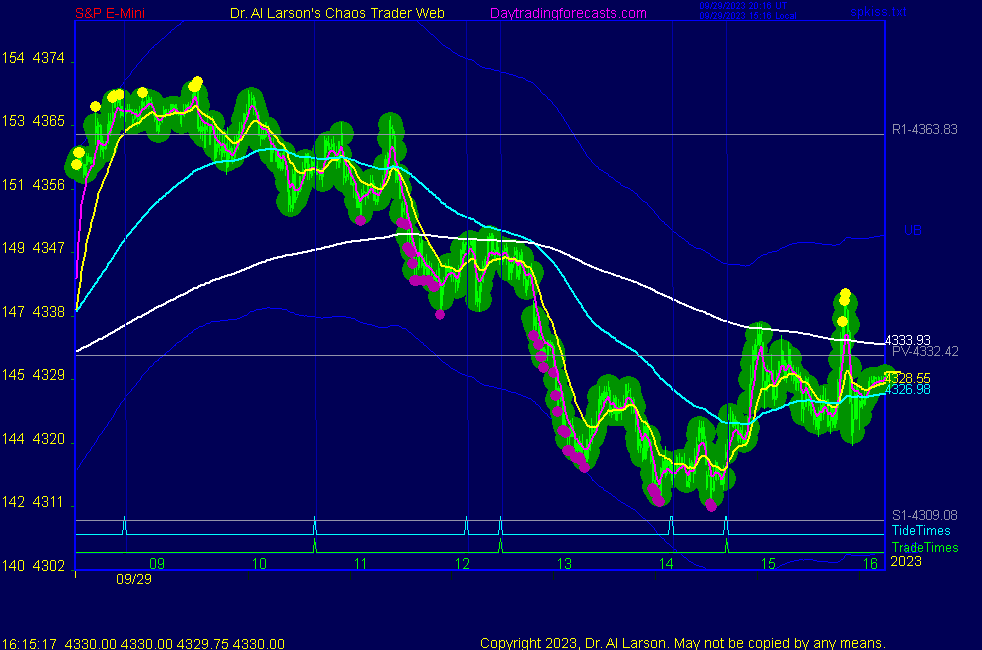 9/29/2023 11:40:14 AM MT Al****:: I'm going to call it a day-a good swing trade and a good day trade is plenty to be thankful for
thanks for coming-see you next week-take some classes
9/29/2023 11:27:00 AM MT Al****:: also the Moon T180 time line - "20 is plenty"
9/29/2023 11:23:20 AM MT Al****:: covered 4322 based on esnat72 yellow to yellow
9/29/2023 11:21:55 AM MT Al****:: I'll look into it-thanks for the note
9/29/2023 11:14:17 AM MT EJS:: Dr Al on the list of charts the track record for may2023 comes up 500-internal server error not sure if you are aware of this.
9/29/2023 11:12:11 AM MT Al****:: stop 4336 prior was mistyped it was 4339
9/29/2023 11:06:15 AM MT Al****:: stop 4239
9/29/2023 11:02:55 AM MT Al****:: I took the second MoonTide trade as a sell at 4342, stop now at break even
9/29/2023 10:54:10 AM MT Al****:: now the 2400 minute EXMA has been broken and turned down
9/29/2023 10:45:15 AM MT Al****:: 440, 220, 110 EXMAs down
9/29/2023 10:17:15 AM MT Al****:: on the secret->esnat72 page the rally stalled at the yellow vibe level-note the bars colored by the 36/220 exmas are now bearish
9/29/2023 10:13:45 AM MT Al****:: chart 6 on SPKISS shows the rally made it up to the 6 day EXMA
this seems to be the mean used in "return to the mean" algos
9/29/2023 9:53:11 AM MT Al****:: I had a long swing trade from 4297 off the spike low
just got stopped for +50
pressed my stop when I saw the 4370 target of the clinic writeup
9/29/2023 9:21:38 AM MT Al****:: srj: AUX page has chart and text below it- fine here
I don't have such an AWK program, sorry
9/29/2023 7:55:35 AM MT srj****:: GM Al, went to AUX page but did not see any comments - wondering if I selected the right link? Got Mark's datafile plotting indicator - works great - would you have an AWK program snippet to query and read back from Ephi? thanks.
9/29/2023 6:47:33 AM MT Al****:: Good Morning visitors. Welcome to the Chaos Clinic. The written Chaos Clinic is on the AUX page.
This site has a lot of charts,
so you may find it useful to have several of them available within your
browser. If you have a tabbed browser, you can open separate charts
in separate tabs by right clicking on any link, and selecting "open in new tab"
from the menu. The main list of site pages is at
http://daytradingforecasts.com/chartlistsec.asp
Recommended pages to watch are SPKISS, MTRainbow, and Chat.
For astro stuff, add SPSunMoon, Wheel, and Chaos Clinic.
A special set of Dr. Al's research charts are on the Secret page.
Comments in the chat room are announced by a
"duck call" noise. This noise also occurs when the software detects a
resonant hex pattern on the Wheel page. MoonTide trading tutorials
are on the right side of the ListOfCharts page. One should
read Trading the MoonTide Tutorial and Keep it Simple as a minimum.
Many subscribers do not strictly trade the MoonTides, but use the charts on this
site as input to their own trading strategies. For example, charts 5 and 6 on the
SPKiss page are a good starting point for swing traders.
Also on this site is the Certified Chaos Trader's Room. That room is open
to graduates of my 4 main courses. See http://moneytide.com -> Courses for details.

9/29/2023 5:34:45 AM MT oag****:: Good morning everyone! Hope everyone has a prosperous day!
9:00 Eastern-System: No comments

---