Chaos Clinic Recap
---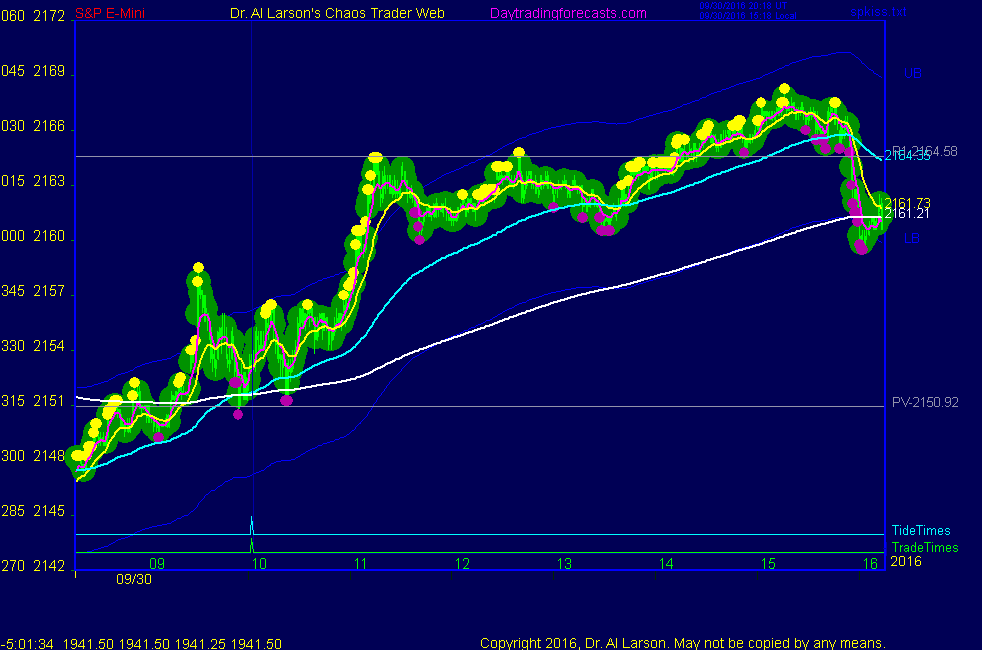 ---
Here are Al's comments
---
12:10 now the momentum is waning-I'm going to call it a day; see you next week. Thanks for coming; take some courses
The October special expires at 4:00 Eastern
11:49 I'm done trading today-MoonTides gave me one trade. I attempted it. I'm done. One of the biggest
benefits of trading the MoonTides is that it encourages not over trading, patience, and discipline
I'd rather miss a trade than lose my discipline, jump in and out, and give away my money
11:42 now I think the rally is over. 2163 is a natural resistance point
11:40 I do not chase trades-instead I constantly document what I saw-I capture my observations in annotated charts
saved in various folders- In one week I may save hundreds of observations
11:18 the 10:03 trade was there; I was in but aborted -oh well
11:16 up to R1
11:06 I'm back-see I missed out on a move-it happens
sometimes you have to do other things - breakfast with my wife is more important than a few bucks
always another trade coming
10:38 I'm going to take a breakfast break now
10:34 testing O/N/S flux again
10:26 one of the hardest things about day trading is learning that "some days are diamonds, some days are coal"
and to not imagine that a coal day is a diamond day. The last two days were diamonds with two good moves for +9 each
Today looks like coal
10:22 I don't regard this as a major selling opportunity; I would expect a pullback/congestion until 1-2PM Eastern, with a possible late rally;
10:19 that astro stuff suggested prices were making a secondary high
10:12 Here I'm watching the wheel of 72 electric field flux lines -high was on Mercury; lower high? on Node/Nep/Sat
4 AM low was on Node/Nep/Sat 90 degrees lower
10:08 this is also the last trading day of the month, so there will be a lot of account adjusting
10:03 now it looks like the 6 hour rally is over
9:58 Friday early trades are often problematic
9:53 aborting for -.5; I don't like it; the 55 minute EXMA turned down and prices moved vertically through it
9:50 may be inverting to red -Tide and getting up energy from Green Swan
9:46 stop to 2150-risk $200
9:42 now buying the pullback at 2154 stop 2148 for now
9:39 this quick fade is what I was concerned about
9:32 Maybe I should have bought-but I did not like the risk reward ration on a move that was already up 15 points
9:27 breaking yesterday's late high- move is too far along to jump in now
9:22 The 110 minute EXMA is sloping up, matching the slope of the green +Tide
9:21 going into the normal session open the trend is up, but pretty long in the tooth.
9:16 yesterday's late high was 2153.75, which will be resistance.
9:13 The market made a low about 3:20 Eastern today near S1, then rallied up to the pivot at 2151. So the Flash Boy algos will be covering and waiting
8:54 today the only hotline trade time is 10:03; Since last Thursday the market has congested in an A-B-C pattern.
It looks like today it may make an E up, and a D down on Monday.
Today's range will probably stay inside yesterday's.
8:53 Good Morning. Welcome to the Chaos Clinic. This site has a lot of charts,
so you may find it useful to have several of them available within your
browser. If you have a tabbed browser, you can open separate charts
in separate tabs by right clicking on any link, and selecting "open in new tab"
from the menu. The main list of site pages is at
http://daytradingforecasts.com/chartlistsec.asp
Recommended pages to watch are SPKISS, MTRainbow, and Chat.
For astro stuff, add SPSunMoonMer, Wheel, and Chaos Clinic.
Chaos clinic comments appear at the bottom of the SPKISS, MTRainbow,
and ChaosClinic pages. Comments in the chat room are announced by a
"duck call" noise. This noise also occurs when the sofware detects a
resonant hex pattern on the Wheel page. Trading tutorials
are on the right side of the ListOfCharts page. One should
read Trading the MoonTide Tutorial and Keep it Simple as a minimum.

---
Besides the comments made by Al, the chat room is has live
comments from other traders who sometimes share their views,
trades and tips. Below are the chat room comments from this clinic
---


9/30/2016 9:58:36 AM MT drake:: lot of good tibbits today. I think lot of successful ones are those that have self control and review their work daily. I too started doing a lot better when I annotated and reviewed charts and realized some days are coal....
9/30/2016 7:03:54 AM MT BBB****:: GM Al, really looking forward to the ninjatrader release. HOpe all is well
9/30/2016 6:58:38 AM MT Al****:: GM all-good luck today

9:00 Eastern-System: No comments

---