---
CHAOS CLINIC RECAP
---
---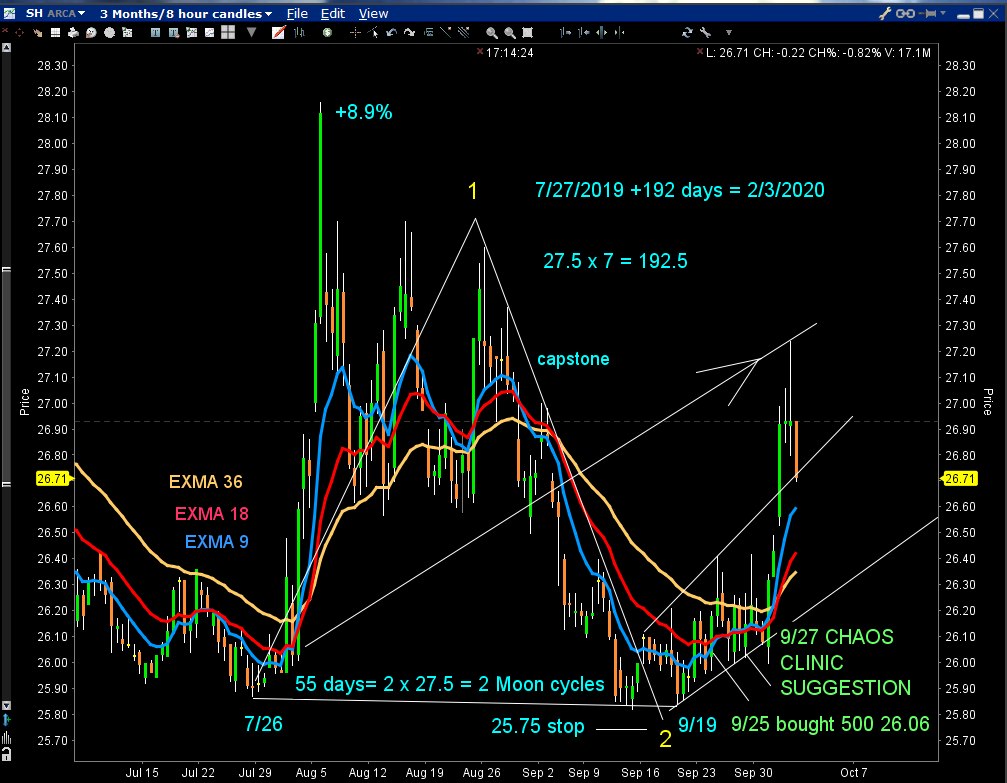 ************************************************************************************************************************
     The S&P Rolls Over And SH Jumps
     Chaos Clinic for 10/4/2019
************************************************************************************************************************

This week the S&P dropped sharply, as anticipated last week. This is just the start of a drop into
early November. My 9/20/2019 Chaos Clinic showed that the S&P was stalling at old highs.
It also showed an S&P futures swing trade sell at 3021.25. Last Friday the stop was at 3013.
Now the stop is at 2996. My plan is to lower it slowly as this decline develops.

Futures trading is not for everyone or best for every time frame.. For longer term accounts, I encourage
trading of Exchange Traded Funds. Last week I said:

"The second chart shows an 8 hour bar chart of SH, a short Exchange Traded Fund. It show a double bottom,
followed by a small upturn, which may be the start of something much bigger. It could be a low risk
buying opportunity.

The interesting thing about this chart its that it shows a triangle pattern I call a "capstone."
The base of this capstone is 55 calendar days, which is two moon sidereal cycles.
If an up move does develop from here, the energy thrust general direction will be along the arrow shown. "

The chart shows how that worked out this week. It pointed out a "capstone" pattern two Moon cycles long.
I showed a rainbow of EXMAs of 9, 18, and 36 8 hour bars. They correspond to 3, 6, and 12 days. They
help a trader "get outside the Moon lunacy." Last week the shorter two cycles were sloping up, suggesting
a possible crossover of the EXMA 36. I personally had already taken a small private position based on
the 3 day EXMA turning up, the double bottom. I did not announce this trade publically, because I
want my students to thinks for themselves. I will not be following my SH trade in future Chaos Clinics.

On Monday of this week, my SH trade was doing nothing. But my risk was low, about $0.31 x500 = $152.
That seemed reasonable in view of the fact that the Augst jump had risem over eight per cent.
On Tuesday, when the S&P started dropping, SH made a nice 8 hour up candle, causing the EXMAs to all
turn up. That candle began at 4 AM and ended at 12 Noon Eastern, allowing a trader to get a
reasonable entry below 26.34. Because of the EXMA crossovers, a stop near 26.20 should hold.
That would be a risk of $0.14 per share. On 500 shares that would be just $70.

Chaos Clamshells have 7 moves. With two moves a "Moonth" long, seven moves would project a
SH rally into February. Using a projection method from the Cash In On Chaos a move to
$30 is possible. A trailing stop under the EXMA 36 should keep one in the trade.

For more on my work, see Moneytide.com
---

Below is one of the SPKISS charts from daytradingforecasts.com
and the chat room comments from this Chaos Clinic. Most recent comment is on top.
---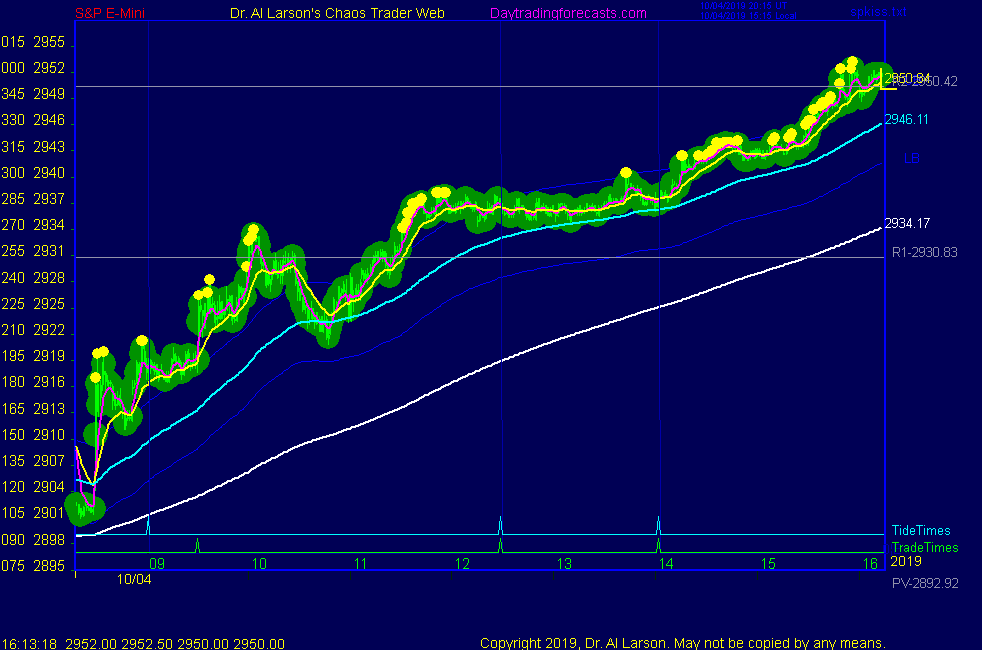 10/4/2019 1:54:04 PM MT dog****:: sold again 2950
10/4/2019 1:31:12 PM MT BOG****:: Sorry meant SPY 277-278
10/4/2019 1:29:45 PM MT BOG****:: My initial 2944 ES hit, how the market messes your mind, makes you doubt what it does. So my next plan is to see 277-278 by Oct 11 to 14, and buy dip at the numbers above up ride to 3000 until end of year. This is my plan not trading advice. Have a great weekend everyone. Will see if this numbers coe true.
10/4/2019 12:59:11 PM MT dog****:: sold 2942.5
10/4/2019 12:56:04 PM MT dog****:: but interesting
10/4/2019 12:14:34 PM MT Al****:: this is not Powell announcing policy. Its a panel discussion
https://www.federalreserve.gov/newsevents/live-broadcast.htm
10/4/2019 11:40:49 AM MT Hf:: All the money has been made today don't waste more of your time.
10/4/2019 11:21:05 AM MT MJ:: Low volatility means that everyone is waiting for the FOMC comment Al. I doubt anyones gone home, you make this up as you go along ehh.
10/4/2019 11:12:00 AM MT Al****:: low volatility says the big boys have gone to the Hamptons.
I'm going to call it a day. Have a good weekend. Take some courses.
10/4/2019 10:31:38 AM MT Al****:: at the second Tide time; range 40.25 points; 40 days is the Mercury/Moon cycle, so 40 shows up a lot
CCTs: check the CCT chat room
10/4/2019 10:19:22 AM MT Al****:: added at 26.487
10/4/2019 10:11:13 AM MT Al****:: I am also watching my SH chart. I has just started forming the next 8 Hour bar. This may be an opportunity to buy a dip.
10/4/2019 10:08:36 AM MT Al****:: I watch for 27.5 hour moves, the 24th harmonic of the Moon 27.53 sidereal day
On the SPSunMoon chart that is near 13:30 Eastern today
10/4/2019 9:51:29 AM MT Al****:: the SPSunMoon chart shows prices at Sun (H) electric field flux line
10/4/2019 9:44:00 AM MT Al****:: yes: the Chaos Clinic page showing red Swan as well
10/4/2019 9:34:46 AM MT BOG****:: Nice Green tide area for double top.
10/4/2019 8:52:35 AM MT Al****:: the SH trade is a position trade looking to hold into next year. Most option traders I know are trading much shorter time windows, like days or weeks. MoonTide trades are looking for moves in tens of minutes to a few hours. The Flash Boy computers think 7 minutes is a long term trade. So there are different strokes for different folks.
10/4/2019 8:43:45 AM MT Al****:: LOL! BOG good call on high; range was exact 36 points; Flash Boys ran it up to R1, then quit buying.
10/4/2019 8:43:40 AM MT aa:: SPY top for today? Chip away at support?
10/4/2019 8:37:50 AM MT BOG****:: Sorry @ska, I do not trade SH so I would not know, but I believe that it got the top for today. This type of chart from Dr. AL, I have not mastered.
10/4/2019 8:18:13 AM MT ska:: I agree Only Dr AL can pull 36 points on one trade again and again He is the only one in the world
10/4/2019 8:12:33 AM MT BOG****:: No problem @SKA, no one wanted to help me, and Dr. Al, took the time to help me, so I am using his system and a couple of others, once I figure that it works I will share, I just started combining them. I hope it helps.
10/4/2019 8:10:39 AM MT ska:: BOG Ur opinion on SH by Dr AL in aux page ?
10/4/2019 8:07:45 AM MT ska:: BOG THNX
10/4/2019 8:05:48 AM MT BOG****:: Good Morning Dr. Al and everyone.
10/4/2019 8:04:56 AM MT BOG****:: I started building my SPY puts for 278 not trading advise.
10/4/2019 8:04:10 AM MT BOG****:: ES at maximum high. Take long profits
10/4/2019 8:00:14 AM MT ska:: Yesterday BOG said It is going to go higher today
10/4/2019 6:43:49 AM MT jvj****:: Good Morning Everyone.
10/4/2019 6:17:37 AM MT Al****:: GM all-good luck today. The Chaos Clinic is posted on the AUX page.
9:00 Eastern-System: No comments

---