Chaos Clinic Recap
---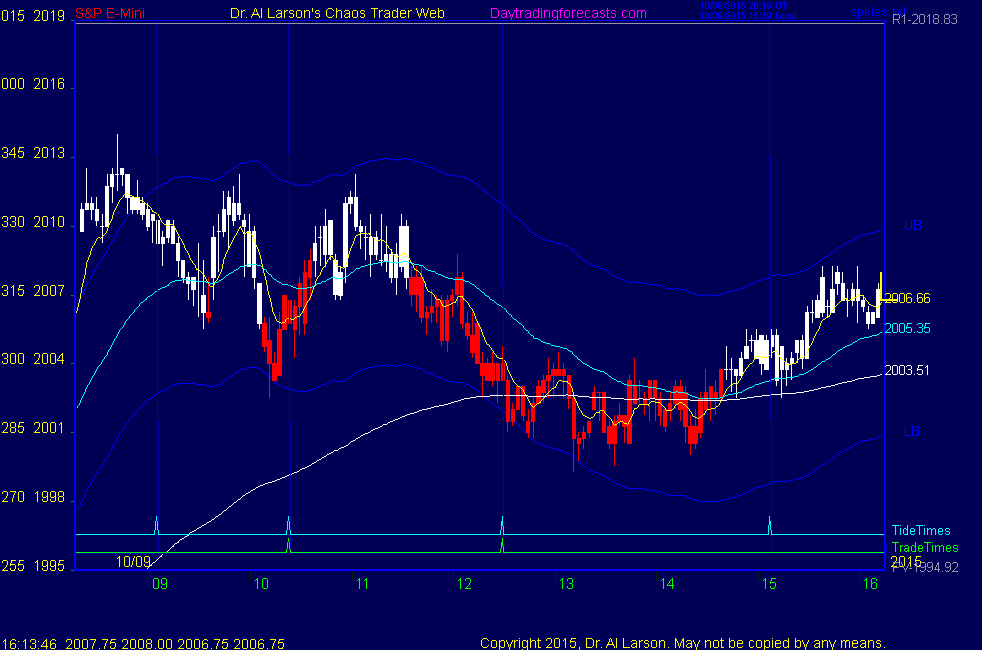 ---
Here are Al's comments
---
1:44 I'm done-thanks for coming-see you next week-take a course or two
1:44 OK, not going covering for +5.5
1:37 Velcro may be about to rip off
1:30 the 110 EXMA is moving at 3 points per hour
-at this rate it ends the day at 1996
1:21 I like the 110 minute EXMA stopping the rallies
1:13 got a good drop, stop to 2004.75
1:06 2004 now looks like resistance
1:00 I like the spread in the EXMA Rainbow
12:42 trend is down-need to be patient
12:34 stop to 2007.5, break even
12:31 stop to 2008.5
12:26 re-established CCT Teamviewer Session
12:17 I will try to hold this into the close-Non Technocrapum Carborundum!
12:15 keep losing my internet connection -holding short
12:07 short from 2007.50 stop 2011
12:03 lost connection and all comments-have to stop CCT session
Some stuff lost here
9:43 support came in higher-averages dipped, now trading both sides of the 110 EXMA
9:32 I have support at 2004
9:26 getting a selloff from the 2014 level; I'm going to wait to see how prices come out of the 10:23 trade time
9:18 it will be chaotic here, because my granddaughter is coming for babysitting; she never stops moving
9:12 today may be a "huh?" day after yesterday's big move; trade times are 10:23 and 12:29
9:00 Good Morning. Welcome to the Chaos Clinic. This site has a lot of charts,
so you may find it useful to have several of them available within your
browser. If you have a tabbed browser, you can open separate charts
in separate tabs by right clicking on any link, and selecting "open in new tab"
from the menu. The main list of site pages is at
http://daytradingforecasts.com/chartlistsec.asp
Recommended pages to watch are SPKISS, MTRainbow, and Chat.
For astro stuff, add SPSunMoonMer, Wheel, and Chaos Clinic.
Chaos clinic comments appear at the bottom of the SPKISS, MTRainbow,
and ChaosClinic pages. Comments in the chat room are announced by a
"duck call" noise. This noise also occurs when the sofware detects a
resonant hex pattern on the Wheel page. Trading tutorials
are on the right side of the ListOfCharts page. One should
read Trading the MoonTide Tutorial and Keep it Simple as a minimum.

---
Besides the comments made by Al, the chat room is has live
comments from other traders who sometimes share their views,
trades and tips. Below are the chat room comments from this clinic
---


10/9/2015 7:50:59 AM MT mm****:: gm all - have a great day
10/9/2015 7:47:21 AM MT srj****:: Thanks
10/9/2015 7:41:36 AM MT srj****:: Al is support at 2004 from the T135 line? (pl answer in CCT if not public) TIA
10/9/2015 7:33:48 AM MT BBB****:: GM AL, are you going to do the CCT teamviewer today?
10/9/2015 7:33:46 AM MT BBB****:: GM AL, are you going to do the CCT teamviewer today?
10/9/2015 7:13:01 AM MT srj****:: GM Al, all

9:00 Eastern-System: No comments

---