Chaos Clinic Recap
---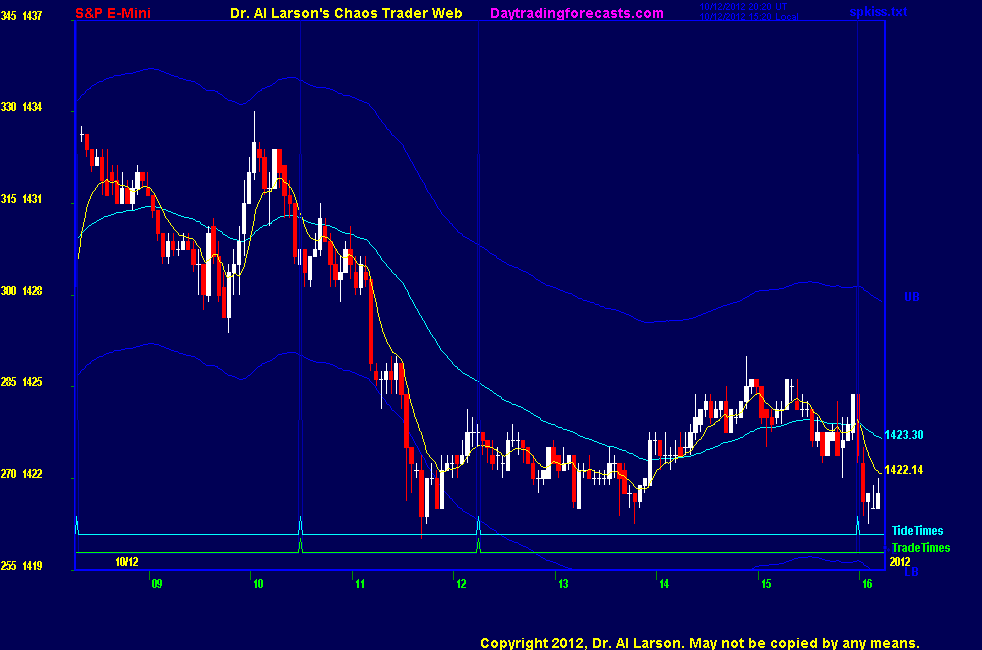 ---
Here are Al's comments
---
12:14 I think I'm going to pass on this trade time and call it a day-I like to end a week on a high note.
Thanks for coming. See you next week. Take a course or 2.
12:10 if we keep following the green +Tide, we hold up into the close
12:06 in theory, 9 points was there, but I did not have my cover order in
12:00 covered for +6.75
11:54 stop to 1424
11:52 my 9 point cover is 1420
11:51 broke yesterday's 24 hour low
11:48 back-snuck in a dog walk to the park -moving stop to 1425
11:07 taking a breakfast break-stop is in
11:02 still OK-patience is a virtue-that I need to practice
10:47 downward pressure slowly increasing -440 EXMA rolling over-110 also
10:35 stop to 1432
10:31 "hold and go" sold 1429 stop 1433
move failed ;out for -2
10:25 so far from low, see a thrust and a pullback
10:13 stop Ok so far-need to wait for some follow through
10:05 the consumer sentiment report was positive-added some juice
10:03 stop to 1429
10:00 bought 1431 stop 1428
9:56 got some support near yesterday's late low; on two day chart may have a 7 swing Down Chaos Clamshell
9:47 I want to wait until the Tide time
9:43 slope of the 110 EXMA matches that of the red -Tide, so trade time may be a low
9:37 tested yesterday's late low and got a small bounce-not much juice so far
9:36 on the MTRainbow chart, the flow is slowly down
9:31 early selling - support below at 1426 and 1424
9:29 yesterday's 24 hour range was 16.75 points-overnight range about 7.25-so volatility is decreasing
9:20 today's trade times are 10:30 and 12:15 . I expect a rather dull day, trading up from the low of the week,
but without much enthusiasm.
9:17 Good Morning. Welcome to the Chaos Clinic. This site has a lot of charts,
so you may find it useful to have several of them available within your
browser. If you have a tabbed browser, you can open separate charts
in separate tabs by right clicking on any link, and selecting "open in new tab"
from the menu. The main list of site pages is at
http://daytradingforecasts.com/chartlistsec.asp
Recommended pages to watch are SPKISS, MTRainbow, and Chat.
For astro stuff, add SPSunMoonMer, Wheel, and Chaos Clinic.
Chaos clinic comments appear at the bottom of the SPKISS, MTRainbow,
and ChaosClinic pages. Comments in the chat room are announced by a
"duck call" noise. This noise also occurs when the sofware detects a
resonant hex pattern on the Wheel page. Trading tutorials
are on the right side of the ListOfCharts page. One should
read Trading the MoonTide Tutorial and Keep it Simple as a minimum.


---
Besides the comments made by Al, the chat room is has live
comments from other traders who sometimes share their views,
trades and tips. Below are the chat room comments from this clinic
---


10/12/2012 10:22:00 AM MT BBB****:: Scaled out on the way down but got 9 with a 1/4 position so no worries here. HAve a good weekend Al and thanks.
10/12/2012 10:11:03 AM MT Al****:: nice job BBB
10/12/2012 9:52:06 AM MT BBB****:: 9, 9 you are so fine.
10/12/2012 7:16:30 AM MT Al****:: GM all-good luck today
10/12/2012 6:29:49 AM MT mm****:: gm all - have a great day
10/12/2012 6:22:24 AM MT sdg:: gm all - last day here for awhile, new job cutting into my trading time.

9:00 Eastern-System: No comments

---