---
CHAOS CLINIC RECAP
---
---

**************************************************************************************
XGO And MoonTides Overcome Inflation Drop
Chaos Clinic for 10/14/2022
***************************************************************************************

"It was a massive rally, and one that came out of nowhere. And itís left market observers like
yours truly wondering what the heck just happened. There wasn't any new data, no headline-
making speeches, no event that occurred just after the open to spur such a move.
It literally came out of nowhere and left us grasping for possible reasons."
Ben Levisohn on Market Watch in Inflation Was Terrible. Hereís Why the Market Rallied

Ben speculates on possible reasons, but the real reason is shown on the top chart. It is the S&P XGO energy forecast
chart from daytradingforecasts.com. This is a calculation of how the universal electric field
affects the S&P. It clearly called for today's bounce.
>BR>The lower chart is chart 3 from the SPKISS page on that site. It shows the MoonTied trade for the day.
The basic trade is to go with the energy flow at the MoonTide trade times. A rainbow of EXMAs
of 440, 220, 110, and 20 minute EXMAs is used to make the trade. In this case, the EXMAs turned up
early in the day, giving a clear buy and hold all day trade.

For more on my work and to subscribe to Tomorrow's Market Email Hotline and access to daytradingforecasts.com see
Moneytide.com
Software to plot electric field flux lines in NinjaTrader is available at
energyfieldtrading.com
---

Below is one of the SPKISS charts from daytradingforecasts.com
and the chat room comments from this Chaos Clinic. Most recent comment is on top.
---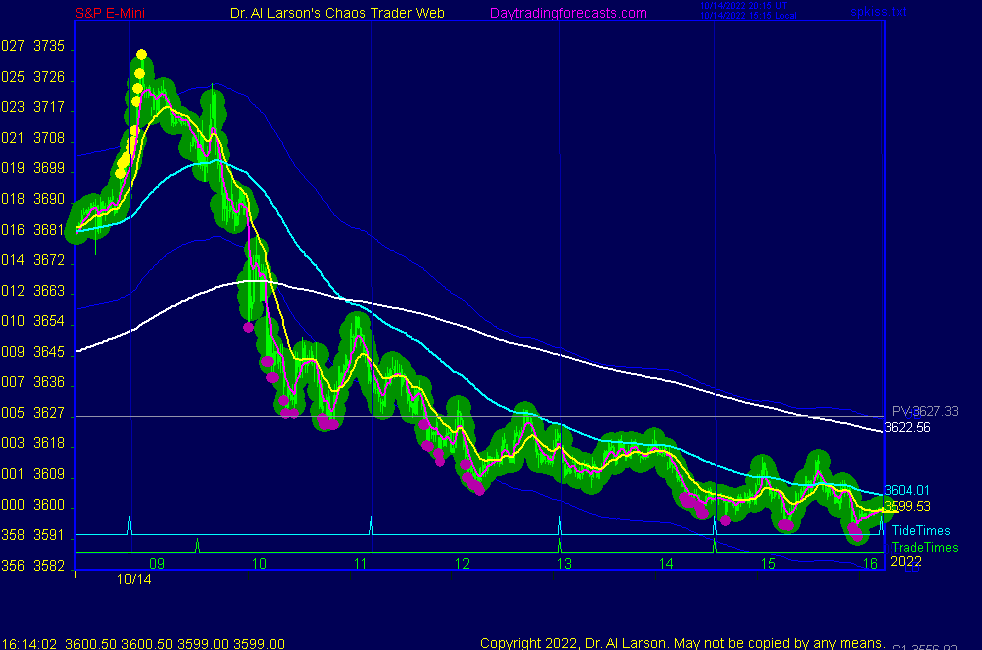 10/14/2022 10:50:44 AM MT Al****:: I need to leave now-have a good week end- thanks for coming-see you next week
10/14/2022 10:44:22 AM MT Al****:: decline may be over with support on secret=>esnat360 yellow vibe
10/14/2022 10:03:34 AM MT Al****:: also note on the secret=>esnat72 and others the vertical green line at the high
10/14/2022 9:56:24 AM MT Al****:: note the SPKISS chart 3 shows a down trend
10/14/2022 9:14:29 AM MT pab:: Republic Broadcasting Network Ľ Financial cycles analyst Aaron Brickman lays out KEY TIMING WINDOW for potentially catastrophic market crash AGBrickman at Twitter
10/14/2022 7:04:33 AM MT Al****:: Good Morning visitors. Welcome to the Chaos Clinic. The written Chaos Clinic is on the AUX page.
This site has a lot of charts,
so you may find it useful to have several of them available within your
browser. If you have a tabbed browser, you can open separate charts
in separate tabs by right clicking on any link, and selecting "open in new tab"
from the menu. The main list of site pages is at
http://daytradingforecasts.com/chartlistsec.asp
Recommended pages to watch are SPKISS, MTRainbow, and Chat.
For astro stuff, add SPSunMoon, Wheel, and Chaos Clinic.
A special set of Dr. Al's research charts are on the Secret page.
Comments in the chat room are announced by a
"duck call" noise. This noise also occurs when the software detects a
resonant hex pattern on the Wheel page. MoonTide trading tutorials
are on the right side of the ListOfCharts page. One should
read Trading the MoonTide Tutorial and Keep it Simple as a minimum.
Many subscribers do not strictly trade the MoonTides, but use the charts on this
site as input to their own trading strategies. For example, charts 5 and 6 on the
SPKiss page are a good starting point for swing traders.
Also on this site is the Certified Chaos Trader's Room. That room is open
to graduates of my 4 main courses. See http://moneytide.com -> Courses for details.
9:00 Eastern-System: No comments

---