Chaos Clinic Recap
---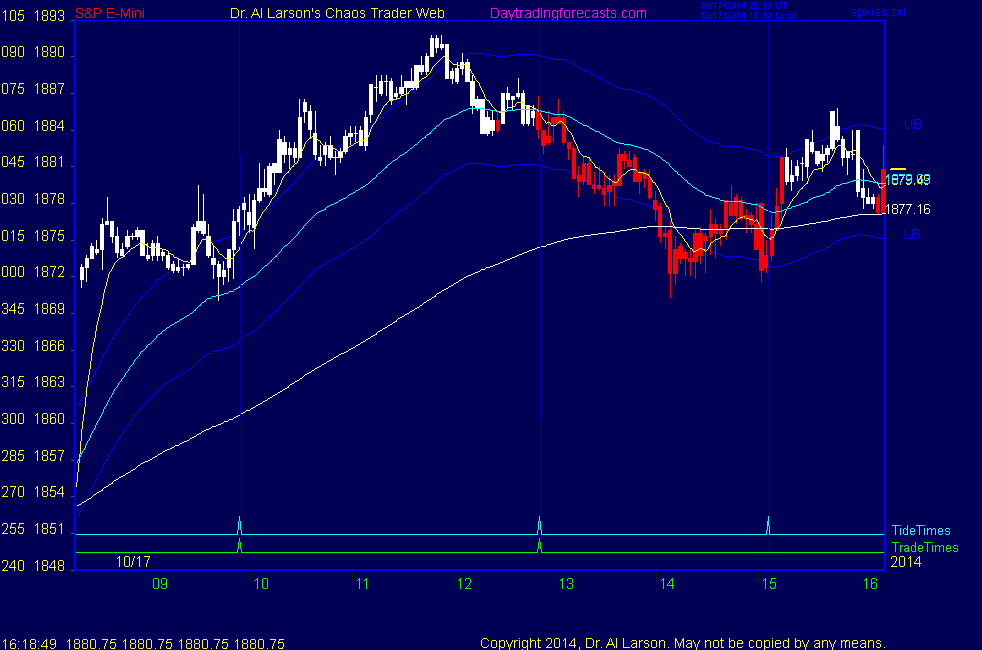 ---
Here are Al's comments
---
2:28 OK, I'm done for the day-thanks for coming; see you next week-take a course or two
2:23 took +9
2:16 stop to 1877
2:10 stop to 1878
2:08 this should run into the next Tide time
2:03 stop to 1880
1:58 stop to 1882.5-move 5 is usually best one to be in
1:53 move 5 may be starting
1:50 a trendline along the highs helps see the 7 moves-in move 4 now
1:36 stop is as close as I can put it
1:39 got support on the 440; from the high we are in move 4 of 7 down
1:34 note how the rainbow of EXMAs has switched from divering to converging
1:33 the high came where the Moon flux crossed over
1:30 stop to 1883; risk 2
1:22 this looks like a "High on solar noon" day
1:13 on a 24 hour chart we have 7 moves up from yesterday's low
1:12 OK, sold 1881 stop 1884
1:08 I don't like th idea of selling today, so just watching
1:01 found support on the 220 minute EXMA at solar noon
12:58 this is a pullback, so watching for a resumption of the uptrend
12:52 misread that;aborted for -1
12:48 in a congestion; taking continutation buy at 1885 stop 1878 for now
12:25 breakfast with my wife is more precious than profits
12:19 aborted for +2
11:56 stop to 1983, lock 1 point-taking a breakfast break
11:48 longer term, this was a major dip, and it attracted a lot of buying
I have and XGO forecast that called the dip, and now is suggesting we bounce back up to the highs
11:43 that FOG chart found the energy center this morning
11:41 I have placed a Face of God chart in the Certified Chaos Trader's Room. That room is open
to graduates of my 4 main courses. See http://moneytide.com -> Courses for details.
eMylar Fractal of Pi overlays help you be patient, since they show you future potential moves.
The best bargain in my courses is to take the Cash In On Chaos and Fractal of Pi courses and
learn to use the FOP overlay. Then take Chaos Trading Made Easy, and finish with Face Of God.
11:32 the 110 has now hit 1882, my stop and entry price; a high energy move will not dip below the 110
11:25 I pay a lot attention to slope-the 110 EXMA slope is the same as the minor swan lines-good
11:20 on the Chaos Clinic chart, the magenta XTide at bottom of screen is calling the dips
11:15 looking good - stop to 1982, break even
11:01 given the volatility, I'll let this one run
10:58 stop held -now I'll let the 110 EXMA catch up to it
10:47 stop is in-taking a short break
10:30 moves tend to run from TideTime to Tide time, so hope to hold this until 12:51 if not stopped out
10:26 lots of upward juice, so looks like an up day
10:17 did not; rebought 1882 stop 1880
10:16 watching the Chaos clinic chart to see if Moon flucs stops the rally
10:05 OK,I flinched; my 1880 was there-for now; but anything in the bank is worth a thousand woulda-coulda-shouldas
9:59 looking like green +Tide high; covering 1877 for +2
9:57 stop to 1875
9:54 stop to 1874, cover 1880 sell limit
9:53 stop to 1872
9:52 bought 1875 stop 69 for now
9:50 dipped to 110 minute EXMA, continuation buy?
9:47 9 point range but going nowhere
9:45 0vernight rally followed green +Tide
9:42 stuck flat
9:36 we have pinched Moon flux today, setting 9 point quantums
9:34 right here we have a Red Swan down
9:32 opening gap up; usually means "Buy a low at 11:00"
9:29 trade times today are 09:54 and 12:51
9:00 Good Morning. Welcome to the Chaos Clinic. This site has a lot of charts,
so you may find it useful to have several of them available within your
browser. If you have a tabbed browser, you can open separate charts
in separate tabs by right clicking on any link, and selecting "open in new tab"
from the menu. The main list of site pages is at
http://daytradingforecasts.com/chartlistsec.asp
Recommended pages to watch are SPKISS, MTRainbow, and Chat.
For astro stuff, add SPSunMoonMer, Wheel, and Chaos Clinic.
Chaos clinic comments appear at the bottom of the SPKISS, MTRainbow,
and ChaosClinic pages. Comments in the chat room are announced by a
"duck call" noise. This noise also occurs when the sofware detects a
resonant hex pattern on the Wheel page. Trading tutorials
are on the right side of the ListOfCharts page. One should
read Trading the MoonTide Tutorial and Keep it Simple as a minimum.

---
Besides the comments made by Al, the chat room is has live
comments from other traders who sometimes share their views,
trades and tips. Below are the chat room comments from this clinic
---


10/17/2014 12:25:08 PM MT Al****:: EPMAP : I'm considering January after the holidays
10/17/2014 12:23:12 PM MT BBB****:: Al are you going for more than 9 pts because of the move 5?
10/17/2014 8:18:24 AM MT srj****:: GM Al, all. @AL I was hoping to get on the EPMAP class also but this year was bad - do you have any particular time frame in mind next year?
10/17/2014 8:13:39 AM MT DPP:: GM Al and good trading to all here today!
10/17/2014 8:10:28 AM MT Al****:: maybe next year
10/17/2014 8:05:29 AM MT BBB****:: GM all, have a great day. Al, thank you for putting me in touch with your client from the class. I plan on getting up there, but the rest of this year is going to be tough.
10/17/2014 6:44:21 AM MT mm****:: gm all - have a great day

9:00 Eastern-System: No comments

---