Chaos Clinic Recap
---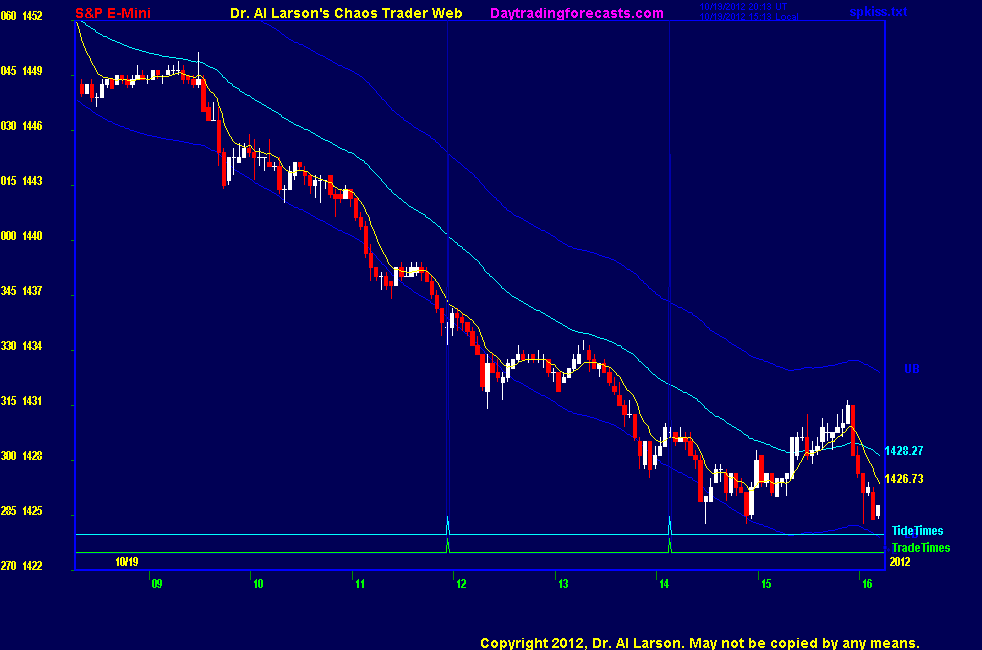 ---
Here are Al's comments
---
12:53 I think I'm going to quit for today. My sister-in-law is in the hospital, my wife is worried, and we need to go visit.
But my dog is much improved. Thanks for coming. See you next week. Take a course.
12:48 on a two day basis, the range is 28 points - 27.5 is a Moon sideral period, and I've
noticed that at this two point range we often get a reversal
12:37 six 3 point qunatum range made me nervous
12:34 don't like it; out for +1
12:29 stop to 1435.5
12:25 were tracking the red -Tide; looks to have inverted to the green +Tide
12:23 this amounts to a football late throw over the middle-it may get picked off
12:16 OK-I caved-sold 1434 stop 1436
12:09 not a good trade setup here-too low for a continuation sell, and no buy setup
12:02 passing the Tide time-just watching
11:56 this is a relentless decline -no bounce at all
11:54 new lows
11:40 that low did come near the Natural Time and prices are near the Moon +T000 flux
11:35 the 55 minute EXMA has been steady down; it needs to turn up for a CIT
11:33 small candlestick hammer at the low-watching to sse if it gets a following
11:10 it is hard to watch a move like this and not jump in and sell-but selling now would not be a good entry
11:05 3 3point quantum range could be 1449 to 1440
11:03 steady decline-it will bottom-too late to sell-wait for a reversal
10:56 trend is following red -Tide, suggesting trade time is a low
Watching to see if Natural Time near 11:22 does anything
10:46 still probing for a bottom
10:33 low 3 minute candle was a doji, suggesting support
10:28 the 1443 3 point quantum is still support since the 1440 has not been reached
10:22 this looks like fishing for a bottom-too late in the decline to consider selling
10:20 going lower
10:13 once the 55 minute turns up, the decline is probably over
10:11 looks like 20 is turning up
10:07 here I'm watching the 20 and 55 minute EXMA's to see if they turn up
10:02 existing home sales down slightly-only economic news today
9:58 if 1443 holds, 1453, 3 quantums up, may set today's range. So small trading targets are advised; 2 or 3 points
9:51 yesterday's high was the end of a nearly 4 day rally-now in a correction to that rally
I expect the correction to last at least through today - I had 1443 as a target by taking 6
3 point quantums down from 1458
9:45 initial outcry session selling - 1443 is a support level -see if it holds
9:42 on the MTRainbow chart, the white 440 minute EXMA is down, so day trend is down
9:38 Good Morning. Welcome to the Chaos Clinic. This site has a lot of charts,
so you may find it useful to have several of them available within your
browser. If you have a tabbed browser, you can open separate charts
in separate tabs by right clicking on any link, and selecting "open in new tab"
from the menu. The main list of site pages is at
http://daytradingforecasts.com/chartlistsec.asp
Recommended pages to watch are SPKISS, MTRainbow, and Chat.
For astro stuff, add SPSunMoonMer, Wheel, and Chaos Clinic.
Chaos clinic comments appear at the bottom of the SPKISS, MTRainbow,
and ChaosClinic pages. Comments in the chat room are announced by a
"duck call" noise. This noise also occurs when the sofware detects a
resonant hex pattern on the Wheel page. Trading tutorials
are on the right side of the ListOfCharts page. One should
read Trading the MoonTide Tutorial and Keep it Simple as a minimum.

9:36 trade times today are 11:57 and 14:08 , start by just watching
9:00 Good morning from Chaos Manor


---
Besides the comments made by Al, the chat room is has live
comments from other traders who sometimes share their views,
trades and tips. Below are the chat room comments from this clinic
---


10/19/2012 11:43:50 AM MT BBB****:: Tg, sent it to you in case mm is gone for the day.
10/19/2012 11:29:47 AM MT Tg****:: Hi MM, I'd like to send you an email. Much appreciated if you could send your address to tglennon66@gmail.com
10/19/2012 11:11:41 AM MT Al****:: mjh:euro cahrt fixed, but will take a few days to catch up on its data
10/19/2012 10:04:12 AM MT BBB****:: stuck chart in CCT room
10/19/2012 9:25:48 AM MT mjh:: Hello Al your EURUSD chart is down, was down last week as well, by the way I hope you are looking closely at the 25th-29th of this month
10/19/2012 8:11:27 AM MT mm****:: gm all - have a great day
10/19/2012 7:31:44 AM MT Al****:: GM all-good luck today
10/19/2012 7:29:02 AM MT BBB****:: Have a good one today
10/19/2012 7:09:38 AM MT jack2:: GM and good luck to all
10/19/2012 6:15:59 AM MT Al****:: GM all -good luck today

9:00 Eastern-System: No comments

---