Chaos Clinic Recap
---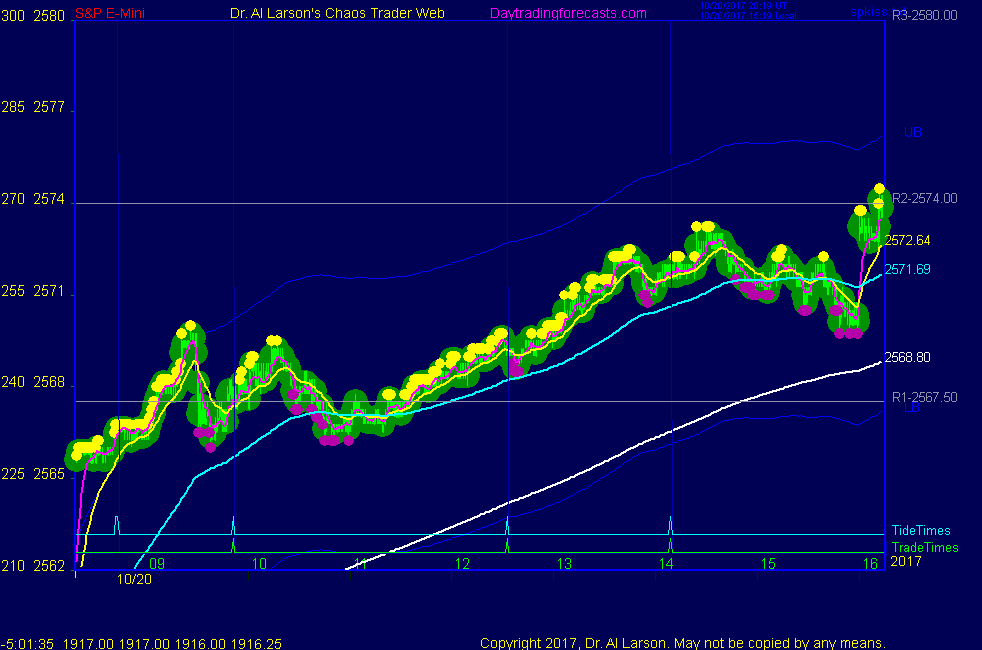 ---
Here are Al's comments
---
1:58 OK, I'm done for the day; thanks for coming; see you next week; take some courses; see the Special.
1:54 covering 2571.25 for +2.25 ; broke below
overnight high; possible handle to the cup
1:49 putting cover order in; sell 2574 limit
1:40 stop to 2570.25 - lock 1.25
1:38 now getting a resonant hex pattern -see hex wheel tutorial and
hex wheel links on right side of ListOfCharts
1:36 up to overnight high - block 1000+ bought there
1:32 stop to 2569.5 ; lock .5
1:27 needs to move higher soon
1:23 broke above 2571.25 on big volume
1:13 stop to 2569; break even; on my 24 hour chart I see
a perfect cup with this morning's high
1:11 testing the overnight high
1:10 stop to 2568
1:07 now the speed of the time and sales list picks up
I use Interactive Brokers but most systems can give you time and sales
1:05 broke 2570; came just after a block of 1080 at 70
12:58 if you watch time and sales you can see where the big volume is-really picked up at 2570
12:54 I expect an up streak near 16:00 just like yesterday
12:51 not a lot of juice but a good pattern. On gap up days
one often finds a low near 11:00 Eastern
then a rally for the rest of the day
12:42 stop to 2567.5
12:30 R2 is at 2574
12:18 bought 2569 stop 2567
12:15 trying to rally but not much juice
12:07 back-see I did not miss anything
11:42 taking a break-will come back at next trade time
11:37 I was afraid the volatility would be gone today
11:35 aborting for -.75 not moving
11:29 looking weak
11:22 not much juice-trading flat on R1
11:04 trade OK but getting boring
10:50 getting some Red Swan influence
10:36 very quiet; placing cover buy limit at 2563
10:27 got lower high; need to be patient
10:20 stop still OK; need to see a lower minor high
10:07 still OK; Home sale had no impact
9:54 so far so good
9:41 stop to 2570.5
9:37 sold 2567 stop 2572 for now
9:32 R1 is 2567.5 , so may get computer selling near there
9:31 existing home sales report at 10:00, and may have an impact
9:25 The high of that streak is 2572, and should be resistance for this move
9:20 the extension came from a 12 point vertical streak about 9:20 Eastern last night
9:17 today's trade times are 09:52, 12:33, and 14:09. The market is gap up and too extended for a good buy set up.
8:40 I have placed a Fractal Grid chart for Chaos Trading Made Easy
in the Certified Chaos Trader's Room. That room is open
to graduates of my 4 main courses. See http://moneytide.com -> Courses for details.
eMylar Fractal of Pi overlays help you be patient, since they show you future potential moves.
The best bargain in my courses is to take the Cash In On Chaos and Fractal of Pi courses and
learn to use the FOP overlay. Then take Chaos Trading Made Easy, and finish with Face Of God.
8:34 Good Morning. Welcome to the Chaos Clinic. This site has a lot of charts,
so you may find it useful to have several of them available within your
browser. If you have a tabbed browser, you can open separate charts
in separate tabs by right clicking on any link, and selecting "open in new tab"
from the menu. The main list of site pages is at
http://daytradingforecasts.com/chartlistsec.asp
Recommended pages to watch are SPKISS, MTRainbow, and Chat.
For astro stuff, add SPSunMoonMer, Wheel, and Chaos Clinic.
Chaos clinic comments appear at the bottom of the SPKISS, MTRainbow,
and ChaosClinic pages. Comments in the chat room are announced by a
"duck call" noise. This noise also occurs when the sofware detects a
resonant hex pattern on the Wheel page. Trading tutorials
are on the right side of the ListOfCharts page. One should
read Trading the MoonTide Tutorial and Keep it Simple as a minimum.

---
Besides the comments made by Al, the chat room is has live
comments from other traders who sometimes share their views,
trades and tips. Below are the chat room comments from this clinic
---


10/20/2017 12:31:26 PM MT TG****:: You too Al
10/20/2017 12:14:35 PM MT Al****:: have a good weekend TG
10/20/2017 8:41:07 AM MT TG****:: GM everyone. Looked like the start of a correction yesterday and blasted right up the flagpole last night.

9:00 Eastern-System: No comments

---