---
CHAOS CLINIC RECAP
---
---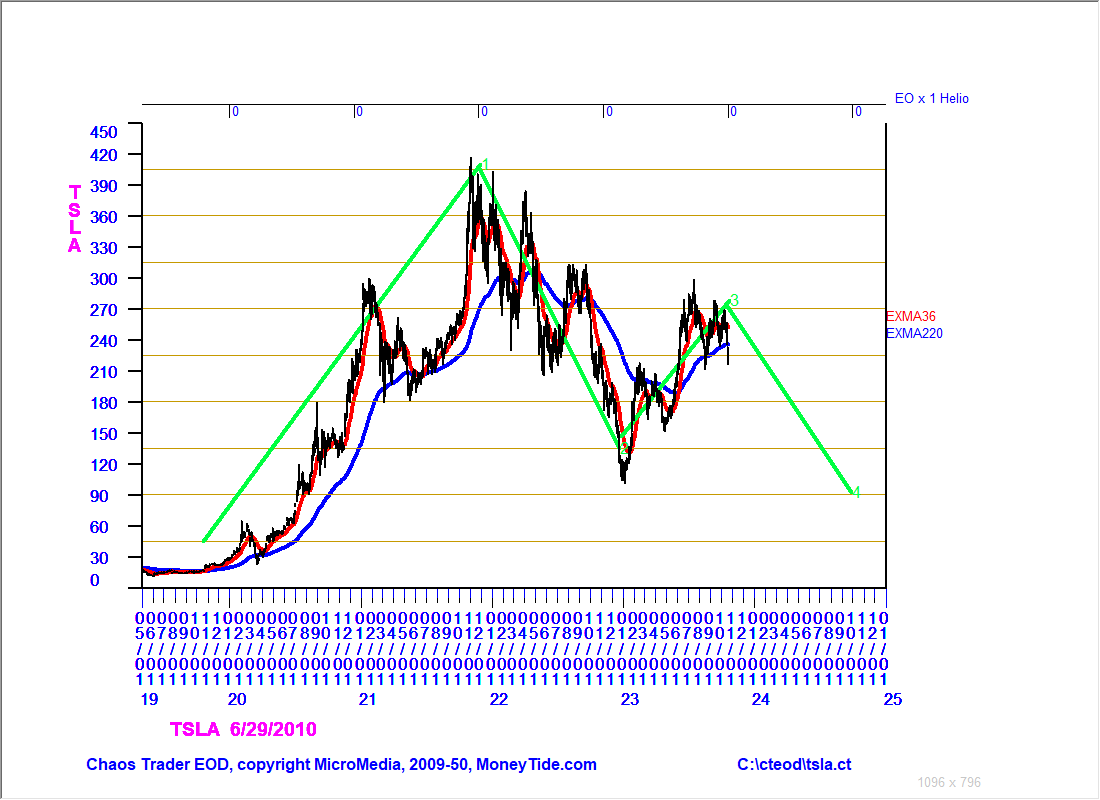 ********************************************************************************
Eclipse Cycle in TSLA Turns Down
Chaos Clinic for 10/20/2023
********************************************************************************
This chart shows TSLA over a span of 6 years. The plot shows a blue 220 day
and a red 36 day EXMA. It also shows natural vibration levels with the
horizontal lines. They mark 45 degree increments of a natural cycle.

Along the top are plotted the Node/Sun conjunctions. These are two of the three
components of a solar eclipse. The other of course is the Moon.

The 2019 to late 2021 rally ( can you find the 7 moves in this chaos Clamshell?)
ran for two eclipse cycles, show by green line 1. It went up 8 vibration levels,
for a 360 degree move.

The decline shown by green line 2 ran for one eclipse cycle and 6 levels, or
270 degrees, 3/4 of the rally. The following rally of green line 3 was also
one eclipse cycle, moving up 135 degrees, 1/5 of move 2.

Projecting this pattern forward one eclipse cycle suggests a possible decline into late
2024, possibly down 4 levels for a 180 degree drop.

This possibility should be tracked with the 220 and 36 day EXMAs, Watch for the 330 to turn down,
and the 36 to cross it downward.

For more on my work and to subscribe to Tomorrow's Market Email Hotline and access to daytradingforecasts.com see
Moneytide.com
Software to plot electric field flux lines in NinjaTrader is available at
energyfieldtrading.com
---

Below is one of the SPKISS charts from daytradingforecasts.com
and the chat room comments from this Chaos Clinic. Most recent comment is on top.
---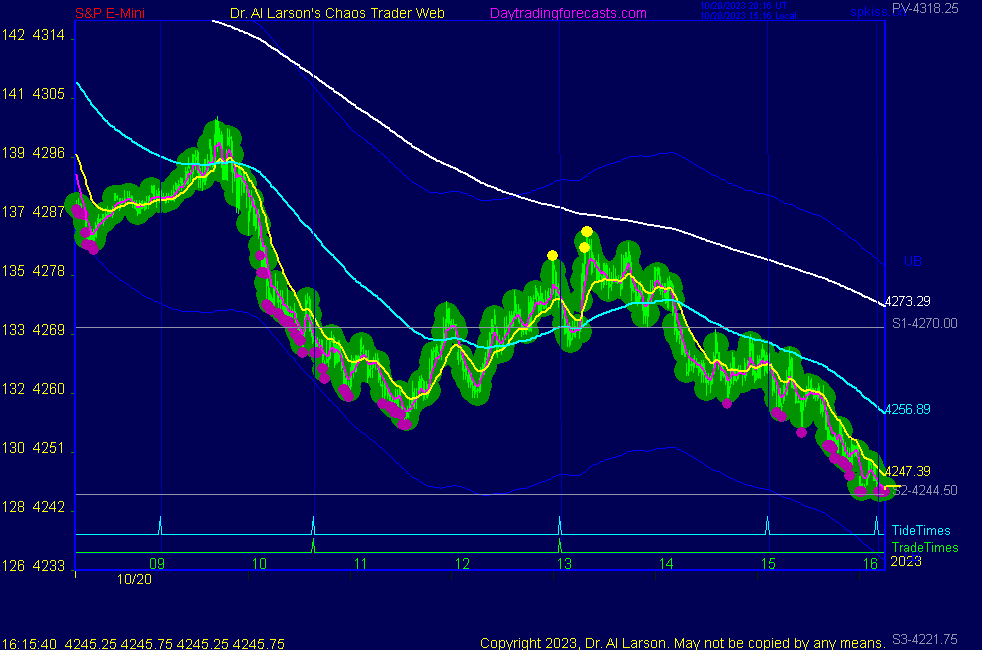 10/20/2023 12:18:08 PM MT ejs:: Ty have a great weekend.
10/20/2023 12:15:23 PM MT Al****:: seems that way
I'm done for the day-thanks for coming
see you next week
take some courses
10/20/2023 12:10:27 PM MT ejs:: it wants to turn up
10/20/2023 12:08:25 PM MT Al****:: on a week like this, usually get a short covering rally after 14:00
10/20/2023 11:59:59 AM MT Al****:: still "leaning up"
10/20/2023 11:21:30 AM MT Al****:: now a buy setup
10/20/2023 11:10:28 AM MT Al****:: enough energy to pop up to the down 440
10/20/2023 10:34:20 AM MT Al****:: the Node, Sun, and Mercury timelines are coming up near 13:00
the past two days they have induced volatility
10/20/2023 10:27:25 AM MT Al****:: glad I took my profit when I did
down move of the week is long in the tooth
higher minor low
10/20/2023 10:08:07 AM MT ejs:: K Thanks
10/20/2023 10:04:04 AM MT Al****:: ejs: XTide2Plus is not a chart on the secrets page, just a chart that is available to hotline suscribers
10/20/2023 9:59:11 AM MT Al****:: the move went from Venus to Moon timeline - see SPSunMoon chart
10/20/2023 9:56:03 AM MT Al****:: I took first MoonTide trade as sell 4287 covered 4261 based on green level on secret->esnat72 and +Ph000 and +Mh090 electric field flux lines
10/20/2023 9:15:52 AM MT ejs:: A lot less volatility today then yesterday
10/20/2023 9:13:48 AM MT ejs:: Dr Al is S&P XTide2Plus charts part of the secret tool box ?
10/20/2023 8:55:00 AM MT ejs:: I found chart 4 very useful yesterday. It must be amazing to see all the charts in real time.
10/20/2023 8:52:15 AM MT ejs:: Good Morning Good Trading
10/20/2023 8:23:22 AM MT Al****:: SPKISS charts 3 and 4 showed nice continuation sell setup
10/20/2023 7:19:01 AM MT srj****:: GM Al, all
10/20/2023 6:59:35 AM MT Al****:: Good Morning visitors. Welcome to the Chaos Clinic. The written Chaos Clinic is on the AUX page.
This site has a lot of charts,
so you may find it useful to have several of them available within your
browser. If you have a tabbed browser, you can open separate charts
in separate tabs by right clicking on any link, and selecting "open in new tab"
from the menu. The main list of site pages is at
http://daytradingforecasts.com/chartlistsec.asp
Recommended pages to watch are SPKISS, MTRainbow, and Chat.
For astro stuff, add SPSunMoon, Wheel, and Chaos Clinic.
A special set of Dr. Al's research charts are on the Secret page.
Comments in the chat room are announced by a
"duck call" noise. This noise also occurs when the software detects a
resonant hex pattern on the Wheel page. MoonTide trading tutorials
are on the right side of the ListOfCharts page. One should
read Trading the MoonTide Tutorial and Keep it Simple as a minimum.
Many subscribers do not strictly trade the MoonTides, but use the charts on this
site as input to their own trading strategies. For example, charts 5 and 6 on the
SPKiss page are a good starting point for swing traders.
Also on this site is the Certified Chaos Trader's Room. That room is open
to graduates of my 4 main courses. See http://moneytide.com -> Courses for details.

10/20/2023 6:03:35 AM MT oag****:: Good morning everyone! Hope everyone has a prosperous day!
9:00 Eastern-System: No comments

---