---
CHAOS CLINIC RECAP
---
---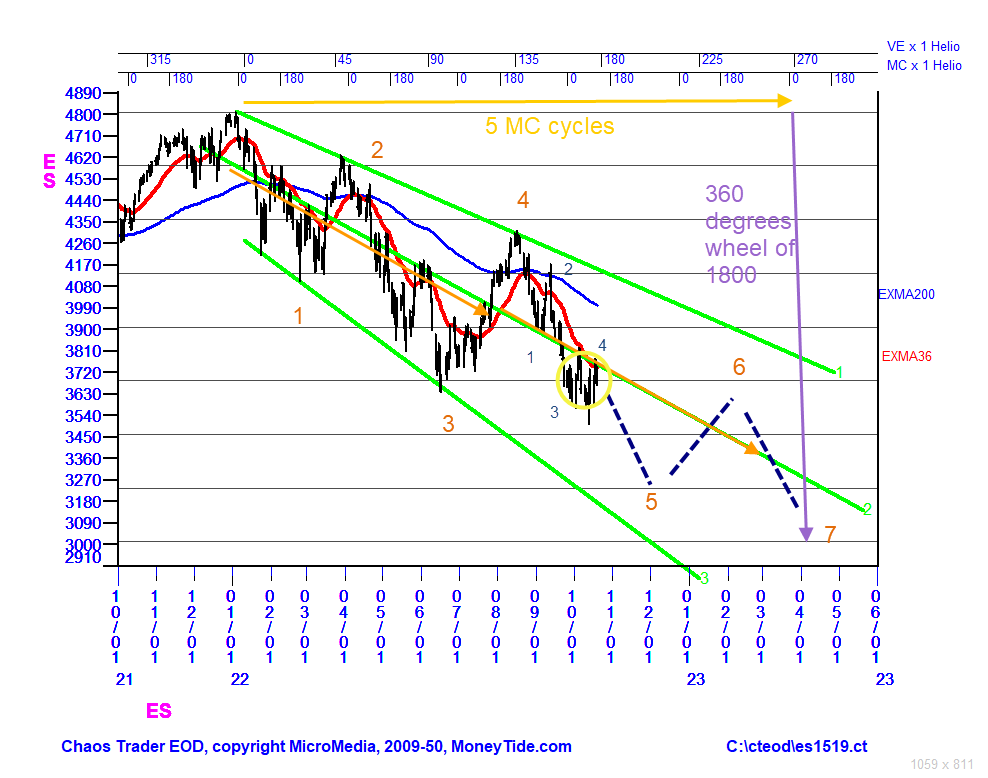 **************************************************************************************
The S&P Chaos Clamshell
Chaos Clinic for 10/21/2022
***************************************************************************************

This chart is a daily chart of the S&P EMini from late 2021 into mid 2023.

The chart has two EXMAs of 200 and 36 calendar days, These help count the moves in the
down Chaos Clamshell. So far moves 1, 2, 3 and 4 are complete, and move 5 is in progress.
Lines along the highs and lows bound the decline.

In my January 28th Chaos Clinic
I discussed the "January Effect"".I concluded that clinic with this:

The January Phenomena of market folklore says "As January goes, so goes the year."
With the Fed promising to raise interest rates, and the technical evidence so far,
2022 could well be a bear year.

This was in part based on the astro cycles. I pointed out the Mercury/Chiron and Venus/Earth cycles setting the top.
Aspects of these two cycles are plotted along the top of the chart. When these aspects line up, energy tends to peak.
For example, the highs at move 2 and 4 are points of synchrony.

This Clamshell is not over. Move 5 is usually the largest, and in this case seems to be making 7 moves
of its own. I have sketched rough moves 5, 6, and 7. Also on the chart are horizontal vibration levels.
These are 45 degrees apart on a wheel of 1800. A complete down move of 360 degrees would take prices to 3010.
This could occur in 5 Mercury/Chiron cycles.

For more on my work and to subscribe to Tomorrow's Market Email Hotline and access to daytradingforecasts.com see
Moneytide.com
Software to plot electric field flux lines in NinjaTrader is available at
energyfieldtrading.com
---

Below is one of the SPKISS charts from daytradingforecasts.com
and the chat room comments from this Chaos Clinic. Most recent comment is on top.
---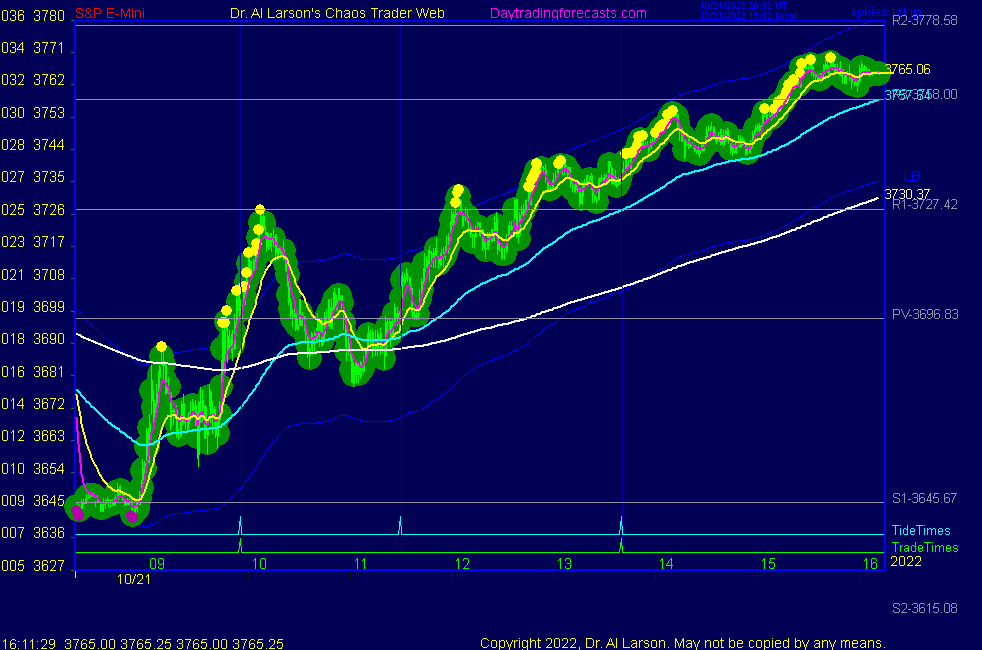 10/21/2022 1:38:27 PM MT pab:: Dr. Larson said ES could hit 3762---it did that and then some---great call
10/21/2022 1:31:12 PM MT qq:: IWM is not participating in the rally.
10/21/2022 1:26:05 PM MT qq:: Looking to but puts near close. Both XGO and XTide2Plus showing down Monday. Other info I have also indicates Monday as a down day.
10/21/2022 11:07:06 AM MT Al****:: that was enough for me to take profits and call it a day-been up since very early-have a good weekend - take some course
10/21/2022 11:04:03 AM MT Al****:: on SPSunMoon met resistance on their flux lines
also on SPKISS chart 6 hit red 24 day EXMA -that and 7 moves up from morning low and up 2 yellow levels on secret->esnat72 may mean top here
10/21/2022 10:53:03 AM MT Al****:: I'm not showing it today - note on SPSunMoon chart the flux lines have not crossed
10/21/2022 10:49:40 AM MT TJ:: Al, my ephemeris program shows the Sun-Venus conjunction is on 10/22 afternoon. Why do you show it as today?
10/21/2022 10:42:58 AM MT Al****:: two Moon days go Moon to Moon, or Moon-Noon-Moon so need to watch carefully
10/21/2022 10:41:27 AM MT Al****:: coming to solar noon - Sun and Venus geo are approaching conjunction
10/21/2022 10:39:09 AM MT Al****:: move getting stronger - last dip stayed above the 110 minute EXMA
10/21/2022 10:27:02 AM MT Al****:: my 4/29/2022 Chaos clinic describes two moon days - linked on the home page of moneytide.com
10/21/2022 10:17:59 AM MT Al****:: since this is a two Moon day I'm w2atching the Moon electric field flux lines on wheel of 360
rally started on +T270, is now finding support on +T315
so could reach +T000 near 3762
10/21/2022 10:08:51 AM MT Al****:: the green swan on the SPSunMoon chart helps
10/21/2022 10:04:22 AM MT Al****:: one really has to be flexible as a day trader and just go with the flow shown by the 440 minute etc EXMA rainbow
10/21/2022 10:01:04 AM MT Al****:: that's shown on chart 3 on SPKISS page - the 440, 220, and 110 exmas were up giving a rebuy opportunity
10/21/2022 9:56:31 AM MT Al****:: got a continuation buy as exchange passed Jupiter
10/21/2022 9:54:36 AM MT Al****:: good
10/21/2022 9:44:25 AM MT bbb****:: Getting by - incredibly taxing year but all is well and everyone is healthy
10/21/2022 9:36:45 AM MT Al****:: all is good here BBB, and you?
10/21/2022 9:21:33 AM MT bbb****:: Hope all is well Al
10/21/2022 9:09:31 AM MT Al****:: SPKISS chart 5 and 6 shows this morning's high may be a move 4 of a down Chaos Clamshell
10/21/2022 8:53:50 AM MT Al****:: on the Secret page note the vertical line at the low of the day - it marks a turn in a Moon cycle
10/21/2022 8:47:36 AM MT Al****:: Chart 7 on the SPKISS page shows the rally went from the lower yellow level to upper yellow level while the longer cycle is down
10/21/2022 8:42:31 AM MT Al****:: if you look on SPKISS page chart 4 you see the flash boy computers bought S1 and sold R1
10/21/2022 8:40:32 AM MT Al****:: a reasonable stop would have gotten one out for about 9 points
the last 3 days early rallies have collapsed
10/21/2022 8:11:59 AM MT Al****:: at the first trade time the 440, 220, and 110 EXMAs turned up suggesting a buy about 3690
10/21/2022 8:08:26 AM MT Al****:: on that chart note the green swan line up giving early support
10/21/2022 8:02:06 AM MT Al****:: today is a 2 moon day with Moon time lines early and late
see SPSunMoon chart
10/21/2022 7:38:53 AM MT Al****:: Good Morning visitors. Welcome to the Chaos Clinic. The written Chaos Clinic is on the AUX page.
This site has a lot of charts,
so you may find it useful to have several of them available within your
browser. If you have a tabbed browser, you can open separate charts
in separate tabs by right clicking on any link, and selecting "open in new tab"
from the menu. The main list of site pages is at
http://daytradingforecasts.com/chartlistsec.asp
Recommended pages to watch are SPKISS, MTRainbow, and Chat.
For astro stuff, add SPSunMoon, Wheel, and Chaos Clinic.
A special set of Dr. Al's research charts are on the Secret page.
Comments in the chat room are announced by a
"duck call" noise. This noise also occurs when the software detects a
resonant hex pattern on the Wheel page. MoonTide trading tutorials
are on the right side of the ListOfCharts page. One should
read Trading the MoonTide Tutorial and Keep it Simple as a minimum.
Many subscribers do not strictly trade the MoonTides, but use the charts on this
site as input to their own trading strategies. For example, charts 5 and 6 on the
SPKiss page are a good starting point for swing traders.
Also on this site is the Certified Chaos Trader's Room. That room is open
to graduates of my 4 main courses. See http://moneytide.com -> Courses for details.
9:00 Eastern-System: No comments

---