Chaos Clinic Recap
---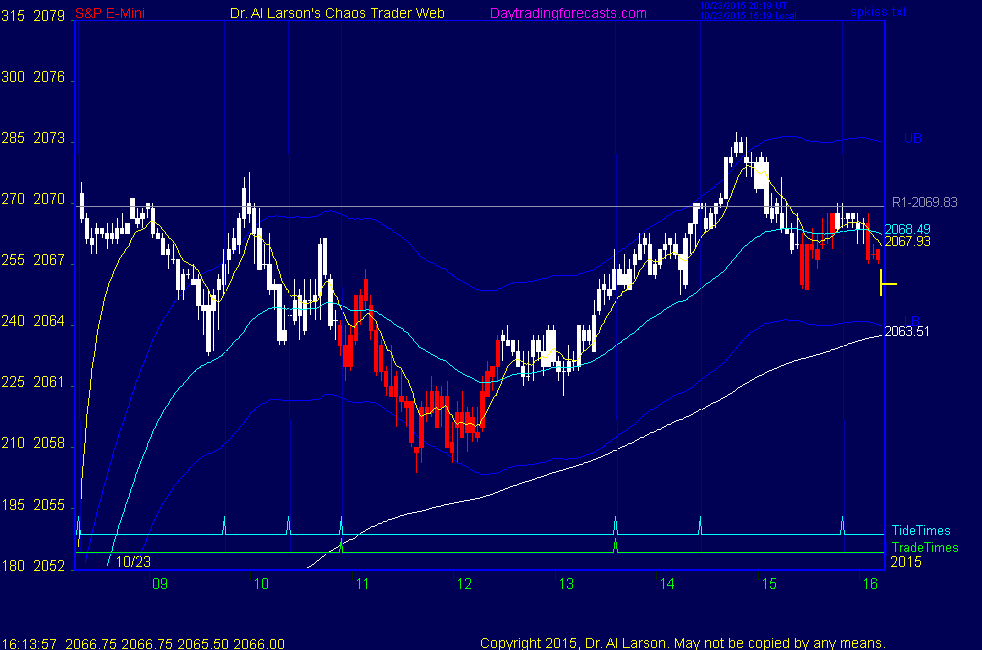 ---
Here are Al's comments
---
12:31 aborted for -3 ; I'm done
12:28 may get stopped
12:02 440 minute EXMA has rolled over
11:52 Rainbow of EXMA's has turned down
11:38 stop to 2064.25
11:35 OK, staying, took 20/110 sell at 2060.25 stop 2067 for now
11:27 I'm quitting-misreading my charts - two losses, time to fold them
11:25 aborted 61
11:02 rebought 1064.5 stop 2059 - stop was too close: "Gap up; buy low at 11:00"
10:58 stopped out
10:45 coming to the exact trade time-just holding fast
10:42 trade looking better-left so I would not overreact
10:28 looking OK-taking a break ; stop is in
10:15 treading water-stop is where it should be-need to be patient
9:59 stop to 2061.25, one point below the low of the dip; will let this trade run
9:52 the hourly bar ending at 10:00 will have a big bottom wick ; bullish for the day
9:45 bought 2065.75 stop 2059.25 -buying the dip
9:42 got some support at a 50% retrace of earlier pop up; also the 440 minute EXMA on my NinjaTrader chart
9:33 look for some buying to come in at 10:00 Eastern
9:18 sagging into the outcry open
8:48 on a 24 our hourly chart, prices are in an up channel rising 45 points per day
8:45 the -MoonTide(red) shows a "running" market, moving higher all day
8:31 today the market is continuing it's rally-with big gains overnight and a spurt of buying
near 7:00 AM Eastern; This is a "BUY THE DIPS, DO NOT SELL" market.
Trade times are 10:54 and 13:36. We'll just have to be patient.
8:30 Good Morning. Welcome to the Chaos Clinic. This site has a lot of charts,
so you may find it useful to have several of them available within your
browser. If you have a tabbed browser, you can open separate charts
in separate tabs by right clicking on any link, and selecting "open in new tab"
from the menu. The main list of site pages is at
http://daytradingforecasts.com/chartlistsec.asp
Recommended pages to watch are SPKISS, MTRainbow, and Chat.
For astro stuff, add SPSunMoonMer, Wheel, and Chaos Clinic.
Chaos clinic comments appear at the bottom of the SPKISS, MTRainbow,
and ChaosClinic pages. Comments in the chat room are announced by a
"duck call" noise. This noise also occurs when the sofware detects a
resonant hex pattern on the Wheel page. Trading tutorials
are on the right side of the ListOfCharts page. One should
read Trading the MoonTide Tutorial and Keep it Simple as a minimum.

---
Besides the comments made by Al, the chat room is has live
comments from other traders who sometimes share their views,
trades and tips. Below are the chat room comments from this clinic
---
9:00 Eastern-System: No comments

---