Chaos Clinic Recap
---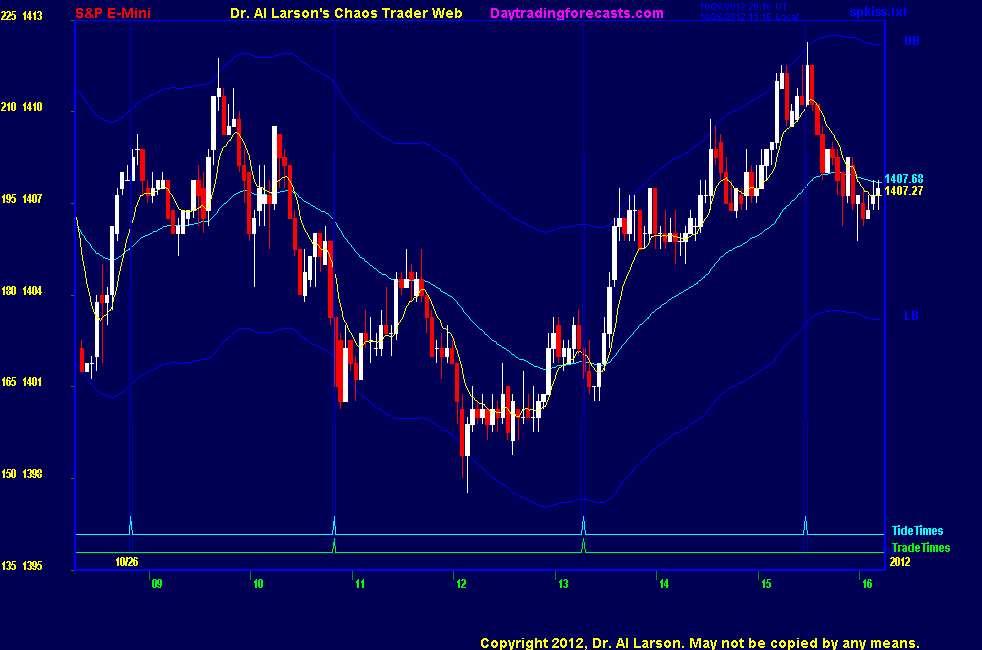 ---
Here are Al's comments
---
2:26 there may be more there, but I'm done for the day. Thanks for coming.
See you next week. Take a course.
2:25 OK, covering on stall for +5
2:10 stop to 1404, locking 3
2:06 stop to 1403, lock 2
1:52 if you are not on your toes, that pattern will make a jackass out of you
1:48 on a two day chart like the MTRainbow chart, one can sketch a Hannula Jackass pattern
left ear coming down, dome forming top of head, right ear going up. Draw 2 eyes under the dome.
1:45 may go up and test yesterday's 1416.75 high
1:42 stop to 1402, lock 1
1:38 stop now to 1401
1:35 stop to 1400 -will let it run
1:33 it's been pretty hard mentally to switch directions twice today
winning is 90% in the mind game
1:31 looks like it's going now
1:15 stop to 1398
1:05 posted a new self-similar Face of God chart in the CCT room
1:01 double bottom near 1398 - where I bought in the pre-outcry session
1:00 following a pattern of red -Tide shifted left an hour
12:57 bought 1401 stop 1397
12:49 getting a hex pattern recognized by the software recognizer. See hex Wheels Today and Hex Wheels tutorial
linked on the right side of the List of Charts page
12:42 covered for +5 -don't like it hanging around yestereday's low
12:23 second wave of salling coming in ; stop to 1404
12:26 stop to 1404.5
12:22 in this decline we have had 2 big down candles. If today's is the same size,
we could see 1377-1380; probably a hallucination, but thought I'd mention it
12:27 stop to 1405 -will let his one run , even past 9
12:07 this could turn into a panic - if this trade keeps working, may carry through the next trade time
12:05 stop to 1406
12:02 on the MTRainbow chart the flow is down
12:00 I expect a second wave of selling to come in soon
11:50 20/110 continuation sell right there and all trade stayed under the 440 EXMA
11:47 looking weaker now
11:34 resold 1404.5 stop 1406.5 -move 5 is usually a good one to be in
11:33 this is swing 4 down from the high
11:31 stopped for -1
11:19 adjusting stop to 1405
11:26 posted new FOG chart in CCT room
11:02 the 440 EXMA has rolled over; trend is down
10:52 stop 1404
10:49 sold 1404 stop 1407
10:42 self-simularity is a property of fractal patterns. The same image aqppears on different scales.
I have placed two self-similar FOG patterns in the CCT room
10:29 trading both sides of 110-stay out for now
10:25 still trading flat with slight upward bias
10:18 continutation buy setup -waiting a bit
10:16 added an updated Face Of God chart to the CCT Room
10:03 rest of day may be a congestion -the 440 EXMA is flat
10:00 now just wait for buy setup near 10:50
9:58 stop for 0 on my FOG trade
9:49 if you look at the past few days of 24 hour data, you will see that this is a very smooth move
suggesting a lot of bulls and few bears
9:44 stop to 1407.5, break even
9:41 stop to 1405.5
9:37 based on Face of God pattern, bought 1407.5 stop 1402 -not a hotline trade, but a FOG pattern trade
before the outcry sessino I bought at 1398 and took 7 points
9:36 on the MTRainbow chart the white 440 EXMA is mostly flat, slightly up
9:30 rally from early low still intact
9:17 looks like tracking green +Tide - so first trade time may set up a buy
9:11 hotline trade times today are 10:50 and 13:17
9:02 GDP report was a bit better than expected but not gangbusters
8:00 I saw the potential for an early low this morning on a 4 trading day 24 hour chart
using my Face of God pattern. More and more the S&P is a 24 hour market. Today we have
a GDP report, which I suspect has been leaked to some hedge funds.
7:52 I have placed a Face Of God chart in the Certified Chaos Trader's Room. That room is open
to graduates of my 4 main courses. See http://moneytide.com -> Courses for details.
eMylar Fractal of Pi overlays help you be patient, since they show you future potential moves.
The best bargain in my courses is to take the Cash In On Chaos and Fractal of Pi courses and
learn to use the FOP overlay
7:48 Good Morning. Starting early because I woke up early.
Welcome to the Chaos Clinic. This site has a lot of charts,
so you may find it useful to have several of them available within your
browser. If you have a tabbed browser, you can open separate charts
in separate tabs by right clicking on any link, and selecting "open in new tab"
from the menu. The main list of site pages is at
http://daytradingforecasts.com/chartlistsec.asp
Recommended pages to watch are SPKISS, MTRainbow, and Chat.
For astro stuff, add SPSunMoonMer, Wheel, and Chaos Clinic.
Chaos clinic comments appear at the bottom of the SPKISS, MTRainbow,
and ChaosClinic pages. Comments in the chat room are announced by a
"duck call" noise. This noise also occurs when the sofware detects a
resonant hex pattern on the Wheel page. Trading tutorials
are on the right side of the ListOfCharts page. One should
read Trading the MoonTide Tutorial and Keep it Simple as a minimum.

---
Besides the comments made by Al, the chat room is has live
comments from other traders who sometimes share their views,
trades and tips. Below are the chat room comments from this clinic
---


10/26/2012 1:33:16 PM MT BBB****:: 7 down, 7 up. nice.
10/26/2012 7:27:56 AM MT JMV****:: Morning all! GL!
10/26/2012 6:58:42 AM MT mm****:: gm all - have a great day
10/26/2012 5:41:54 AM MT Al****:: GM all-good luck today

9:00 Eastern-System: No comments

---