---
CHAOS CLINIC RECAP
---
---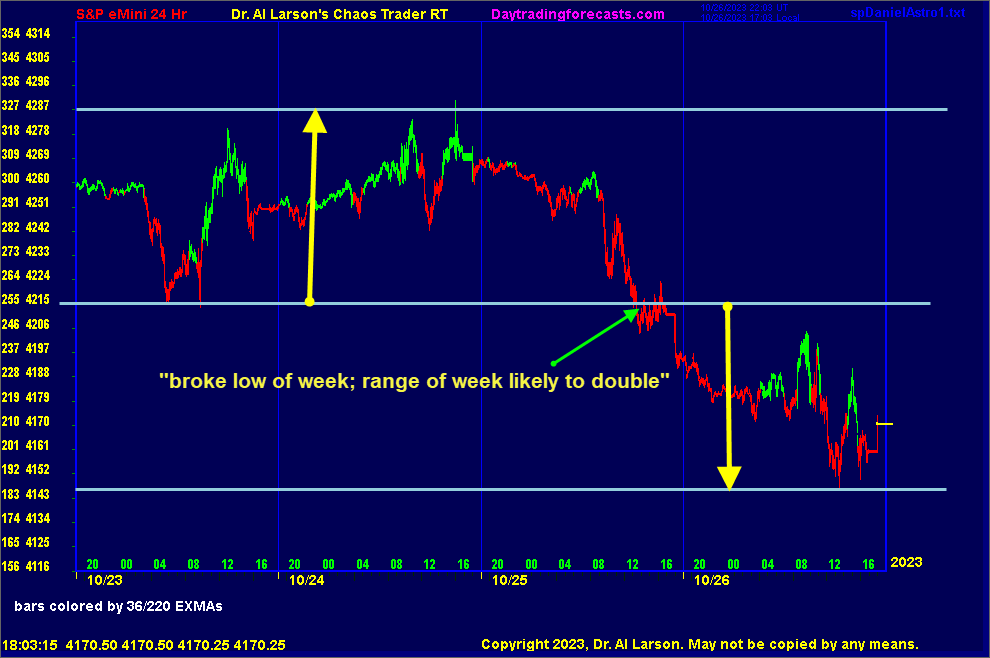 ********************************************************************************
S&P Range Doubles
Chaos Clinic for 10/27/2023
********************************************************************************
This chart shows the S&P futures for this week. Monday was 10/23/2023. After
two down weeks, it looked like an up week, moving up into a high late on Tuesday.

Then on Wednesday prices sold off. Just after noon, prices made a new low for the week.
At that point I recognized behavior of chaotic markets might apply. Chaotic systems
have a property call "frequency doubling" which tends to occur just before chaotic moves.
In my study of markets I have noticed something similar: range doubling. After
trading is a defined range, a chaotic break often doubles the range.

I mentioned this possibility in the chat room on daytradingforecasts.com, as shown on the
chart.

Overnight into Thursday, prices did drop, eventually coming within 3 points of range doubling.
This happened in the face of other news, such as a sharp jump in GDP,
While not a perfect doubling, this property of chaotic markets can be profitable.
It was for me.


For more on my work and to subscribe to Tomorrow's Market Email Hotline and access to daytradingforecasts.com see
Moneytide.com
Software to plot electric field flux lines in NinjaTrader is available at
energyfieldtrading.com
---

Below is one of the SPKISS charts from daytradingforecasts.com
and the chat room comments from this Chaos Clinic. Most recent comment is on top.
---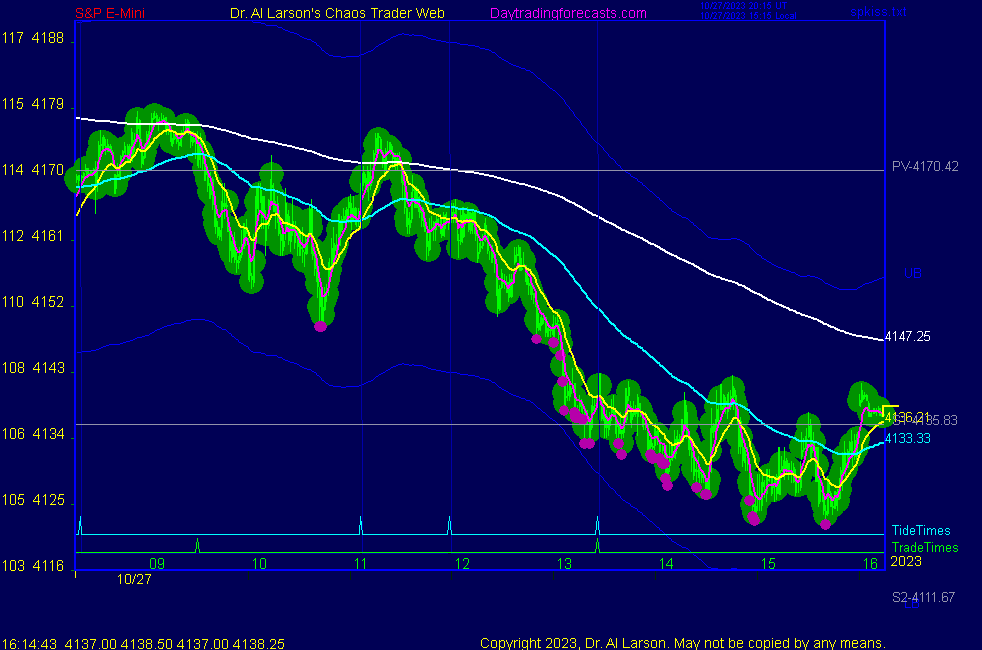 10/27/2023 11:20:51 AM MT EJS:: Dr Al have a great weekend TY
10/27/2023 11:18:02 AM MT Al****:: I'm done for the day- got what I came for
thanks for coming-see you next week
take some courses
10/27/2023 11:17:44 AM MT EJS:: Thanks
10/27/2023 11:16:36 AM MT Al****:: this move made the range doubling discussed in the clinic just a bit more than a double
10/27/2023 11:14:18 AM MT Al****:: nice job ejs
10/27/2023 11:13:36 AM MT Al****:: out 37
10/27/2023 11:10:26 AM MT EJS:: I like Chaos Clinic :)
10/27/2023 11:09:09 AM MT EJS:: Quick 10 point short covered @ 4139 Salute Sir
10/27/2023 11:06:57 AM MT Al****:: vertical move on third line
10/27/2023 11:04:07 AM MT EJS:: Thanks using a laptop to watch the charts didn't see it.
10/27/2023 10:51:51 AM MT Al****:: I did sell that move 4 high and will cover 4137
10/27/2023 10:45:44 AM MT Al****:: steady selling coming to the third vertical line
10/27/2023 10:18:00 AM MT Al****:: it's that horizontal line at 4170.42
10/27/2023 9:59:45 AM MT EJS:: Dr Al I don't see that pvt # on chart 4
10/27/2023 9:55:19 AM MT Al****:: chart 4 on SPKISS shows selling at the pivot - S1 at 4135.83 is close to that 4137
10/27/2023 9:45:31 AM MT Al****:: from the high of the day this is move 5 down
10/27/2023 9:35:26 AM MT Al****:: there is the effect of the second line
10/27/2023 9:20:06 AM MT Al****:: this is typical of days with these 2 vertical lines - I call then "confusion days" because each line can produce a change of direction
10/27/2023 9:06:46 AM MT EJS:: Thanks planning on eventually becoming a CCT.
10/27/2023 8:58:01 AM MT RobERT****:: Al is the best S&P trader I have ever met, he is the only CONSISTENT S&P Trader who gets how this works. Take the courses, and go thru them multiple times.
10/27/2023 8:53:39 AM MT EJS:: I am a new subscriber still learning.
10/27/2023 8:50:15 AM MT RobERT****:: If you are a subscriber to Al's daytrading forecasts there is no other site that can show you where the energy points are, next week significantly higher
10/27/2023 8:49:26 AM MT RobERT****:: S&P Turn low in IMO
10/27/2023 8:46:24 AM MT EJS:: Nice call Rob
10/27/2023 8:21:24 AM MT Rob:: 4149 is the signal
10/27/2023 8:17:03 AM MT EJS:: Covered @ 4160
10/27/2023 8:03:17 AM MT EJS:: Yup perfect timing I am short @4170
10/27/2023 7:54:15 AM MT Al****:: charts 3 and 4 on SPKISS show a sell on first MoonTide trade
10/27/2023 7:34:04 AM MT Al****:: that suggests the first of the 3 secret lines has a down influence
10/27/2023 7:32:16 AM MT Al****:: still trading fairly flat-I like to keep an eye on the 2400 minute EXMA in these conditions
today, it is down, and trade is below it
10/27/2023 7:19:00 AM MT EJS:: Good morning Good luck everyone :)
10/27/2023 6:01:13 AM MT Al****:: on the SPKISS page charts 6 and7 are 24 hour charts, good for seeing longer moves. Note on chart 6 this mornings rally was limited by the magenta down 5.5 day EXMA
10/27/2023 5:50:18 AM MT Al****:: also note the three vertical lines on the Secret charts. Each can add volatility and possibly a change in direction.
10/27/2023 5:47:47 AM MT Al****:: note on the secret->esnat72 chart the 4 small highs up to the magenta vibration level. This is a 4 drives to a top pattern. Prices are now selling off. A harmonic 45 degree move down one vibration level would be about 4137.
10/27/2023 5:38:23 AM MT Al****:: Good Morning visitors. Welcome to the Chaos Clinic. The written Chaos Clinic is on the AUX page.
This site has a lot of charts,
so you may find it useful to have several of them available within your
browser. If you have a tabbed browser, you can open separate charts
in separate tabs by right clicking on any link, and selecting "open in new tab"
from the menu. The main list of site pages is at
http://daytradingforecasts.com/chartlistsec.asp
Recommended pages to watch are SPKISS, MTRainbow, and Chat.
For astro stuff, add SPSunMoon, Wheel, and Chaos Clinic.
A special set of Dr. Al's research charts are on the Secret page.
Comments in the chat room are announced by a
"duck call" noise. This noise also occurs when the software detects a
resonant hex pattern on the Wheel page. MoonTide trading tutorials
are on the right side of the ListOfCharts page. One should
read Trading the MoonTide Tutorial and Keep it Simple as a minimum.
Many subscribers do not strictly trade the MoonTides, but use the charts on this
site as input to their own trading strategies. For example, charts 5 and 6 on the
SPKiss page are a good starting point for swing traders.
Also on this site is the Certified Chaos Trader's Room. That room is open
to graduates of my 4 main courses. See http://moneytide.com -> Courses for details.

10/27/2023 5:19:46 AM MT oag****:: Good morning everyone! Hope everyone has a prosperous day!
9:00 Eastern-System: No comments

---