Chaos Clinic Recap
---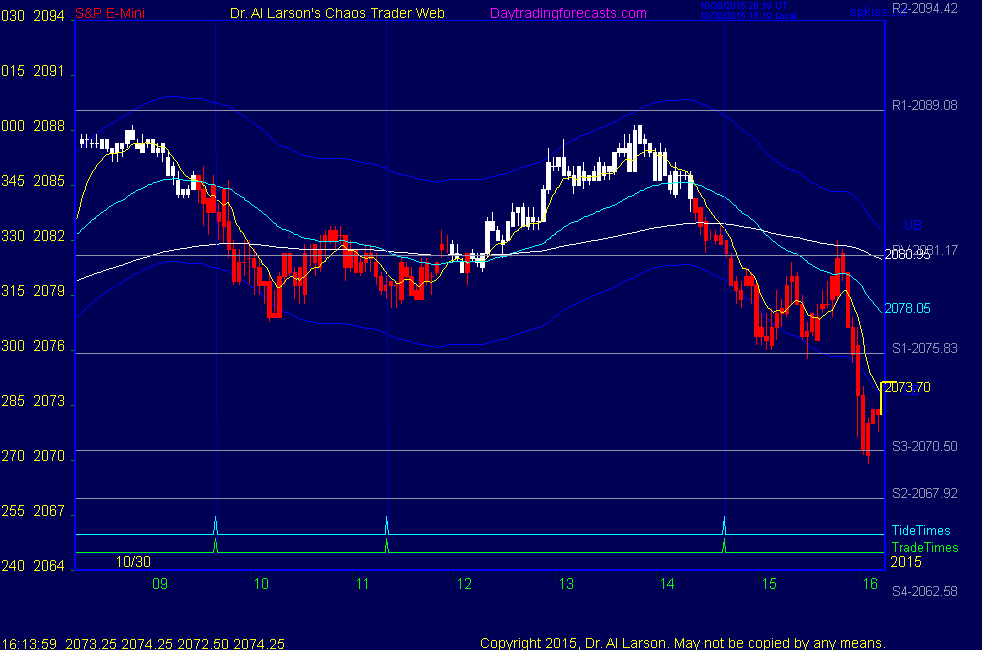 ---
Here are Al's comments
---
12:24 I'm going to stop comments now; have some work to do; last trade is an exercise for the student.
Thanks for coming; see you next week. Happy Halloween; Change your clocks; Take some courses.
12:22 OK, stopped out for -3.25, net -.75 for the day
12:04 Georg Soros says he trades stories. The story for October started on the first Friday jobs report,
which was so bad it started the story that the Fed would not raise rates. The story was confirmed Wednesday
when the Fed did not raise rates. Since then the chart looks like a distribution top.
12:00 trade still viable; sitting on my hands
11:48 pop up to 440 -stop OK so far
11:36 one of my indicators for the Chaos Trading make Easy course just told me to hold short
11:34 just have to be patient and accept the risk; stop is where it should be
11:22 if the market slide picks up momentum, it could reach S4 at 2062.5;
we have a Red Swan later today
11:19 stop to 2083.5, above the 440 EXMA
11:17 net selling at the pivot price of 2081
11:13 looks like following red -Tide
11:04 getting a continuation sell on the 20/110; sold 2080.25 stop 2085 for now; the 440 EXMA is down
11:00 if you have your sound on, you heard the "duck call" announcing a hex pattern at 2080.
see tutorial on Hex Wheels and Hex Wheels today linked on right side of the ListOfCharts page
This hex set by Moon, Uranus, Mercury, and price
10:57 I'm back-see market congesting as expected
10:29 the next trade time is 11:21; I'm going to take a break until close to that time
10:25 initial slide probably over; now I except some sideways congestion
10:22 out for +2.5
10:16 stop to 2081.5-lock 2.5
10:13 stop to 2082 - lock 2
10:12 the timeline bundle was not a turn; when this happens it is usually the middle of a streak
10:04 the Rainbow of EXMA's has rolled over; means down for the day and maybe a few days next week
10:03 stop to 2083 - lock 1 point
10:01 corrected type-9 point cover is 2075
9:58 my 2 year old granddaughter has just arrived for baby sitting-now the chaos really begins :)
9:56 stop to 2083.5-lock 2 ticks
9:52 stop to 2084, break even; 9 point cover target 2075
9:51 this looks like the end of month profit taking I mentioned in last night's email
9:48 so far so good-stop to 2086
9:42 stop to 2087, above the flux bundle
9:37 I don't like early Friday trades because they can be head fakes; in this case We were above the
Moon +T270/Sun +H135/Venus +V180 electric field flux bundle and broke below it
We are coming to there timelines, tightly clustered near 10:00
9:33 selling 2084 stop 2089 for now
9:32 looking weak
9:29 today's trade times are 09:40, 11:21, and 14:40
The market mad a high overnight and now is sagging
9:00 Good Morning. Welcome to the Chaos Clinic. This site has a lot of charts,
so you may find it useful to have several of them available within your
browser. If you have a tabbed browser, you can open separate charts
in separate tabs by right clicking on any link, and selecting "open in new tab"
from the menu. The main list of site pages is at
http://daytradingforecasts.com/chartlistsec.asp
Recommended pages to watch are SPKISS, MTRainbow, and Chat.
For astro stuff, add SPSunMoonMer, Wheel, and Chaos Clinic.
Chaos clinic comments appear at the bottom of the SPKISS, MTRainbow,
and ChaosClinic pages. Comments in the chat room are announced by a
"duck call" noise. This noise also occurs when the sofware detects a
resonant hex pattern on the Wheel page. Trading tutorials
are on the right side of the ListOfCharts page. One should
read Trading the MoonTide Tutorial and Keep it Simple as a minimum.

---
Besides the comments made by Al, the chat room is has live
comments from other traders who sometimes share their views,
trades and tips. Below are the chat room comments from this clinic
---


10/30/2015 12:17:25 PM MT jmh:: Heads up Red Swan
10/30/2015 7:21:48 AM MT mm****:: gm all - have a great day

9:00 Eastern-System: No comments

---